Adaptive Reuse of Commercial Spaces: Curtain Wall Solutions
Contemporary facade strategies help make these buildings reliable and resilient investments under today's evolving conditions
Sponsored by The Ornamental Metal Institute of New York
This test is no longer available for credit
455 Central Park West: Inverting The Paradigm
The first oncologic specialty hospital in the nation, the New York Cancer Hospital (later to evolve into Memorial Sloan-Kettering Cancer Center), started in 1884 and soon moved to this uniquely configured building on Central Park West between 105th and 106th Streets. Designed by Charles Coolidge Haight with features aimed at advancing medical care as it was understood at the time, it was completed in 1887, inhabited by several decades' worth of patients, and eventually viewed as an object of fear because of the fates endured there in eras when cancer treatments were largely palliative at best. After the institution moved to the East Side in 1955, the building fell into disrepair and narrowly escaped demolition before it was landmarked in 1976.
Multiple attempts to develop the building misfired, but financial support from Columbia University (for faculty housing) and a Chicago developer (for luxury condominiums, including a new 27-story tower) finally resulted in sufficient renovation for high-end condos to open there in 2005. RKTB, with diverse and longstanding experience in adaptive reuse, led the renovation efforts, which resulted in multiple awards and 100 distinctive residential units.
"The innovations there were these enormous windows that you could open up," says Bafitis, "and suck the air through"—ironically, an approach to negative-pressure ventilation now known to be effective for today's infectious diseases, though irrelevant to cancer. "They didn't really understand germ theory very well back then; they believed that germs bred in corners, and so they eliminated the corners in the hospital wards of that building. Their thinking was that the elimination of corners would help in preventing germs and grime from building up, and so the round turrets of that building were created and fashioned after a French castle." Locals reportedly referred to it over the years as "the towers," "the castle," or "the Bastille."
"This was a building that does not lend itself to anything but being a hospital, really," Bafitis continues, "but we converted it." Preserving the exterior masonry was mandatory owing to landmark status; wooden structural elements were decrepit enough to need demolition, and a new concrete interior structure allowed removal of all columns, creating column-free spaces in the large turrets (42 feet in diameter), functioning as living/dining rooms for the massive units, with ceiling heights of 15 feet. "In effect, [it] was a brand new building within the existing skin that was preserved and repaired and left in place." The 455 building is basically the inverse of a reclad.
A key lesson from RKTB's experience here, Bafitis says, is that "every building, even as morphologically distinct as 455, can be adapted. I think there are ways of taking advantage, volumetrically, of the spaces that are offered within; I venture to say that we could do it very creatively, very ingeniously, in any structure. Hospital conversion is something that has taken place a fair amount, and you wind up having the same kind of issues there: you have very tall floors, and they tend to be wide in places and narrow in other places, but it's a matter of working with the building and working with the structure, working with the volumes. And we were offered a lot of latitude in 455."
Bee compares the 455 experience to other famous adaptive-reuse projects like the former Bell Labs building Westbeth (1970), "probably the granddaddy of all the artists' live-work spaces in the country [and] the building that really put Richard Meier on the map." Having chaired Westbeth's board for a number of years, Bee admires its flexible layouts as well as its status as an affordable community. RKTB's own conversion experience dates from the same era, when they adapted an east Midtown manufacturing building into the Turtle Bay Towers rental units, taking advantage of zoning-mandated setbacks by adding curtain-wall greenhouse structures to setback terraces on the western face, removing masonry for access. The developer Rockrose allowed considerable experimentation on that project, leading to further conversions including the West Coast Apartments (a block of former meatpacking warehouses, "[that had been] refrigerated for so long that it developed permafrost in the building, so when we went to convert it, we had to thaw out the building... the building started falling apart, because the permafrost kept things together."). They have also performed several office-to-school conversions, frequently an easier typologic match than office-to-residential because of floorplate and ceiling dimensions.
The greatest challenge in adaptive reuse, Bafitis comments, is applying lessons from high-end projects to the affordable sector, which severely needs "ownership and a clientele that has real vision and doesn't necessarily want to provide cookie-cutter solutions." Yet quirky cases like 455 fire his long-range optimism. "We've been doing it naturally, in our practice and as residential architects for a long time in New York City, and it's heartening to see that this is really sort of catching on."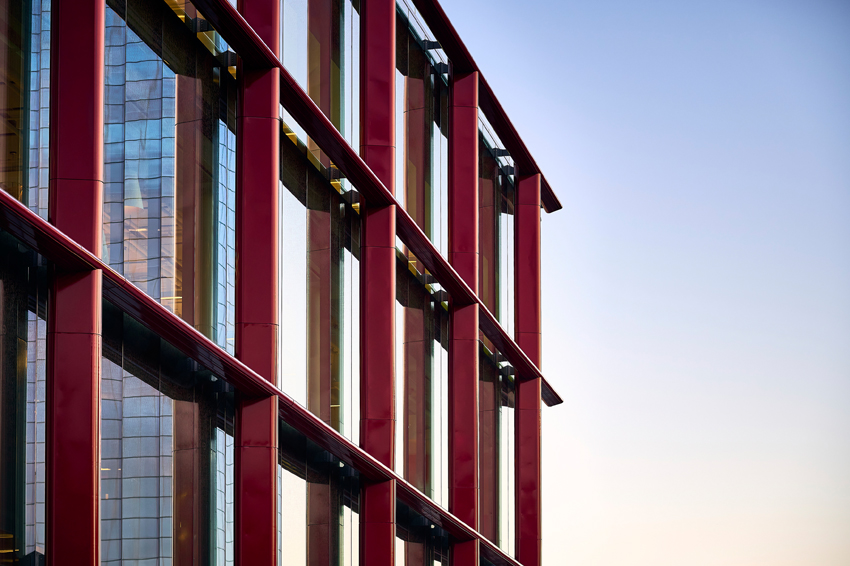 Photo credit: KieranTimberlake/Matthew Krissel.
Facade of Bulletin Building, Philadelphia. Close inspection reveals frit pattern on glazing.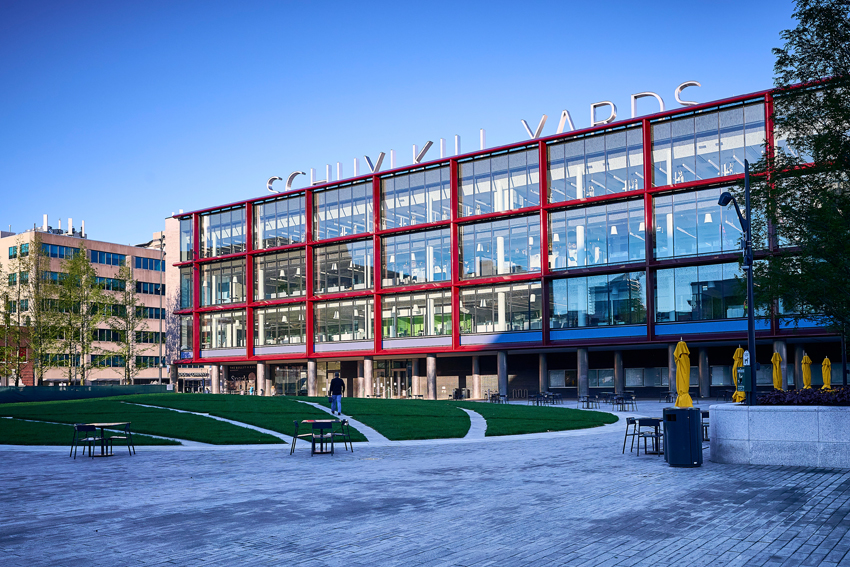 Bulletin Building, Philadelphia. The red metallic armature creates a contrast with the internal grid of structural columns and slab floors.
Bulletin Building: Icon Reborn as Urban Catalyst
In Philadelphia, the headquarters of a long-respected newspaper, the Evening Bulletin, expressed a certain midcentury modernist ideal. Now, four decades after the Bulletin lost the circulation wars to the morning Inquirer and to televised news, going defunct in 1982, its facilities have a new life as a research building, the gateway to Brandywine Realty Trust's new Schuylkill Yards "innovation district." The four-story Bulletin Building, transformed from its largely windowless original image (and a transitory condition as Class B space for Drexel University) to an open design, now presents the neighborhood with a dramatic curtain wall, framed and deepened by a bold red metallic grid. The converted building offsets the high energy demands of life science laboratories with envelope features that yielded a net decrease in environmental footprint while reasserting a distinctive presence on the skyline.
The Bulletin headquarters (1955), Philadelphia architect George Howe's last building, says KieranTimberlake's Richard Maimon, answered the Beaux-Arts civic dignity of its neighbor 30th Street Station (1933, designed by Daniel Burnham's successor firm Graham, Anderson, Probst and White) with the mid-century modernist equivalent: a monumental concrete-framed volume balanced on narrow columns and a simple, largely blank east facade. Except for a small news ticker and the paper's name in lettering over a story high, the gray brick volume maintained a dignified silence.
During Drexel's use of the building after the Bulletin's demise, an intermediate renovation during the 1990s broke up the blank facade with three undistinguished, poorly performing single-glazed strip windows, resembling narrow slots on the short facades of Howe's building that had never admitted ample light. Its new incarnation, now the headquarters of biotech firm Spark Therapeutics, opts for full-scale transparency, daylight, and views, with better full-envelope insulation despite the dematerialization of replacing brick with glass.
Spark initially moved into the second floor during reconstruction, attracted by the location near Drexel and the University of Pennsylvania; finding the space congenial during a proof-of-concept period (and enjoying a boom phase after a merger with Roche Group), the firm expanded to fill floors three and four. Ground-lease holder Drexel retains a below-grade academic space under the adjoining park, Drexel Square (converted from the Bulletin's parking lot), Maimon reports, and at this writing Brandywine is seeking a retail tenant (e.g., a food hall) for the ground level. Technically a mixed-use building, the Bulletin Building places Spark's work (chiefly in anti-blindness/anticancer research) in public view and announces to the city the increasing prominence of the "eds and meds" economic sector.
On large and small scales, the building reimagines Howe's vision of a modern building as a communicative entity. Sculptural roof-mounted signage announces the Schuylkill Yards brand as the Bulletin's large lettering heralded the paper. Close inspection of the new glazing, Maimon points out, reveals a custom ceramic frit pattern above eye level for solar-gain reduction, derived from the Bulletin's typefaces, a gesture to "subtly represent the history of the building as a place of print." By night, uplighting from inside the glass lets the metallic armature articulate the building's form as interior lighting makes the building a beacon. Between the first and second floors, where the soffit meets the colonnade, a new and larger LED information ticker updates that feature of Howe's original building.
An essential aspect of the mission was "not imposing new loads on the building," Maimon says, "despite having much more significant solar gain." With loft-scale 16-foot ceiling heights and floorplates in the 50,000-square-foot range, plus roof space, the building can accommodate ample mechanical systems, and Spark's operations move considerable air through the building – yet the combination of high-performance low-iron, low-emissivity glass and reroofing with significant insulation "actually reduced the energy load in the building," Maimon reports.
The armature suspended two feet off the east facade is sloped to prevent birds from roosting and painted with an automotive-grade metallic red (including touches of orange and a reflective mica-like glass element), developed in consultation with PPG and Spectrum Paint; its golden-section dimensions contrast with the 28-foot bays of Howe's interior pilotis, creating a visual polyrhythm that complicates the simplicity of the forms.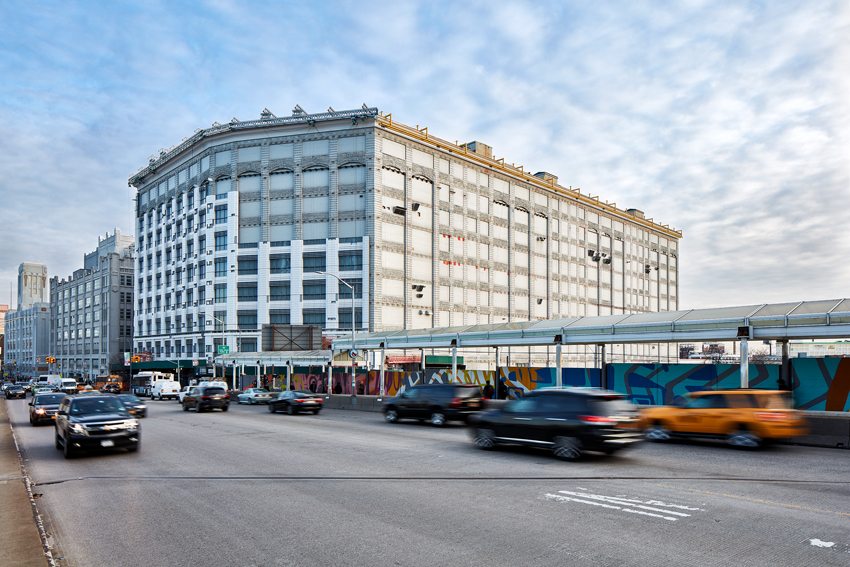 Photo credit: © Ashok Sinha
LaGuardia Community College, Brooklyn, midway through recladding.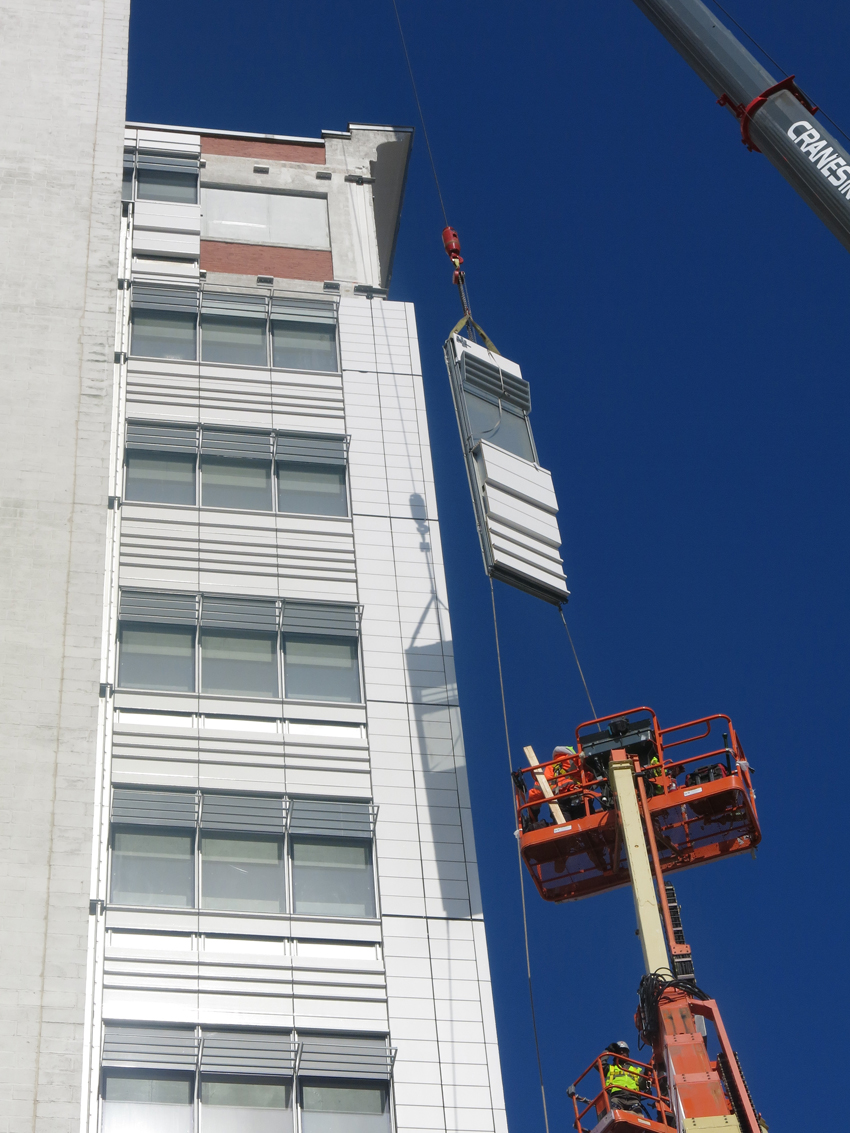 Photo credit: ©SinzianaVelicescu
Installation of curtain wall panels at LaGuardia Community College, Brooklyn.
Originally published in Architectural Record
Originally published in December 2021
Notice