Adaptive Reuse of Commercial Spaces: Curtain Wall Solutions
Contemporary facade strategies help make these buildings reliable and resilient investments under today's evolving conditions
Sponsored by The Ornamental Metal Institute of New York
This test is no longer available for credit
125 West End Avenue And 45-18 Court Square: Robust Enough For Life Science
In two commercial-to-research conversions in New York undertaken by Perkins + Will, envelope renovations are under way to improve the functionality, energy performance, and code compliance of the existing buildings. In one case, an inadequately insulated building received a full metal overcladding, improving both its interior environment and its outward appearance; in the other, a new building will accompany a converted industrial loft, with new window walls and improved insulation. Both are slated to host life science research enterprises, adapted to meet the rigorous demands of that sector.
An eight-story building within the ABC/Disney network's Upper West Side complex, 125 West End Avenue, was originally a Chrysler automotive building (used for both repairs and sales) during the early 20th century; more recently, it included television studios, production and support spaces, and offices. "It's a concrete building that actually doesn't really have any appreciable insulation in it currently," reports design director Robert Goodwin; "the actual concrete comes right out to the exterior, so it's not a very good building in terms of energy, and the facade was in a lot of need of repair."
After exploring various options with developer Taconic Partners, including window replacements and repointing the brick, the Perkins + Will team decided to overclad it with a metal and glass wall, with folds in the metal emphasizing the verticality of the original concrete piers. "The city allows for a certain dimension to overclad buildings within the zoning parameters, and you're given more or less four inches over the property line to overclad a building," Goodwin says, "and so metal was really probably the only option there, just in terms of thickness, to stay within that dimension." The new exterior uses panelized insulated glass curtain wall between separate full-story painted aluminum column covers. Although the energy-modeling information remains confidential, an engineer told Goodwin that the envelope has "significant impact" on overall energy performance.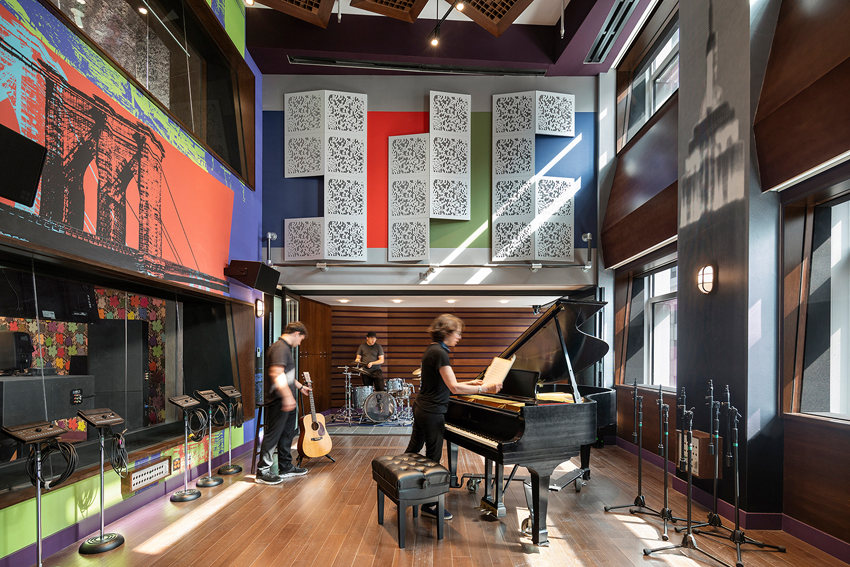 Photo credit: ©Albert Vecerka / Esto.
Double-height music studio at 370 Jay Street, with natural lighting.
"A life science building is quite different than a conventional office building," Goodwin continues, "in that the infrastructure is much more robust, and you really need to build in a lot of flexibility for tenancy that way." The building's dimensions and preexisting features are well-suited to research: with an automotive ramp and floors suited to the loading of vehicles, the structure limits vibration, an important quality in life science facilities. Upgrades of HVAC and electrical systems meet the needs of wet laboratories, including fume hoods ventilating to the exterior; floor-to-floor heights are large, in the 15-16-foot range. Energy modeling is under way to guide the scale of HVAC and other equipment; the building has been reported on track for LEED Gold certification.
At Long Island City's 45-18 Court Square, the 267,000-square-foot site of Innolabs, Perkins + Will are renovating an existing loft building to bring it up to code for life science tenancies and adding a six-story companion building with another metal curtain wall. "The idea of using a simple frame expression, with window wall inserted into a metal frame that has an angled expression of the metal column covers and sills," Goodwin says, has "a fairly muscular design appearance, and I think that picks up on some of the scale and the rhythm of the existing building." This complex did not have the energy challenges of 125 West End and did not need a full overcladding, with new windows and interior insulation to attain the desired level of performance.
Goodwin notes that the Innolabs project makes use of the city's Zone Green provision, which allows up to eight inches of additional wall thickness exempted from floor-area calculations, in an effort to incentivize high performance in retrofits. The sustainability goals of Local Law 97, encouraging all-electric power and Passivhaus-style minimal air changes, are in tension with life science buildings' ventilation requirements, he observes. The need to reconcile these aims implies that transformations of other programs into research facilities will focus attention on facade materials and details to find the appropriate balance.
Conclusion
Considering the uncertainties that the pandemic has brought to commercial real estate, office operations, and hospitality, adaptive reuse of underperforming commercial buildings is a logical and environmentally sound dot-connecting response. Whether it is practical in any given case, financially or otherwise, depends on creative approaches to the contrasting needs of the building types involved, working within the boundaries of codes, preservation laws, and market imperatives. Historical examples suggest that even an improbable conversion of a quirky, specialized building can succeed, provided the architects have the commitment and support of clients who perceive how long-range outcomes can justify the short-term investment these projects may require.
Specialists in adaptive reuse, while pointing to facade upgrades that dramatically improve buildings' habitability and environmental performance, largely agree that applying these gains to affordable housing remains the greatest challenge. Experience to date, at least in New York, indicates that incentivizing residential conversions at widely affordable levels is not something that private markets as currently constituted have done well. The wave of commercial-to-residential adaptations that succeeded in lower Manhattan in recent decades has largely occurred toward the higher end of the market; public officials have proposed several measures to expand on that model and support adaptations that aid more of the population.
"You can build a high-performance envelope that's installed as a curtain wall," observes NYSERDA's O'Shei, "and there's examples of that mostly in new construction; it really hasn't to my knowledge, moved into the reuse/adaptive reuse/retrofit world, mostly due to cost. It's not a performance issue; it is a cost issue. It is very expensive to reskin a building. But in terms of dealing with the issues – air sealing, thermal breaks, those things – we've seen technical solutions in our Buildings of Excellence competition, which is a multifamily design-and-build competition." In that program's first round, 68 percent of the units to be constructed serve low to moderate-income customers, and the second round increases that proportion to 78 percent.
The separate new program HONDA, O'Shei notes, makes financing available for adaptive reuse as affordable housing if building ownership is transferred to a not-for-profit organization; "the first project I'm aware of is in the Kingston-Poughkeepsie area," he says, "and Catholic Charities is buying a hotel, converting it to housing and providing both affordable housing and services from the building."6 HONDA may become a model for measures in other jurisdictions. Should this policy spread further, observers of architectural trends may find ground for hope that financial feasibility will catch up with the technical feasibility evinced by numerous successful adaptations to date.
Endnotes
1Newmark. Manhattan market reports, 3Q21, accessed Oct. 22, 2021
2Haag, Matthew. Office vacancies soar in New York, a dire sign for the city's recovery. New York Times, July 2, 2021, p. 18, accessed Oct. 22, 2021
3Elefante, Carl. The greenest building is...one that is already built. Forum Journal 27(1):62-72
4New York City Department of Buildings. NYC Codes. (Includes links to current 2014 construction codes, electrical code, 2016 energy conservation code, and construction codes from 2008, 1968, and 1938.), accessed Oct. 26, 2021
5New York State Senate. Senate Bill S5257C, 2021-2022 Legislative Session. Enacts the "Housing Our Neighbors with Dignity Act."
6Callahan, Cloey. Ulster County group purchases hotel to convert it into supportive housing. Albany Times-Union, Aug. 20, 2021. , accessed Oct. 26, 2021
Bill Millard is a New York-based journalist who has contributed to Architectural Record, The Architect's Newspaper, Oculus, Architect, Annals of Emergency Medicine, OMA's Content, and other publications.
| | |
| --- | --- |
| | The Ornamental Metal Institute of New York is a not-for-profit association created to advance the interests of the architectural, ornamental, and miscellaneous metal industries by helping architects, engineers, developers, and construction managers transform designs into reality. |
Originally published in Architectural Record
Originally published in December 2021
Notice