Adaptive Reuse of Commercial Spaces: Curtain Wall Solutions
Contemporary facade strategies help make these buildings reliable and resilient investments under today's evolving conditions
Sponsored by The Ornamental Metal Institute of New York
Learning Objectives:
Identify circumstances and challenges surrounding adaptive reuse of commercial spaces under real estate market conditions affected by the COVID-19 pandemic, altered patterns of office work, and the enduring needs of urban communities.
Distinguish the requirements of commercial, residential, educational, and research buildings for air, light, acoustics, and other aspects of occupant activity and health that are affected by facade types.
Recognize the solutions offered by a range of historic and contemporary buildings whose curtain walls and other facade types have been important elements of typologic conversion.
Comprehend various probabilities and uncertainties affecting adaptive reuse of contemporary commercial buildings in the near future, including site selection, climate change, energy performance, urban contexts, and economic viability.
Credits:
This course can be self-reported to the AIBC, as per their CE Guidelines.
This course is approved as a Structured Course
This course can be self-reported to the AANB, as per their CE Guidelines
Approved for structured learning
Approved for Core Learning
This course can be self-reported to the NLAA
Course may qualify for Learning Hours with NWTAA
Course eligible for OAA Learning Hours
This course is approved as a core course
This course can be self-reported for Learning Units to the Architectural Institute of British Columbia
This test is no longer available for credit
The COVID-19 pandemic has changed many long-held assumptions about working conditions and commercial real estate in American cities. While working from home suits some workers and organizations better than others, these flexible operations have made considerable inroads against the 9-to-5 workday and the centripetal commute to central business districts. Few observers are confident that demand for urban office space will rebound fully. Even if the pandemic comes under nearly complete control and "Zoom fatigue" sours many workers and managers on home-office arrangements, some degree of ratchet effect on office-space demand is likely.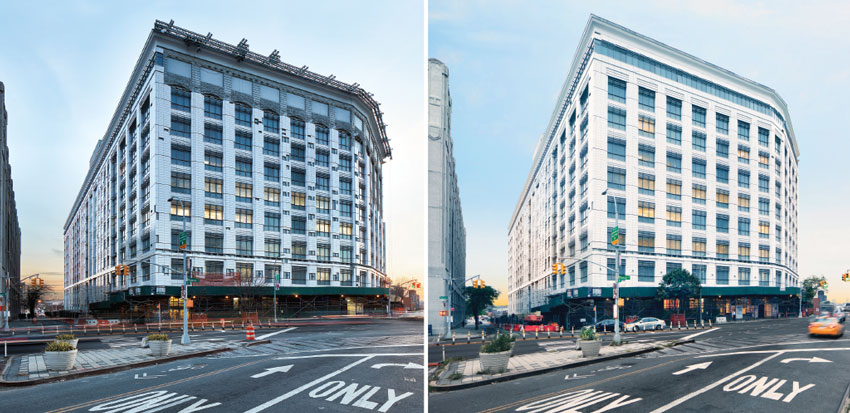 Photo credit: ©Ashok Sinha
LaGuardia Community College in Brooklyn as recladding work designed by Mitchell Giurgola nears completion (left). The facade following installation of new curtain wall panels (right).
Vacancy rates have reached unprecedented levels: New York's commercial vacancy rate peaked at 18.7 percent in July 2021, according to real estate services company Newmark, and remains at 18.5 percent at this writing (the close of the year's third quarter). Similar conditions affect other cities: as New York's vacancy rate was reaching record levels, Los Angeles reported 24 percent, and Chicago 22 percent.1, 2 With a glut of office space, at least for the foreseeable future, questions arise in many quarters about ways to put those square feet to better use.
Adaptive reuse of commercial space as residential, educational, or research space is intuitively appealing to architects, developers, environmentalists, and occupants, particularly in congested cities where new construction is difficult. Yet the adage that "the greenest building is the one that is already built"3 does not carry a corollary that any existing building is readily convertible to any new program. Sites and structures vary widely in convertibility. The different requirements for indoor environmental quality (IEQ), dimensions, sightlines, vertical circulation, egress, energy performance, and code compliance make some commercial buildings readily suitable for adaptation and others challenging, inefficient, or unworkable. Architects with experience in adaptive reuse note that repurposing an older building calls for careful analysis of site conditions, scales, proportions, materials, technologies, and environmental metrics, both before a project launches and during design and construction.
Retrofitting mid-century buildings involves proportional challenges in several dimensions, notes principal John Lesak of California-based Page & Turnbull. Vertically, floor-to-floor heights may not be sufficient for daylight penetration and views, or for mechanical systems and air ducts. Horizontally, a large square floorplate can make it harder for light and air to reach the center core than a more rectangular plan, unless light ports or carved-out courtyards are present. Some locations and architectural generations also pose distinct problems: in downtown Los Angeles, Lesak says, a core of buildings from the 1920s have been "vastly underutilized" in their upper floors, though ground-level storefronts remained active. Local adaptive-reuse ordinances in LA since about 2001, "specifically designed to convert older commercial office buildings into houses," have focused more on egress safety and seismic structural upgrades than ventilation and energy performance.
Critical elements of adapting a commercial space for any new program include determining how its facade manages air, daylight, and energy relative to the new use's specific requirements. Conditions that are tolerated in offices, which can rely extensively on artificial lighting and mechanical ventilation, may be neither marketable nor up to code for residences, which require operable windows in New York City. Commercial buildings' curtain walls lacking operable segments are often efficient from the standpoint of energy conservation but incapable of allowing fresh air to reach occupants, contributing to the much-derided "sick building syndrome" noted in construction from the 1970s and 1980s.
Decisions about recladding or other facade modifications can be essential determinants of a conversion project's environmental, operational, and financial viability. Contemporary approaches to curtain walls, window walls, and other facade types have expanded the options available for balancing the contrasting imperatives associated with these projects. "There are incredibly technologically sophisticated curtain-wall systems now," notes Peter Bafitis of RKTB (formerly Rothzeid Kaiserman Thomson & Bee), a New York City-based firm with an extensive adaptive-reuse portfolio, "but you need to do it in conjunction with other energy measures to get a building in compliance these days." Curtain walls and related structures are "like putting a blanket on a building" inefficiently providing insulation, says Bafitis's colleague Carmi Bee, "a membrane that maximizes the amount of usable floor area." These facade modifications have a long history as problem-solving components of buildings undergoing a change of use.
The logistics of recladding any type of non-vacant institutional building can be a significant part of the decision process, notes associate principal John Breisky of envelope consultant Heintges. "One thing that's foremost in any discussion about a reclad or an overclad is what you do with the building population while you're doing the work," he says; a single-tenant building is generally easier to work with than a multi-tenant building, considering the demolition component, the need for a temporary weather wall, and the complexities of moving tenants to leased space offsite. "The expense to move out a large portion or the entire building population and just leave the floorplate open can very easily be the biggest cost of doing a project like this... Where you're taking a commercial office building and converting it to a residential use, whenever you're starting with an existing curtain wall, you have to look at the material that you're working with; you have to do a discovery, dig up all the information you can find. Hopefully there are records on file with the facilities department and/or the owner or the architect; you just gather what you can find, and then you can verify those findings by doing probes. If the owner is really serious about it, they'll work with you on that."
Adding operable windows for residential adaptation, Breisky continues, requires close attention to code compliance, including, in New York, differences between the 1968 code and modern code.4 "You may find, using current analysis, that the building doesn't really perform for the '68 code, but it's okay with the modern code, or vice versa; you can find that certain elements are overstressed or the deflections are not really what they ought to be. But maybe the single biggest difference is that when you introduce an opening or a series of openings into a building, that can affect the design pressure, the cladding pressure; that can have a big effect on feasibility, so when you're trying to control the pressures that a building experiences and stack pressures that occur seasonally through the building, you have to think about how tight the enclosure is, but also about compartmentation."
Curtain walls of earlier eras commonly had operable sections, notes RKTB's Bee, recalling such features on early adaptive-reuse projects in the Financial District. "As time has gone on," he says, "there is no operable section because of the sophisticated climate controls that we have. So what does that mean? That means that curtain walls are fixed, there are no requirements to have operable sections, and therein lies the rub, because in order to make it habitable, you have to have fresh air."
The balance between Passivhaus-style envelope tightness and ventilation requires case-specific solutions. With some buildings, despite policy incentives for residential conversion, the solution is transformation into a different purpose, e.g., education or research. In recent years, the life sciences sector has been a particularly vigorous component of both the economy at large and the adaptive-reuse movement.
Background Variables: Policies, Markets, Typologies, Proportions
Commercial-to-residential conversions are of particular interest given the chronic need for affordable housing in New York and other economically vigorous cities. Patrick O'Shei, director of market development for the New York State Environmental Research and Development Authority (NYSERDA), expects to see an increase in commercial-to-residential conversions over the next three years. "I would say in the moment it appears commercial is overbuilt and residential is underbuilt. Nationwide, office-to-residential conversions in 2021 are already occurring at twice the rate that they did in the previous two years combined, so that's already a national trend," he says. "We haven't seen this yet in New York. "I think it's primarily because our commercial leases in New York City tend to be so long." Visible and measurable vacancies imply that the city should be ripe for a wave of these adaptations.
"Adaptive reuse incorporates the fact that you're triggering a whole different set of code when you're changing the building from its intended use to a different use than what it originally was designed for," O'Shei continues. "The most likely candidates in terms of the commercial space are going to be buildings that were underperforming before COVID-19 or buildings that are located far from the main commuting stations, such as Penn Station or Grand Central." Compliance with Local Law 97, he says, the 2019 measure that phases in carbon caps for about 50,000 commercial and residential buildings over 25,000 square feet between 2024 and 2050, is another critical determinant of the investments required in these buildings.
Many observers attribute the rise of the financial district as a 24-hour residential/commercial/recreational neighborhood, rather than a daytime commercial area with little nocturnal life, to the 421-g tax incentive for commercial-to-residential conversions below Murray Street, City Hall, and the Brooklyn Bridge, in effect from 1995 to 2006. Some of these occurred in buildings of acknowledged architectural significance, with or without landmark status (another important variable in site selection and design decisions). Market momentum in this neighborhood remained strong after the 421-g incentive period ended. The number of residential units in Lower Manhattan, according to real estate services firm Coldwell Banker Richard Ellis (CBRE) and the Downtown Alliance, rose from approximately 14,500 units in 2001 to more than 33,000 in 2020.
Basha Gerhards, senior vice president of planning for the Real Estate Board of New York (REBNY), observes a recurrent pattern in demand for commercial space. "In economic downturns," she says, "there's been a flight to quality in office leasing," i.e., Class A office space, leaving Class B or C buildings as the logical sites for conversion. "Demand for Class A space has remained robust," as implied by rising interest in site visits: "A recent report from VTS [a property-management technology firm] found that tours of Class A office properties accounted for 70 percent of all tours citywide in late 2020; that represented a significant increase over the start of 2020 before the onset of the pandemic, when Class A office properties accounted for 55 percent of all tours." Gerhards finds that the "Class A office market is where we're going to continue to see vibrancy and growth, and this question of 'What do we do with the other buildings?' is, I don't think, a six-month conversation or a two-month conversation. This is a multiyear conversation."
With softening of demand for Class B and C space, along with zoning obstacles (many such buildings are in areas like the Garment District where zoning disallows residential use), she continues, conversions at that level are worth exploring, though still somewhat speculative. "The industry is sorting out what are the financial incentives that are necessary," Gerhards says. "What is the market going to look like? How much Class B and C office space will be liable for a conversion? How much will be taken up post-pandemic by new offices, new entrepreneurs, new commercial users? What is the regulatory landscape going to look like in order to incentivize or encourage the flexibility for these conversions to take place? We keep looking back to the Lower Manhattan model as an example of where everything really fell into place."
That model has its critics, however. Between the tax benefits to developers and underlying market conditions, the 421-g program largely led to conversions at the upper end of the market, adding some striking contributions to the city's luxury-housing stock but making little dent in the affordable-housing shortage or the size of the city's homeless population. A more recent measure, the Housing Our Neighbors with Dignity Act (HONDA), signed into state law in August 20215 has targeted distressed commercial properties more suited to the affordable and supportive sectors, particularly hotel-to-residential conversions, another intuitive target given pandemic-era vacancy rates.
Originally published in Architectural Record
Originally published in December 2021
Notice