Adaptive Reuse of Commercial Spaces: Curtain Wall Solutions
Contemporary facade strategies help make these buildings reliable and resilient investments under today's evolving conditions
Sponsored by The Ornamental Metal Institute of New York
This test is no longer available for credit
Hotel conversions are a specialized typology with repetitive floorplans, note Bafitis and Bee, requiring adaptation of mechanical systems, fenestration, and other features, along with layout changes to accommodate families rather than only one or two occupants. With rooms below 350 square feet, "you can't even get a viable studio, according to the zoning, in a hotel," says Bafitis. "Morphologically, hotels are very narrow," cautions Bee; "a standard residential building is in the area of about 60 feet deep, and that allows for double-loaded corridors, which are the most efficient. In hotels, they're much narrower, because the rooms aren't very deep at all [and] you don't have any hallways. Rooms would get really, really shallow, unless it was converted to a single-loaded corridor situation." Disability-related features are regulated differently in hotels and residential buildings, too, Bafitis notes. "There might be some relief there from government that might allow, in the case of a conversion, a more lenient interpretation of the handicap requirements to allow some of these bathrooms, for instance, to just remain in place, which would lessen the cost of conversion, and it would be a very quick step to getting a hotel to become an apartment building."
The ample plumbing in hotels, on the other hand, offers advantages over retrofitting office buildings, where expanding plumbing is costlier, comments Richard Maimon of Philadelphia-based KieranTimberlake. Maimon points to a recent proliferation of "mid-block, lower-tier chain hotels that are all over between Flatiron and Penn Station" as logical candidates for residential conversion. Potential obstacles to hotel-to-residential conversion, he finds, include the challenge of adding kitchens and exhaust infrastructure to units rarely configured for them, along with the city's uncertain, fluctuating lodging rate as tourism reacts to the pandemic, perhaps reducing owners' incentives for repurposing. International travel may recover as border restrictions relax, though in the Zoom era, he says, "I don't think business travel is going to get to the level that it ever was."
Maimon finds the research sector, particularly biological, to be a burgeoning field for adaptive reuse, even though research facilities need proportions and mechanical components that differ from those of available commercial buildings. "The conversion to life sciences is the hot topic in every market around the country, maybe, except Washington, D.C., which still has a strong office market," he says. "What that requires is generous floor-to-floor height and a generous structural bay. So what you find is, in a 1970s building, you might have a really good bay dimension, but deep steel beams or deep concrete beams that then are really difficult in terms of getting mechanical through. So that really is it: it's the ability to work the mechanical into the space, and then being able to accommodate the equipment on the roof or in intervening floors for the movement of air. And not every building can provide that, despite what you read in the paper about every landlord looking for life sciences."
Considerable numbers of Class B and C buildings date from eras when mechanical ventilation was largely unknown and operable windows were the norm. Though today's environmental performance standards were hardly a concern to the architects of the first half of the 20th century, some of these buildings outperform buildings of later generations in energy management, and their ventilation is more suitable to residential purposes than the heating/ventilation/air conditioning (HVAC) systems and sealed facades that dominated commercial construction after the mid-20th century.
To John Cetra, principal at CetraRuddy, initial questions about the viability of an adaptive-reuse project center on the floorplate. "In a typical apartment-building floorplate," he says, "you might have buildings that are about 60 to 65 feet in width, with a center double-loaded corridor, and you'd plan the apartments around this 30-foot lease span from the corridor to the window. The entire industry in the United States has refined that process, that kind of planning, and so you see that all around the country, for new residential buildings, that would fit into those kinds of dimensions. But when you start looking at conversions, the one major difference is that in most cases, you're dealing with a much deeper floorplate." The architect's challenge, he says, is how to take advantage of the additional depth while meeting code requirements for the elements of IEQ. "A big difference between the residential and commercial use is that most of the commercial uses did not require ventilation through a window."
The flexibility of curtain wall design is one of the most useful tools an architect has to address those challenges. Cetra calls attention to fabrication processes that are rarely visible to occupants or developers but of intimate interest to architects: "I think that's the big thing people don't realize about curtain walls: when you go to the factory and see how they're putting it together, it is essentially handmade. They're building all the pieces, putting them together to make a larger panel by hand, and then it goes to the job site." This century-old technology and related components offer a wide range of examples where problems of IEQ and environmental performance found solutions in the facades of buildings undergoing a transformation to serve new functions.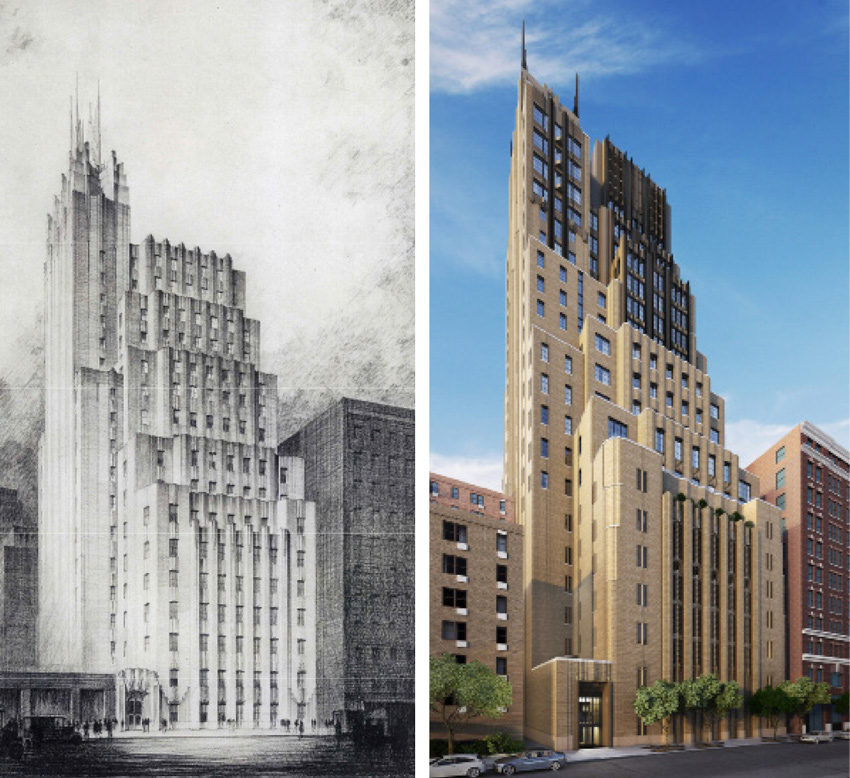 Photo credit: CetraRuddy Architecture (left); CetraRuddy Architecture (right)
New York Telephone Company Building (Ralph Walker, 1929) before conversion to Walker Tower (left). Walker Tower after conversion to residential use (2012) (right).
Walker Tower: Reinventing the Wedding Cake
One of CetraRuddy's highest profile projects has been adapting Ralph Walker's 1929 Art Deco building in Chelsea from its commercial use as a telephone exchange building to a high-end condominium building, rechristened the Walker Tower when it reopened in 2012. Its commercial occupant, Verizon (successor to the New York Telephone Company), sold two-thirds of the 24-story building (from the 10th floor up) to CetraRuddy's client; it is one of three Walker telephone buildings the firm has adapted. With high-end amenities, classic wedding-cake setbacks from its base depth of 198 feet, already-large windows dating from the pre-mechanical-ventilation era, and extremely large apartments (3,000 square feet with 10- to 14-foot ceilings), the building has become a magnet for both glamour photography and celebrity residents.
Cetra's firm addressed the new residential program's ventilation and energy challenges by dramatically transforming the masonry facade to include new structural steel, ventilated curtain-wall systems, and expanded glazing. The changes brought other benefits to floorplans and views. "We changed what was almost 48-inch windowsill heights," he says; "we brought them down to the floor," creating access to large terraces atop the setbacks. "The interesting thing about the terraces was that in the New York City zoning resolution, those terraces were counted as part of the floor area of the building because of the height of the parapet walls. When we realized this, we went to the Building Department, had a conversation with the commissioner in Manhattan, and we presented our case and said, 'Well, this is really floor area.'" The officials agreed, observing that this space was enclosed; by recalculating existing floor area, the architects were able to shift some floor area to create large apartments on upper floors. Officials also allowed them to lower the parapets, "so that if you were sitting in a room or sitting on a terrace, you didn't feel like you were in a bathtub."
Adding glass balustrades, changing the heights of certain setbacks, and adding to the building's width in certain areas, Cetra and colleagues were "basically creating a new facade element, all within the style of the building... we didn't want to create something that was alien to the design of the building." The new envelope, combining curtain-wall segments with masonry, stainless bronze, and stainless steel, features large tilt-and-turn windows yet is also more energy efficient thanks to modern codes. "Improving the thermal quality of the wall," Cetra says, "unless you're going to add another entirely new layer to the outside, you're going to really be working from the inside, because you want to preserve some of the beauty of the masonry." Along with four new corner spires based on Walker's drawings (though absent from his final design) and geometric Art Deco ornamentation, the tower updates Walker's vision without adhering literally to its original realization. The absence of a landmark designation made this improvisation possible.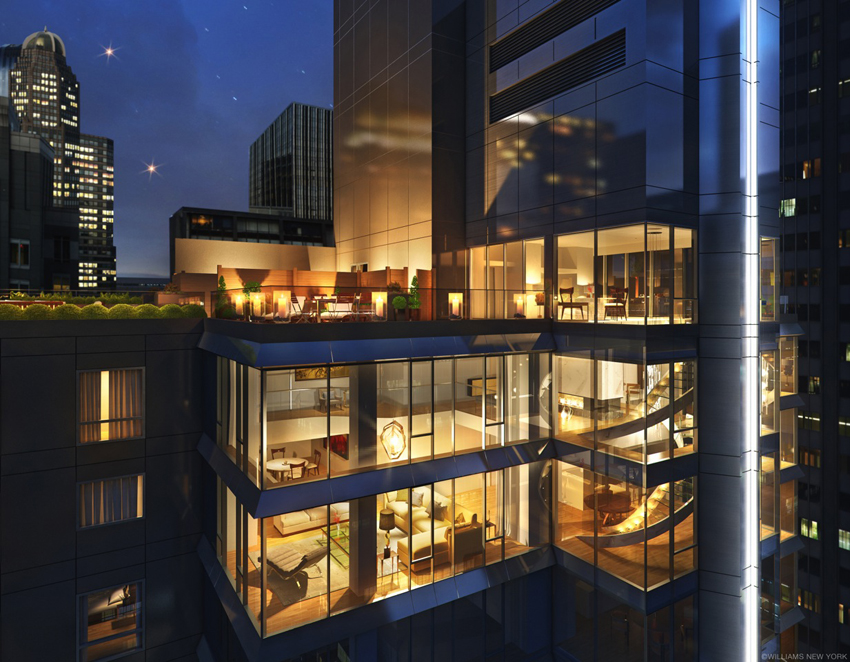 Photo credit: CetraRuddy Architecture
The former Flatotel at 135 West 52nd Street after adaptation for residential use.
20 Broad Street, Flatotel, and 180 Water Street: Mid-Century Modifications
Cetra notes that New York's major mid-century zoning change, from the 1916 law calling for setbacks to the 1961 zoning allowing for the large corporate floorplates of tower-on-base or tower-on-plaza designs, make later commercial buildings, if converted, more suitable to narrower, longer apartments on smaller scales (450-800 feet), more easily marketable as rentals than condos (thus addressing the city's need for mid-price rental housing). Floor plans in that generation include larger elevator cores, built for commercial-scale workday traffic "where a million-square-foot building could have over 5,000 people working in it," and sometimes windowless interior rooms or alcoves with mechanical ventilation, sometimes adaptable as home offices. (The city's 2014 code requires each bedroom or other "habitable room" to have at least 12 square feet of window area.) "You have to rethink that whole experience and sequence of space, going into a much longer apartment," he comments: "what's the entry like, and where is the point that you can see a window."
hese smaller spaces in other CetraRuddy projects like 20 Broad Street (converted from a New York Stock Exchange extension space), he notes, with over 500 apartments typically about 18-20 feet wide and 40 feet long, are popular with younger residents; here, replacing largely nonfunctional single-pane operable windows with double-pane glazing, keeping the curtain wall's aluminum stick system, sharply increased thermal efficiency. Another conversion on West 52nd Street, the former Flatotel (originally designed by Rafael Viñoly), involved complete replacement of a poorly fabricated and thermally troublesome curtain wall—"I guess it just missed the time when there were changes in the code which required a higher energy efficiency," Cetra comments—so that the new system with floor-to-ceiling glass and thermally broken aluminum, along with an infill system over the back of the building to combine transparency and opacity, meets contemporary energy standards. Hotel-to-residential conversions, he notes, are often easier because of shorter lease spans, in the range of 25 feet from corridor to exterior wall.
At 180 Water Street in the Financial District, a former office block built in 1971 and converted in 2016, Cetra's team encountered "a much more consistent curtain wall, almost like a Miesian curtain wall of verticals that ran around three sides of the structure" and replaced fixed panes with operable windows to meet residential ventilation needs. Floorplates here were so large that space remained left over beyond the approximately 40-foot apartment depth, so Cetra's team carved out a courtyard running through the building from the 3rd to 25th floors, adding three new floors to the top of the building. This is not always possible in 1950s and 1960s structures, he notes, because of seismic and wind-load requirements limiting changes in the height-to-width ratio and lateral load calculations.
Cetra looks to technological advances for assistance in bringing light and air into adapted buildings with challenging dimensions. "You're going to be probably changing the entire mechanical system," he notes; "you're going to be providing some ventilation from outdoors, but the whole system is being upgraded, so better MERV [minimum efficiency reporting value] filters, more air changes per minute, things like that, are elements that can be easily incorporated into new buildings, and especially into these new conversions." Where daylight penetration is limited, he adds, new films and daylight-redirection glazings, as seen in larger spaces like museums and gymnasiums, offer the opportunity to overcome sharp shadow lines, dim interior zones, and excessive glare.
Another innovation, he speculates, could drastically change the thermal properties of building envelopes: "I'm seeing some incredible claims that essentially global warming could be eliminated if we changed the way that we paint outside of buildings," making roofs and walls reflective surfaces rather than dark heat sinks. "There's research being done now which replaces the titanium oxide in paint and uses a barite or a powdered Teflon in a way to reduce that ultraviolet radiation that still comes through the wall, and it's pretty dramatic." Reflective paint on spandrel panels of curtain walls, he imagines, could bring "tremendous benefit to the environment by reducing that solar heat gain." While recognizing that looking to facade features as a silver bullet solution to the climate emergency is in the literal sense incredible, Cetra is optimistic about new materials that continue to advance buildings' resilience and improve their occupants' experience.
Customization of unitized panels, he finds, can also contribute bridges to the past. "We're working now on a project at 65 Franklin Street... [where] we created a curtain wall which really takes its cues from the cast-iron architecture that is surrounding that area. We just did all the mockup testing two weeks ago, and everything is great, but we took the idea that in cast-iron architecture, each piece is cast and then assembled, and they used a classic style at the time to create columns and pilasters and cornice lines and all that. We reduced all of that to a more contemporary language, but in a way, it's a similar thing, because it's a unitized curtain wall. Some pieces are even handmade."
Originally published in Architectural Record
Originally published in December 2021
Notice