Adaptive Reuse of Commercial Spaces: Curtain Wall Solutions
Contemporary facade strategies help make these buildings reliable and resilient investments under today's evolving conditions
Sponsored by The Ornamental Metal Institute of New York
This test is no longer available for credit
LaGuardia Community College: Recladding Without Evacuation
New York firm Mitchell Giurgola and Heintges have collaborated on a commercial-to-academic conversion in Queens, where the former Sunshine Biscuit Factory (the "thousand-window bakery") was adapted for use as LaGuardia Community College's Center III. The institution is part of the City University of New York, which serves a diverse community by providing affordable higher education; many of its students, notes Heintges senior principal Areta Pawlynsky, are the first of their families to attend college, often immigrants. Its facilities are rarely glamorous but pivotal for the city's cultural, social, and economic life. Recladding Center III with prefabricated unitized panels solved a problem that had plagued the building for years.
"It was long overdue for attention at the enclosure," says Heintges's John Breisky, with "a lot of old windows, terracotta that had been failing, and a variety of other stuff that kind of been patched over the years." Protective sidewalk sheds surrounded the building for over a decade as college officials considered practical responses, including demolition. Instead, "they put together a program to overclad it with a unitized curtain wall that was terracotta-clad," he says. "I think it might not be on people's radar because it's in Long Island City, on the other side of the tracks from the waterfront."
With the 168,000-square-foot building remaining occupied, Breisky says, the project began with demolition work and creation of a temporary weatherproof enclosure; the crew filled in window openings and applied a coating over the masonry. "They had to remove the terracotta that was loose and projecting outward to create a datum, so that they could then apply new unitized curtain wall panels, and the whole installation was done from the exterior." The building comprises a full city block, and logistical challenges included partial street closures. Installers went up with boom lifts; curtain-wall units went up by crane; as panels went in section by section, the crew would isolate them from the ongoing work and remove the temporary framing in the window openings, restoring daylight to the classrooms. "So the kids had to go without light for a little while, but they managed to keep the place operational, and it's a really nice project."
The new facade has sharply improved air infiltration, Breisky says, correcting leaks from single-glazed operable windows and minimal insulation. The process involved a performance mockup, subjected to tests for structural integrity and thermal control, a step he recommends for any bespoke project. The improvement in IEQ improves outcomes for the students; when "you have people sitting in a classroom having to concentrate and pay attention, when you're addressing thermal comfort, when you're looking at glare mitigation and your glazing selection and introducing sun shading, it's got to make a huge difference... There's a big difference in the fabric and what enclosure means between a 1910 biscuit factory and a 21st-century curtain wall."
As code upgrades drive facade performance standards higher, Breisky sees advances in framing – sometimes overlooked amid attention to glazing and coatings – as an area of opportunity for improving a system's U factor. In thermal shields in portions of mullions that are exposed to the exterior or in rain-screen gaskets, "they're applying a less conductive material; it may be a snap-in piece of a polyamide, or it could be a PVC to stop the flow through those portions of the framing." Thermal breaks, a time-tested strategy, are "getting a little deeper on some systems," he notes; "you can have foils applied to the thermal breaks, closed-cell foam inserts that are used to stop convection within the profile." Canted glass or other special conditions "might require that you jacket the mullion at the interior side...we're seeing more insulation on opaque units to improve performance [and] compensate for the glazed areas. We're always hearing that you should try and keep your window-to-wall ratio down; leasing people just want glass everywhere. The code really wants you to be honest about how you've come about your performance, and you have to demonstrate how you're deriving it."
"The big selling points that really sell unitized curtain wall," Breisky has found, are that "while the structure's going in, while the steel's going up, and ideally by the time your steel is up to a certain point, you can start erecting your units, so you can have all of those units manufactured, or a good number of them, ready to go. The idea is to streamline the process."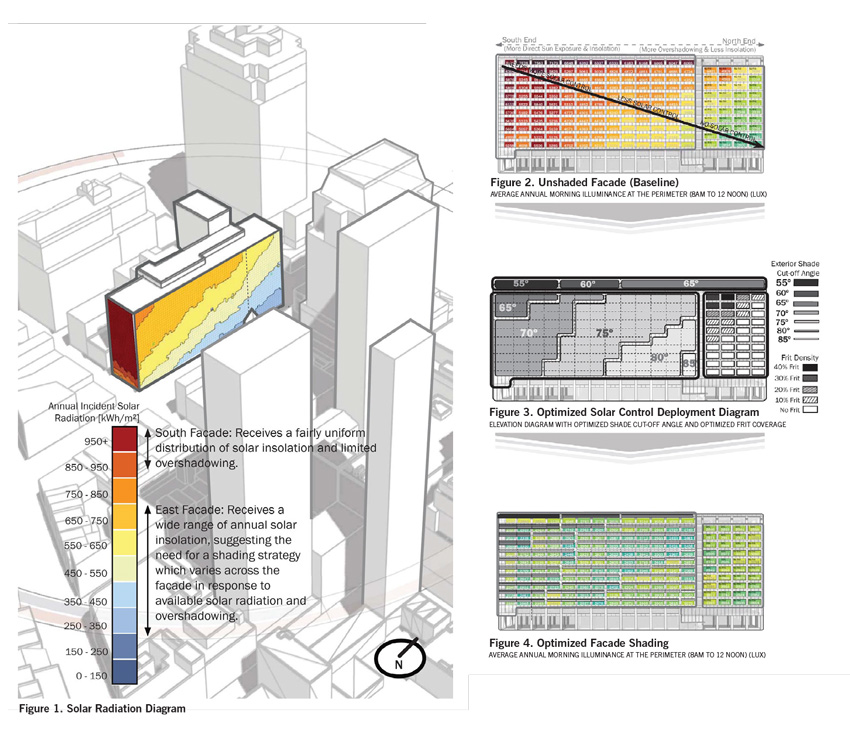 Courtesy of Mitchell Giurgola
Solar radiation diagram and solar control plan, 370 Jay Street.
370 Jay Street: Subtlety Beats Heroics
At 370 Jay Street in downtown Brooklyn, the Metropolitan Transit Authority's historic Transportation Building was taken over by New York University and adapted by Mitchell Giurgola for educational uses. The 13-story William Haugaard building, designed in the 1940s and completed in 1951, attracted praise from none other than Lewis Mumford. Its seven-by-seven casement windows, Corbusian pilotis, and five-inch-thick white limestone facade brought dignity to MTA operations for decades, until deferred maintenance gradually left it in disrepair; NYU took it over in 2012.
Early plans called for the building to host the Center for Urban Science and Progress (CUSP), an academic program combining informatics and urban policy, along with several other program components not identified at the time. "We were going to take off this heavy limestone facade and create a high-performing curtain wall, and it was really fun to design," says Carol Loewenson, partner at Mitchell Giurgola. Ultimately, however, a subtler intervention made more sense.
Collaborating with Atelier Ten and Heintges, Mitchell Giurgola's architects studied its thermal performance at each point along the facade and found that the limestone facade performed well, but the existing windows allowed excessive solar gain, with a regular pattern, from the hottest points on the southern end and high floors to the coolest to the north and lower. "In fact, the windows were terrible, but that limestone facade was fine," comments Loewenson. "So in terms of sustainability, the most sustainable thing you can do is to reuse something, and so it was from the architectural heroic designer point of view [that they thought] 'We need our new facade.' But the truth is, what are we doing here in this world right now?" Circumspection overcame the desire for a heroic intervention.
The windows were initially all flush with the limestone facade; the team decided to push them in and add extruded aluminum solar shades, varying both the depth of repositioning and the size of the sunshades south to north and high to low so as to even out the solar gain. "The sun shades become shallower and shallower, until at the north end they're just a decorative element," Loewenson says. "The depth of the window casing is the same on all windows... from the front face to the inside face, it's something like 16 inches. The windows turned out in that extruded aluminum on all sides, and then the location of the window just traveled back and forth within what we call the cassette." The system took advantage of mass-production efficiency and off-site fabrication of the aluminum units.
Ultimately, comments partner Stephen Dietz, the design team "stayed true to this fairly simplistic, repetitive modernist look of the building, but added this little fun twist where the sun shades are moving on that biangle, along the eastern facade. It's kind of playful, ultimately, when you walk by it."
"When we had the schemes for replacing the facade, it was a real question of, 'How do you create some articulation when you don't know what the program is?'" Loewenson adds. "And frankly, I think they still wanted there to be a lot of flexibility, and one of the things we discovered was that this facade that seems very repetitive and rigid turned out to be quite flexible."
The building's program also evolved, she recalls. "Initially they thought it was all going to be back-of-house NYU program, and in the intervening years, downtown Brooklyn just became the hottest place, and so it ended up that the Clive Davis School of Recorded Music is now in there, and ITP [the Interactive Telecommunications Program], which is one of the most creative arts programs at NYU, and really anywhere in the country." With the thick walls providing acoustic insulation and the new solar-control system managing light and temperatures, the performers and engineers in the Clive Davis School are able to work in an atmosphere that earlier generations of studio musicians, accustomed to sealed rooms and artificial light deep in interiors and basements, could scarcely imagine: a double-height studio with daylight.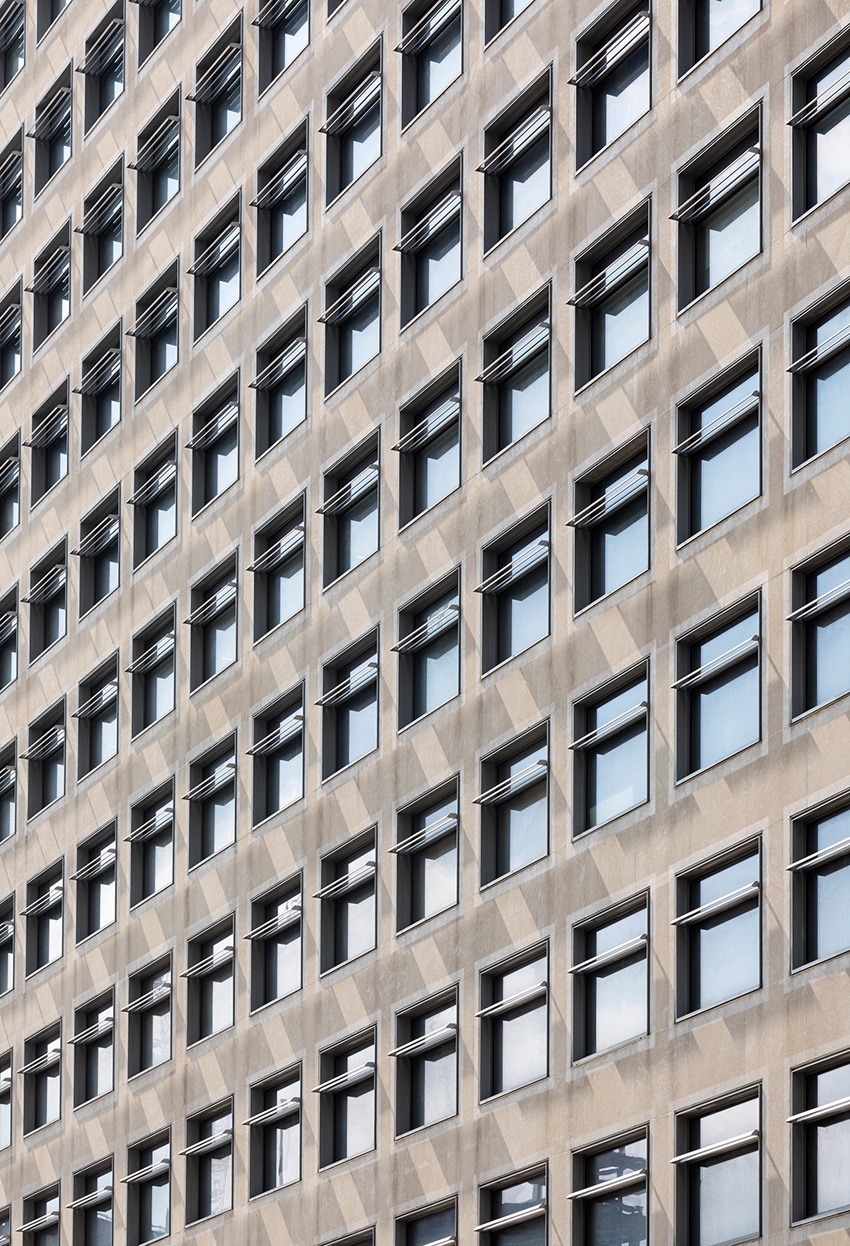 Photo credit: ©Albert Vecerka / Esto.
Former Metropolitan Transit Authority building at 370 Jay Street, Brooklyn. Fenestration features gradual changes in window depth and sun shading in two dimensions (high to low floors, north to south).
Originally published in Architectural Record
Originally published in December 2021
Notice