Resilient Flooring and Sustainability: Environmental, Health, and Social Impacts
The importance of utilizing a multi-attribute approach in the selection of resilient flooring
Sponsored by Resilient Floor Covering Institute
FloorScore is the most well-known and recognized indoor air quality (IAQ) certification for hard-surface flooring materials, adhesives, and underlayments. Developed by SCS Global Services with the Resilient Floor Covering Institute (RFCI), it qualifies and supports many green building rating systems' criteria requirements including LEED v4.1 and Green Globes. The same IAQ requirements that are used for FloorScore compliance are also included in the ANSI/ASHRAE/ICC/USGBC/IES Standard 189.1 which is the codified content included within the International Green Construction Code (IgCC).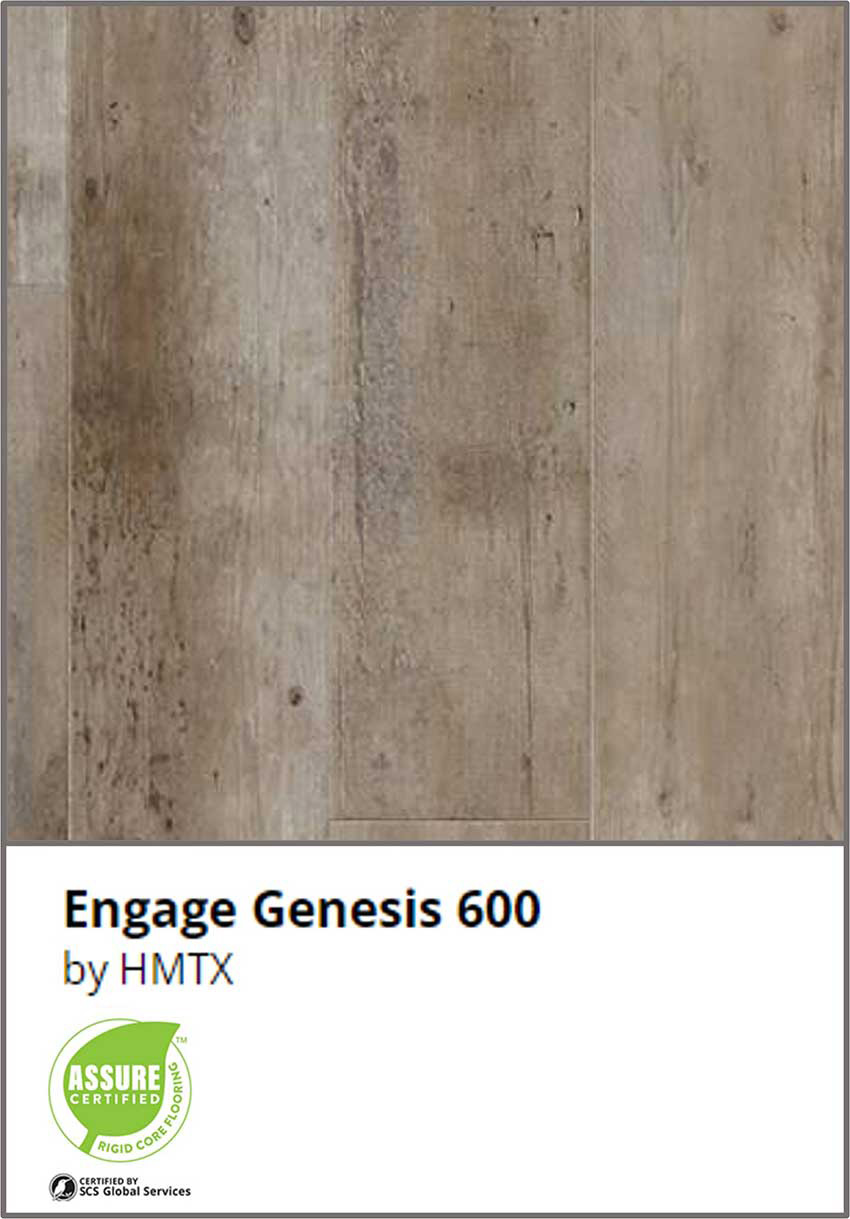 Photo courtesy of HMTX
Example of ASSURE CERTIFIED rigid-core product.
ASSURE CERTIFIED rigid-core flooring products are available on the SCS Global database and searchable by product type and manufacturer. The certification requires compliance with the SCS standard for rigid core flooring, provision of a quality control procedure, and an on-site audit for completing the certification requirements, as follows:
Manufacturer has a quality control procedure to control material suppliers, product traceability, chain of custody, internal quality control testing, and segregation of non-conforming products/materials.
Indoor air quality compliance to the same rigor as FloorScore, performance tested to ASTM F3261-17 Standard, tested for no intentionally added heavy metals (lead, hexavalent chromium, cadmium, and mercury) per test method EPD SW 846 Method 3052, and tested for no intentionally added orthophthalates per test method CPSC-CH-C1001-09.4 or GB/T 22048.s.
An on-site audit conducted at the manufacturing facility to confirm compliant quality control procedures, material inputs, and scope of products intended for certification.s.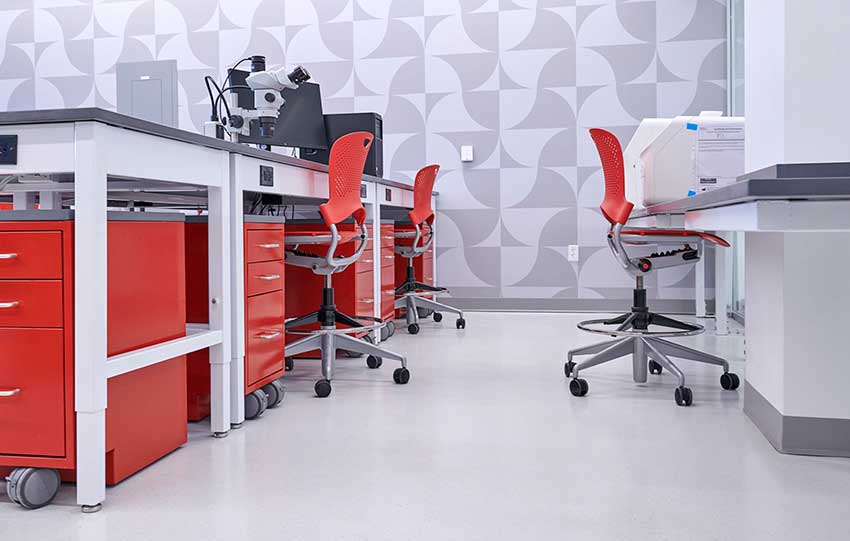 Photo courtesy of Roppe
NSF/ANSI 332 Certified Product: Rubber Flooring: Lab Application
The Resilient Floor Covering Institute (RFCI) has been updating the NSF/ANSI 332 Standard: Sustainable Assessment of Resilient Floor Covering, which is based on criteria developed by a consensus process with NSF. This process is accredited by the American National Standards Institute (ANSI) to develop American National Standards. ANSI's accreditation verifies that NSF/ANSI standards are developed through the involvement of stakeholders who are directly affected by the scope of the standard. A joint committee of public health, industry, and user members who are responsible for proposing standards, vote on standards, ensuring public health and safety, addressing environmental concerns, and responding to requests for interpretations of NSF standards.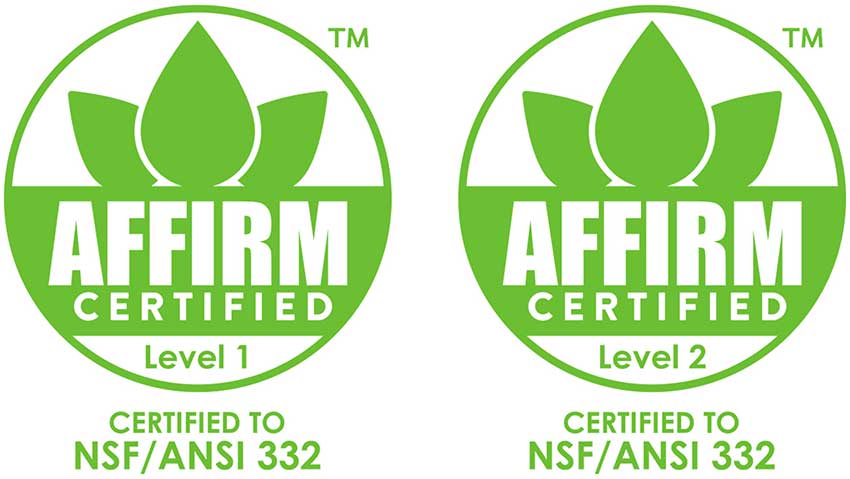 Photo courtesy of Resilient Floor Covering Institute
AFFIRM CERTIFIED - Level 1: All criteria must be met. Level 2: Optional criteria to be met from each category and manufacturer picks the last criteria for full compliance for Level 2 certification. All certifications are third-party verified by program operator.
The NSF ANSI 332 standard has been available for over 10 years. The latest version of the standard includes criteria in three areas – environmental, health & wellness, and social impacts. The standard also requires a Type III environmental product declaration (EPD), either industry wide and/or product specific, that includes a life cycle assessment, the IAQ requirements included in FloorScore, ingredient transparency disclosure, and the requirement for testing to demonstrate that no intentionally added orthophthalates and heavy metals are found in the products. Products complying with the standard will be third-party verified by program operators and certified with the new certification mark, AFFIRM. Specifiers can be confident in product selections when they see the new mark coming into the marketplace that a robust third-party verified certification process is behind AFFIRM CERTIFIED products. Ann Dougherty, the sustainability manager at Roppe Holding Company, has had a full and varied career in sustainability and has championed and utilized the NSF ANSI 332 standard to continually improve the development of products and manufacturing. With this background, we now will hear from Ann, who has used the standard on the journey for continual improvement of resilient flooring products since the inception of the standard.
Declarations + Embodied Carbon – Building Transparency + EC3
Global warming potential impacts and resulting climate change are top of mind and of key importance to designers, architects, specifiers, contractors, product manufacturers, and building end users. The decarbonization initiatives are being developed through many organizations (e.g., AIA, ASHRAE, IIDA, ASID) and governmental agencies and departments (e.g., the Green Building Advisory Committee (GBAC) of the General Services Administration (GSA)) in response to concerns about planet health and in response to various Executive Orders from the White House.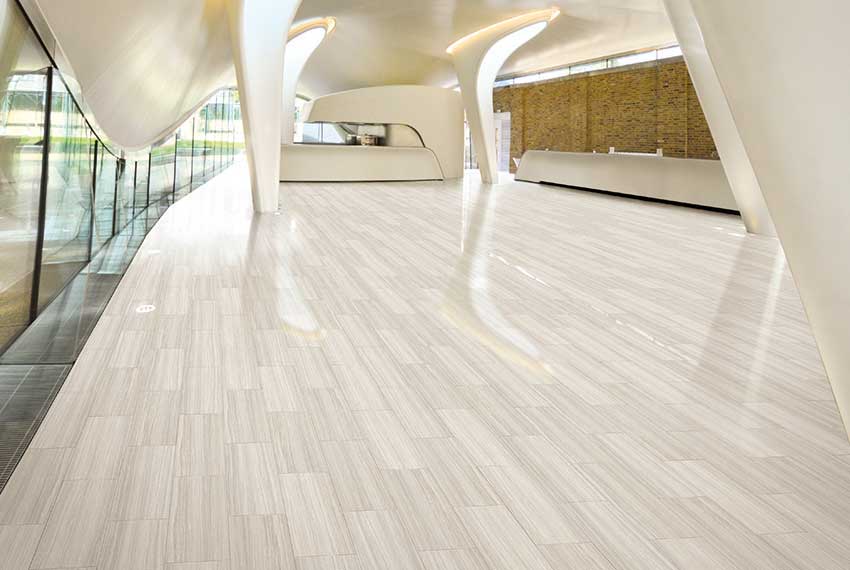 Photo courtesy of Nox US
LVT: Workplace Application
Originally published in Architectural Record
Originally published in May 2022
Notice