Resilient Flooring and Sustainability: Environmental, Health, and Social Impacts
The importance of utilizing a multi-attribute approach in the selection of resilient flooring
Sponsored by Resilient Floor Covering Institute
Material Databases – Bringing Sustainability Information Together
In sharing all of the sustainable perspectives and the certifications, ecolabels, and declarations that are completed by resilient flooring manufacturers – is there a single place where performance, sustainability, and health & wellness information is housed for reference? Sustainable Minds Transparency Catalog includes EPDs, health product declarations (HPDs), and is connected to the EC3 tool directly to provide embodied carbon information. The Mindful Materials database includes various ecolabels and information, but does require moving among different websites to create a project and include the various environmental and health and wellness information and products within a project, and ecomedes - which has been the material database of choice for RFCI and its members to create a one-stop sustainability hub for resilient floor covering products and sustainable information.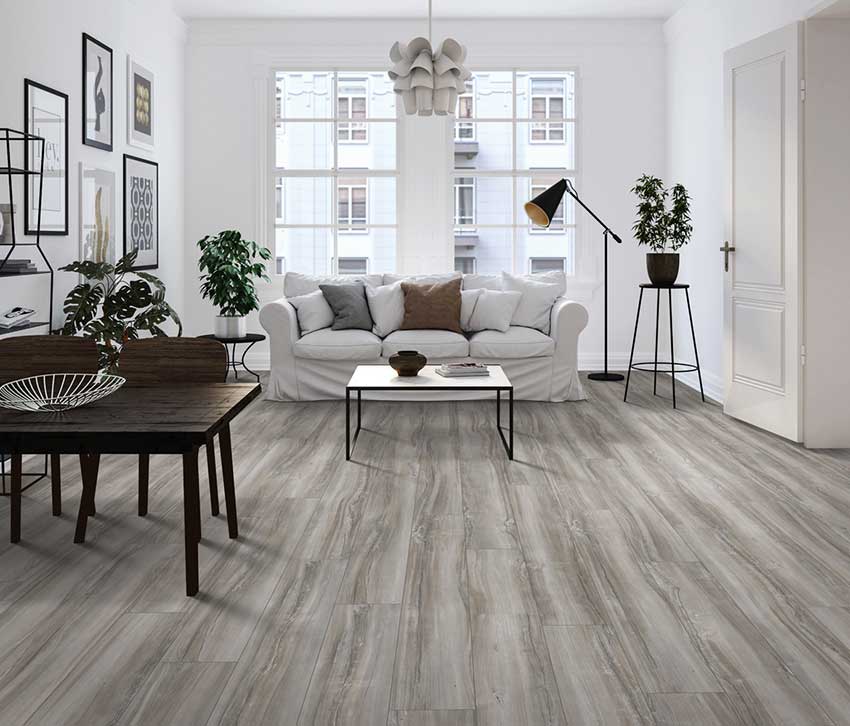 Photo courtesy of Mohawk Industries, Inc.
LVT: Residential Application
The database includes performance information, related compliance criteria included within building rating systems, ecolabels updated with connections to Program Operators, EPDs, HPDs and Declare Labels, and connected directly to embodied carbon information on EC3. Further, the General Services Administration (GSA) expanded their Sustainable Facilities Tool (SFTool) to streamline sustainable product procurement for buyers, specifiers and vendors by connecting to a dedicated link from the SFTool to the ecomedes database. This is the approach also taken by RFCI, other organizations, and specific manufacturers. The benefit of the RFCI and ecomedes collaboration includes the connectivity to GSA product and procurement requirements that have already been established. Overall, the ecomedes database provides a one-stop location for specifiers, contractors and installers, and building owners to evaluate and compare product, complete specifications, and have the product certifications and declarations directly available to the project team to comply with building rating systems and supporting the design of high-performance buildings. Let's now hear from Roxanne Spears about her experience with using the ecomedes database.
Conclusion – Key Takeaways
Specification of sustainable products is a complex process. Part of the solution for design professionals is providing clear and easy-to-access sustainability information for products, and when coupled with collaborative stakeholder involvement in the completion of material and product Owner Project Requirements, results in a sustainable flooring specification. Based on the project, choosing products that have an appropriate product service life, installation of mock-ups when appropriate, following manufacturer recommended maintenance practices, and completion of post occupancy reviews are all components of ongoing successful installations. It is recommended for design professionals to understand the basics of material science for different types of materials, manufacturing production processes, and varying attributes of resilient flooring to further assist in making informed decisions. Visit the RFCI website for more information.

Jane M. Rohde, AIA, FIIDA, ASID, CHID, ACHA, LEED AP BD+C, GGA – EB, GGF is a healthcare architect and sustainability consultant and sits on various healthcare and sustainability committees supporting research, advocacy, and humanistic approaches to design. www.jsrassociates.net.