Resilient Flooring and Sustainability: Environmental, Health, and Social Impacts
The importance of utilizing a multi-attribute approach in the selection of resilient flooring
Sponsored by Resilient Floor Covering Institute
Building Transparency is continually adding product categories into their Embodied Carbon Construction Calculator (EC3). RFCI participated as a pilot collaborator with Building Transparency resulting in a public facing resilient floor covering category being available to the design community for selection and comparison of products for evaluation for various types of settings.
In evaluating embodied carbon, the building and construction industry has started with materials and products used in the shell of buildings because of the size of potential impacts. It is also a place to begin to develop language, recommendations, and requirements in guidelines, codes, regulations, and building rating systems around embodied carbon within materials and products. Let's hear the perspective from a Resilient Floor Covering Institute board member, Roxanne Spears, vice president of Sustainability for Tarkett, on requests from the field around embodied carbon and the resilient floor covering product category.
The demand for global warming potential (GWP) impact information for making informed specification decisions is continuing to grow – and when evaluating a product's service life over the service life of a building, interior finish materials may have several replacements over an estimated building service life of, say, 75 years. The overall Building Transparency initiative includes collaboration among various organizations (including, but not limited, to the Carbon Leadership Forum, strategic funding partners (e.g., Amazon, Google, Facebook, Microsoft, Skanska, etc.), The Vinyl Institute (VI), Chemical Fabrics and Film Association (CFFA), and the Resilient Floor Covering Institute (RFCI)) to conduct cooperative stakeholder meetings to define the performance specifications needed for comparative product searches for specific applications. The resilient flooring category includes rubber, vinyl, and linoleum flooring products.
RFCI members have come together to partner with Building Transparency to provide performance data, parameters, industry wide and product specific environmental product declarations (EPDs), plant locations and grid sources, and general ingredient percentage information based on life cycle assessment data to successfully pilot the resilient flooring product category that is now publicly available on Building Transparency's Embodied Carbon Construction Calculator (EC3). As product specific EPDs are completed and industry wide EPDs are updated, they will continue to be added to the EC3 database by RFCI and their members. For the development of new or updated EPDs utilizing product manufacturer information, Building Transparency has requested that program operators, who are responsible for third-party verifying EPDs, use an OpenEPD format to ensure data can be consistently and accurately digitized into the EC3 tool improving accuracy, efficiency, and consistency of data in the EC3 database used by product specifiers.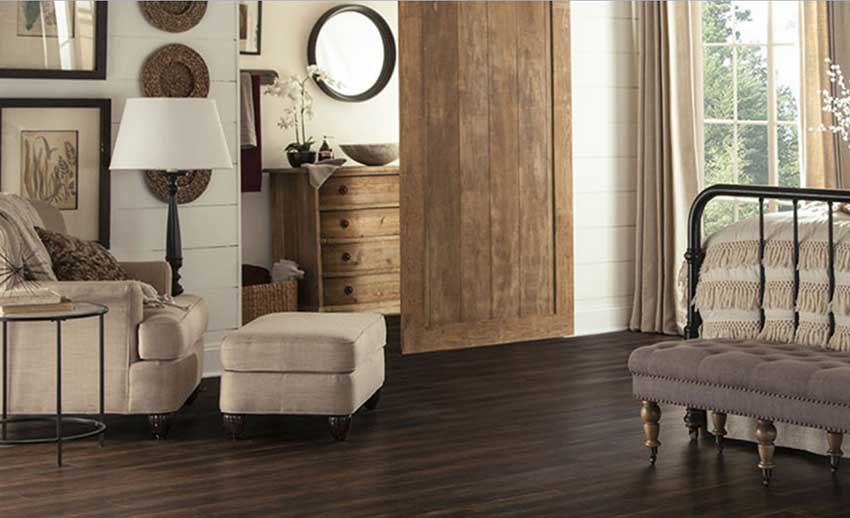 Photo courtesy of Wellmade Floors
LVT: Residential/Hospitality Application
RFCI has committed to the development of industry wide environmental product declarations, which include multiple manufacturers collaboratively coming together with data that is aggregated and utilized to complete a life cycle assessment as the basis for the third-party verified Type III EPD. The industry wide EPDs and related LCA information was utilized in the development of the resilient flooring category for the EC3 Tool. The following industry wide EPDs are available on the RFCI website and on the Building Transparency website as part of the EC3 database.

Congoleum (left) and Novalis (right)
EPD Participating Manufacturer: VCT: Corporate Application (left) and EPD Participating Manufacturer: LVT: Retail Application (right).

Photo courtesy of Tarkett
EPD Participating Manufacturer: Solid Vinyl Tile: Education Application (left) and EPD Participating Manufacturer: Homogeneous Sheet and Tile: Healthcare Application (right).

Photo courtesy of Teknoflor (first), Flexco (second), and Shaw (third).
EPD Participating Manufacturer: Heterogeneous Vinyl Flooring: Hospital Application (first), EPD Participating Manufacturer: Rubber Tile: Education Application (second), and EPD Participating Manufacturer: Rigid Core Plank: Residential Application.
Product specific Type III EPDs, which are based on a life cycle assessment for a specific product's data and include a third-party verification, are also available on the Building Transparency website and resilient flooring manufacturers' websites. Program Operators that third-party verify and publish EPDs, both product specific and industry wide, also have EPDs available on their websites.
Originally published in Architectural Record
Originally published in May 2022
Notice