Resilient Flooring and Sustainability: Environmental, Health, and Social Impacts
The importance of utilizing a multi-attribute approach in the selection of resilient flooring
Sponsored by Resilient Floor Covering Institute
Learning Objectives:
Identify sustainable drivers within the resilient flooring product category.
Discuss the collaborative development of Owner Project Requirements (OPR) that include product selection criteria.
Explain the importance of a multi-attribute approach to product specification.
List the resilient flooring sustainable product certifications, ecolabels, and databases.
Credits:
This course can be self-reported to the AIBC, as per their CE Guidelines.
This course is approved as a Structured Course
This course can be self-reported to the AANB, as per their CE Guidelines
Approved for structured learning
Approved for Core Learning
This course can be self-reported to the NLAA
Course may qualify for Learning Hours with NWTAA
Course eligible for OAA Learning Hours
This course is approved as a core course
This course can be self-reported for Learning Units to the Architectural Institute of British Columbia
Sustainable drivers include climate change and embodied carbon impacts, understanding the carbon footprint, green chemistries, and the circular economy. The manufacturing of products is addressing equity and environmental justice, health impacts, and supply chain and transparency – all coupled with continual improvement in product development and sustainable, healthy solutions for the built environment. From the manufacturing perspective, sustainability is inclusive of the people and processes that are touched by the entire manufacturing life cycle of a product – community impacts, worker impacts, user impacts, and the information needed by the design professional to make an educated decision in relationship to product selections and sustainability, health, and wellness.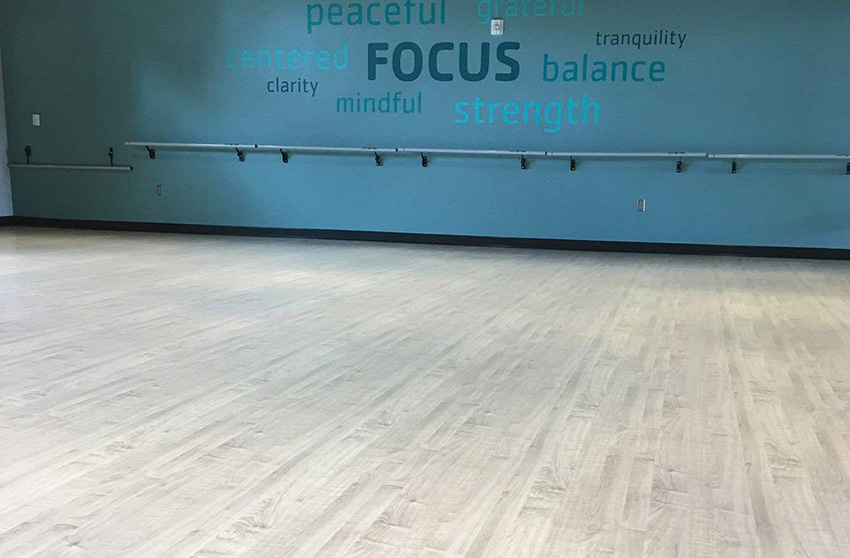 Photo courtesy of Lonseal
Heterogeneous Sheet Vinyl: Yoga Studio Application
The resilient floor covering industry is participating in several environmental initiatives that include evaluation of performance and environmental impacts, addressing embodied carbon, the introduction of the AFFIRM certification that is based on the revised NSF/ANSI 332 Standard for the Sustainability Assessment for Resilient Floor Coverings, and the inclusion of the resilient flooring category within the ecomedes sustainable product database.
How are sustainable products selected? From a specifier perspective, it is important to utilize a multi-attribute approach versus making a specification decision based on only one aspect of the product under review. For the selection of resilient flooring products, it would include verification of not only environmental and material health attributes, but also performance characteristics (e.g., durability, product service life, and ability to clean, sanitize, and/or disinfect) and installation requirements (e.g., moisture mitigation and slab preparation). In the context of a building project, Owner Project Requirements (OPR) are developed that include all required product characteristics for all materials and products selected for a specific project application.
Owner Project Requirements (OPR) – Collaboration Is The Key
Specifications that consider the product service life and the ongoing maintenance and utilization are part of the Owner Project Requirements. Providing opportunities for all stakeholders to participate in the decision making is key to specifying resilient flooring products that support both sustainability and health and wellness.
Collaboration is necessary at the beginning of the design process – including all stakeholders impacted by the product selection decisions. Interdisciplinary teams are a part of green building certification systems and processes and are an ideal way to assemble feedback from all stakeholders. From an evidence-based design perspective, understanding all project needs upfront provides the opportunity for a product specification to be balanced using all criteria that meets prioritized performance requirements. Within this context, let's hear from Teri Bennett, current president of the American Academy of Healthcare Interior Designers and her experience working within Johns Hopkins Hospital and the specification of resilient flooring.
In hearing the hospital setting example and application to all types of other building project types, it is important to reinforce that in many cases this would demonstrate the need for installing mockups that can be used by building occupants as well as product testing with the environmental services team.
Multi-Attribute Approach to Product Selection
Multiple attributes of a product include the evaluation of all those various characteristics and requirements developed in the OPR. This could be compared to dating, where you may look at common interests, in addition to swiping left or right on a dating application – aesthetics are important, but there are several other considerations that need to be evaluated that are important to the outcome of the experience – and in this case, a successful resilient flooring product installation.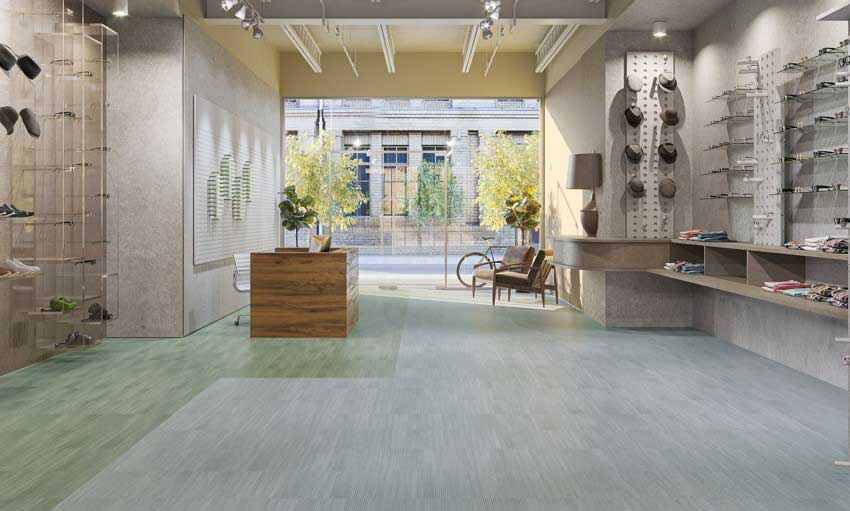 Photo courtesy of Mannington
LVT: Retail Application
Originally published in Architectural Record
Originally published in May 2022
Notice