Play Ball: High-Performance System Solutions for Stadiums and Arenas
Meeting the special design and performance needs of this demanding building type
Sponsored by Ephesus Lighting, NanaWall Systems, Stonhard, ThyssenKrupp Elevator Americas, and Wooster Products
This test is no longer available for credit
Escalator Optimization
Just like other aspects of circulation design, there are choices in escalator technology. Most manufacturers offer several classes of escalators such as commercial duty, heavy duty, or transit duty. Depending on the particular stadium or arena usage and requirements the heavy duty escalators may be the best choice. Typically this class of escalators feature larger motors, chains and reinforced handrail drives to move lots of people. The balustrade can be reinforced or made of tempered safety glass so it is resistant to bumps from carried items. The look can also be customized with colored glass and lighting under the handrail in some cases. This class of escalator is commonly suited for indoor and outdoor installations and designed for higher floor to floor applications up to 65 feet.
In selecting the best set of attributes for an escalator in a particular venue, it is important to be aware of a number of performance related factors. First and foremost, keep in mind that escalators and moving walks can continuously move passengers. Consequently, their transport capacity is much greater than that of elevators. It is possible to calculate the anticipated flow of people by assuming 1 or 2 people across the width of a specific walkway or escalator. The travel speed of escalators is regulated by code to a maximum of 100 feet per minute while moving walks with 0–8° inclination can be increased up to 180 feet per minute. Based on the number of people that need to be moved and the capacity and speed of the equipment, it is then possible to determine how long it will take for everyone to pass through. If the amount of time is considered too long, then additional equipment may be required.
When looking at the vertical travel distance, it is worth noting that a rise of only 6'-0" can benefit from considerably improved access to a building via an escalator. At the other end of the spectrum, manufacturers have designed escalators to reach a rise of 164'-0" (50 meters). Building Codes limit the inclination angle to 30° in the US and Canada for escalators, so the horizontal space requirement can be determined accordingly. Inclined moving walks are possible and desirable in some applications and are permitted by Code with a maximum angle of 12°. The width of the equipment also needs to be accounted for which in North America is fairly standard at 62 inches (1575mm) wide. In addition, a clearance of 1-1/4" (30 mm) for installation must be added to the overall pit width on either side of an escalator or moving walk. For extended travel distances, horizontal moving walks which enable the use of wider units are the most efficient option.
When specifying people moving systems, the specific needs of the location and project need to be accounted for. If outdoor application escalators are incorporated, then at a minimum, the specification should include a galvanized truss structure, protective chain covers, automatic lubrication, handrails with nylon sliders, stainless steel handrail guides, oil/water separator in the lower pit floor, and stainless steel fasteners for all exposed surfaces. In order to meet energy requirements, outdoor or indoor equipment can be selected that runs efficiently, keeping users safe while using minimal energy. Some manufacturers offer dual CPU controllers and optional Variable Voltage Variable Frequency (VVVF) drive technology as a way to save energy and help keep operational costs low.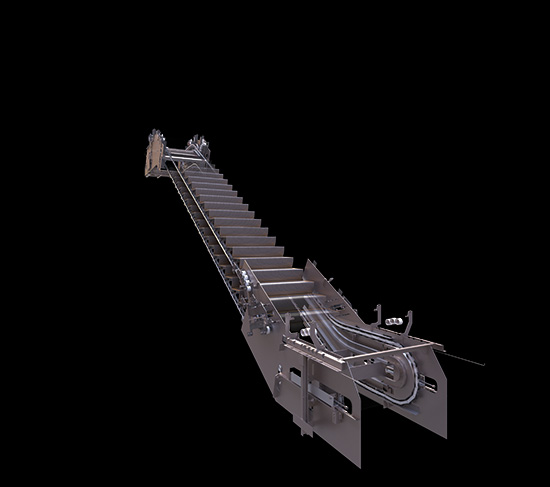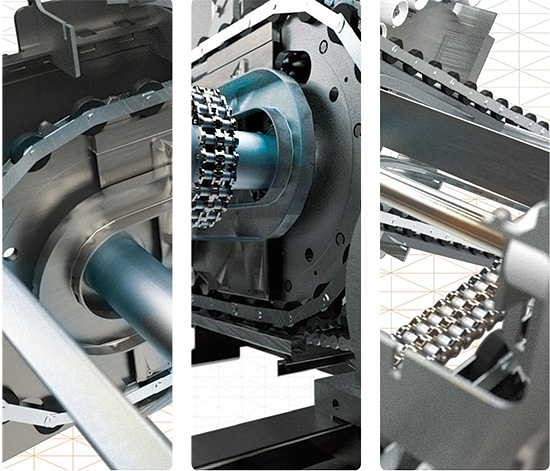 Photos courtesy of ThyssenKrupp Elevator Americas
Optimizing the use of escalators and moving walkways is facilitated by understanding the space requirements, the capacity, and the choices for components to best suit specific locational needs.
Safety Stair Performance
Indoor and outdoor conditions at stadiums and arenas make safety enhancements on stairs necessary. Adding non-slip nosings or treads is very inexpensive relative to the overall cost of a project. However, all it takes is one person to fall down and sue the facility to realize what a bargain such enhancements really are – they can easily pay for themselves many times over in avoided legal fees and claimant damages.
Anti-slip safety stair treads and nosings can be specified and installed based on a variety of manufacturer options. Recent innovations include two stage products designed to streamline construction and protect the finished result from construction activity. In this case, the nosing base and anchor are installed first with a wood insert on top serving as a temporary nosing during construction. As the project nears completion, the wood is removed and the final nosings are installed. This allows for a beautiful presentation at the conclusion of the project with the nosings fully intact and ready for service.
Another important innovation is the use of self-glowing photo luminescent nosings that serve as a safety feature should electricity fail or if the artificial lighting is dimmed. This can be the case when the lights are turned off for the dramatic effect of introducing sports athletes or entertainers. The glowing products will allow people who may be walking to still identify the stair edges during these times to safely continue their way.
When specifying safety treads and nosings, it is common to call for an extruded aluminum base with a high content of aluminum oxide abrasive grit for long life and a lasting appearance. Lengths are generally available up to 10 feet long in a single piece. Where possible or desired, it is also a good idea to call for the anti-slip abrasive to extend over the radius of the nose.

Photos courtesy of Wooster Products, Inc.
Stair safety nosings can be selected and specified using an extruded aluminum base filled with aluminum oxide abrasive that may also be treated with photoluminescence properties to glow when the lights are out.
Conclusion
Stadiums and arenas demand considerable design attention to accommodate the many and varied needs and desires of the increasingly sophisticated, urban population that they serve. Understanding the options and best use of materials and systems that are being used around the country gives architects and other design professionals the opportunity to create timely, successful, safe, and long-lasting facilities.
Originally published in Architectural Record
Originally published in August 2015
Notice