Play Ball: High-Performance System Solutions for Stadiums and Arenas
Meeting the special design and performance needs of this demanding building type
Sponsored by Ephesus Lighting, NanaWall Systems, Stonhard, ThyssenKrupp Elevator Americas, and Wooster Products
This test is no longer available for credit
Design Considerations
In light of the evolving nature of stadiums and arenas, and the continued need for protecting the health, safety and welfare of the people who use them, we will look at four areas that can enhance the overall design and user experience of such facilities.
Operable Glass Walls
In response to the desire to have flexibility in viewing conditions and the ability to open up or isolate areas, operable glass walls have become a part of stadium and arena design. In essence, an operable glass wall is defined as a system that uses door sized glass panels that can be readily opened or closed on demand. Like any other type of building fenestration, this system does not carry any structural load from the building, but is reliant on being appropriately attached to the building and operates within a structurally supported opening. In most settings, the intent is to allow a large, uninterrupted opening between two interior spaces or between an indoor and outdoor space. Operable glass walls can be full wall height, match standard door heights, or be used in shorter heights for continuous window style applications as well. The openings can range in width from as little as 9 feet wide up to as much as 300 feet or more. They are typically comprised of uniformly sized panels with a top and bottom track along which the doors either fold or slide.
Operable glass wall systems provide an innovative and unique design solution that brings wide-open connections, flexible space management, and natural daylight to all types and sizes of spaces. When the panels are closed, they offer the comfort and security of a fixed wall. When open, with the movable panels stored out of the way, adjacent spaces are freely connected to each other. Those seeking innovative design solutions in stadiums or arenas can use operable glass walls to bring spectators together and to provide unique event experiences. They can create exclusive and unique suite facades, suite space divisions, restaurant entrances, press booths, and attractive fan areas for sports and entertainment events. They can also expand the usability of these areas far beyond the days when main events are held by catering to smaller events. The multiple uses and configurations can create a continuous source of facility revenue by providing various types and sizes of events.
Sports facility owners in particular have recognized the advantages of operable glass walls in terms of their operations most notably by being able to charge more for use of these defined areas. They do that by commanding higher ticket prices or season ticket rates with suites that offer a unique experience for the fan, allowing the occupant the choice to open or close the wall panels with ease. When open, the fan experiences the crowd but when closed, the glass wall provides a transparent barrier with unobstructed viewing. For outdoor stadiums, they also provide greater fan comfort with protection from wind, cold air and noise. In the off-season, weather resistant opening glass walls protect interior spaces and furnishings from exposure and/or unauthorized entry.
Tyson Godfrey, principal with Hubbard Godfrey Architects worked on the design of a separated area called the Legends Club at the San Francisco Giants Stadium, AT&T Park. He points out "The Legends Club defines a new standard of luxury at AT&T Park. While sightlines to game day action were a priority, the suite was also conceived as a social and event space with maximum flexibility for one large group or two smaller ones in a variety of seating configurations." The use of operable glass walls allowed the design to be executed successfully.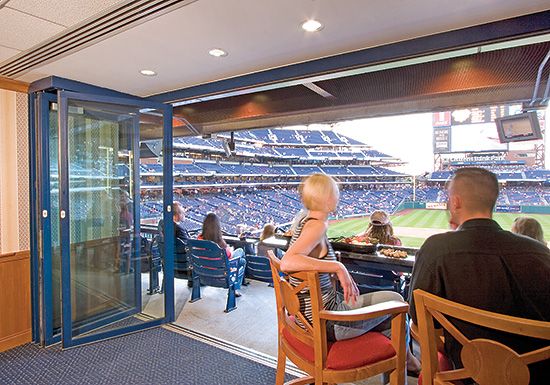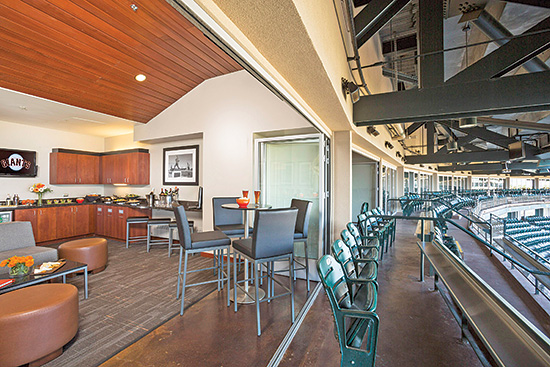 Photos courtesy of NanaWall
The ability to separate off smaller spaces or open them up to the larger complex at will has become a sought after design feature in many sports venues such as Citizens Bank Park on the left and, the San Francisco Giants Stadium (A&T Park) on the right.
Flooring Systems
Among the many flooring finishes available on the market, not all are suitable for use in stadiums and arenas. From a design standpoint, flooring is one of the most visible and space defining characteristics of many spaces in terms of enhancing a color scheme, helping with way-finding, and contributing to the overall experience of the facility. For these reasons, plus the need to provide a durable, easy to clean surface, a popular choice is resinous flooring which is a seamless, poured in place system. Typically, these systems are high performance epoxy and urethane floor covering products. They have been proven to be long-wearing and easy to clean and are typically engineered to perform in both industrial and commercial environments without sacrificing design and innovative vision.
Seamless, poured in place flooring systems offer multiple design options. They are available in a range of product types that give owners, planners and designers options for both public areas and behind the scene spaces. In public areas such as stadium seating, enclosed suites, corridors, walkways, lobbies, eating areas, and entries they can provide colors to suit the location or differentiate one space from another. In addition there are both smooth and textured versions available that provide choices in their decorative appearance. It is even readily possible to include custom logos and sports designs in the flooring. As such they can provide flooring that can trigger an emotional response to those entering these facilities that is durable enough to last the life of stadium or arena where they are located. Colors, designs and branding also help enhance the overall experience of someone walking into smaller areas such as a private suite.
Certain heavy duty poured in place flooring systems are well suited for non-public areas such as kitchens, locker rooms and mechanical rooms. These epoxy and urethane based flooring systems can also be provided in different colors and with different final appearances including a flake finish, high gloss, or low gloss. While it is not common to find one product that works as well as resinous flooring in so many diverse settings, the nature of this type of product is to be durable, attractive, customizable, and easy to maintain allowing for fewer flooring products to be used throughout a single facility. Further, they help that facility deliver on expectations to meet the demands of high-level users while maintaining the appearance, function, and durability required in arenas and stadiums.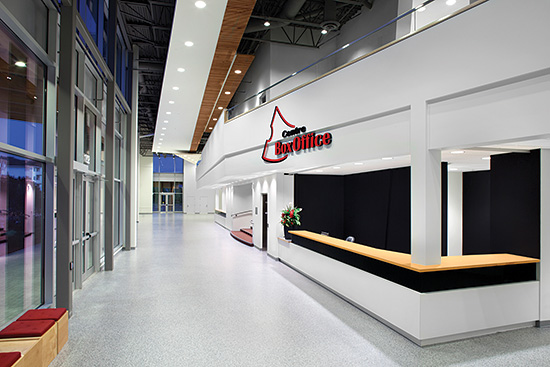 Photos courtesy of Stonhard
The seamless resinous flooring used in this lobby and ticket area meets the design needs of the space by providing a clean, crisp, continuous appearance.
Originally published in Architectural Record
Originally published in August 2015
Notice