Play Ball: High-Performance System Solutions for Stadiums and Arenas
Meeting the special design and performance needs of this demanding building type
Sponsored by Ephesus Lighting, NanaWall Systems, Stonhard, ThyssenKrupp Elevator Americas, and Wooster Products
This test is no longer available for credit
Designing for Circulation
Walking toward, into, and through an arena or stadium on the way to a seat, suite, or lounge, is part of the overall experience of the facility. However, it needs to be a safe one that allows people to keep moving, particularly when exiting whether because it is time to go or because of an emergency. It also should be a pleasant one that doesn't impose unwarranted exertion on people by walking long distances or excessively climbing stairs. Recognizing that the pedestrian traffic in arenas or stadiums is extremely heavy, particularly at specific times, is the first step to designing adequate and appropriate circulation into the facility. Directly related, having the right equipment to move people such as escalators and moving walkways can improve and enhance the experience for all visitors. Fortunately, there is a full range of such equipment readily available that is designed to help owners move thousands of fans through the space and safely to or from their seats.
Coordinating the flow of people at entrances with their movement onto escalators can be the focus of such a circulation design study. For example entrances can be coordinated to act as "injectors" that will lead spectators to a series of escalators and elevators, transporting them to different concourse levels as may be appropriate. This can all be possible because of the use of multiple entry points and properly located escalators.
The process of moving along an escalator can also be an enhanced experience and a highlighted part of the design. AIA Gold Medalist Thom Mayne and his firm Morphosis Architects are known for developing architecture that shuns traditional form and creates bold, enlightening buildings. In their design of the Perot Museum of Nature and Science, a 54-foot escalator has been enclosed in a glass atrium that is smacked onto the south facade of the building. The escalator is one of the first in the world to protrude outside the main structure of a building allowing the enclosure to be visually cracked open on the southeast corner of the building bringing daylight inside. Unexpected details like the protruding escalator define the architect's style but the unique building design required the manufacturer to work closely with the general contractor to develop an unusual installation path for the escalators. Timing and coordination were critical because the escalators had to be positioned before the building exterior was complete. In order to accomplish aligning and securing the pieces into place in a safe manner, many hours of planning and preparation were required. In the end, the building was described as "the boldest piece of modern architecture to hit Dallas" by The Dallas Morning News.
Floor Surfaces
Selecting a flooring material for many commercial and industrial installations is often heavily dependent on performance but that doesn't mean that appearance and design have to suffer as a result. Quite the contrary, the flooring industry has developed many dynamic and attractive products that can be used quite creatively and innovatively with performance characteristics to suit a variety of light-, medium-, and heavy-duty installations. This is probably most evident in the use of the variety of commercial resilient flooring products that are available, from high design luxury vinyl tile (LVT) to technically focused resilient sheet products that can be made with 100 percent bio-based plasticizers. From a design standpoint, resilient flooring products are available with homogeneous makeup using non-directional designs and colors which can make more of a bold design statement than some common directional patterns. Manufacturers offer literally dozens of tone-on-tone non-directional colors to choose from.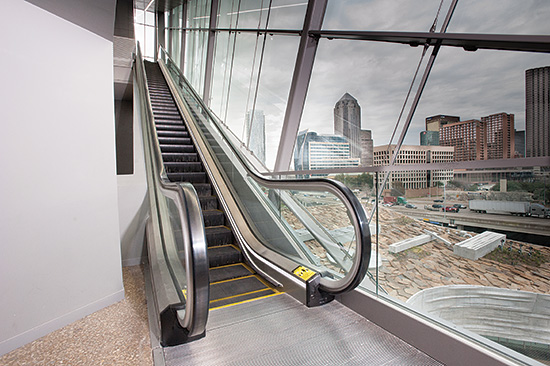 Photos courtesy of ThyssenKrupp Elevator Americas
This glass enclosed escalator in Dallas, Texas quickly and efficiently moves people through the building but also provides daylight and a positive experience for the people using it.
Safe Stair Design
While automated pedestrian circulation may be part of a facility design, fixed stairs will always be required and desirable. Such stairs can be incorporated into the overall design and circulatory flow of a stadium or arena and be a real design statement or be kept simple and understated as the situation may warrant. They also serve as a means of egress in the event of fire or other emergencies and are regulated in great detail by building codes and standards as a result. From a safety standpoint, they are one of the most common locations for people to trip, fall, and be injured. The importance of designing safe and code compliant stairs cannot be understated particularly since architects are sometimes held liable for damages to people injured on those stairs. Among the most significant safety details to be addressed are the proper design and specifications for treads and nosings installed on stairs. The challenge is often how to meet safety requirements in a manner that is appropriately consistent with the design of the rest of the building.
Stair nosings are a distinct part of a step that building codes define as "the leading edge of stair treads". Nosings also apply to the leading edge of landings at the top of stairway flights. The codes address the size and depth of the nosing for different stair profiles and call for them to provide a degree of slip resistance along their surface. Generally a tread is differentiated from a nosing based on the stair industry standard - a nosing is defined as 4" or less in depth and a tread is defined as greater than 4" in depth (commonly the full depth of the stair tread.) In light of the above, it is common current practice to design and specify stair treads and nosings as distinct elements of the overall stair design. As such, they can be added to the supporting material of concrete or steel that stadium and arena stairs are usually made from. Further, they can be specified for both new and retrofit / renovation installations.
For facilities with moderate to high levels of foot traffic, extruded aluminum nosings and treads are often selected for both interior and exterior locations. The aluminum extrusions are typically filled with abrasive material running from side to side along the width of the tread or nosing. When using this approach, the abrasive material is installed in channels in the extrusion thus forming alternating strips of exposed aluminum and abrasive running across the stair tread providing slip resistance. It is also possible to use "full abrasive" treads and nosings which have the abrasive material covering over the top of the extrusions so that only the abrasive material is seen. It is worth noting that numerous colors of abrasive material are available either to work with an overall design scheme or pick up on favorite team colors.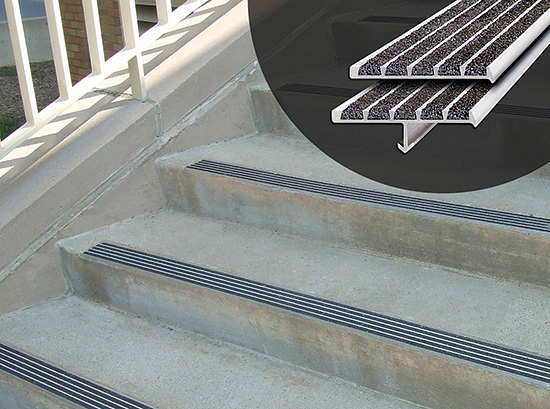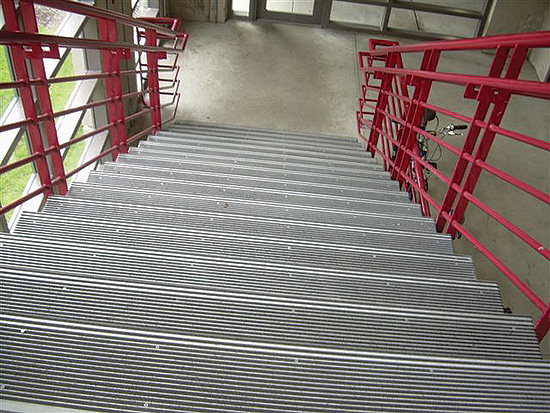 Photos courtesy of Wooster Products, Inc.
Stairs can be significant design elements in stadiums and arenas but also need to be designed for safety. Nosings are commonly added for increased slip resistance and are available in many different colors.
Originally published in Architectural Record
Originally published in August 2015
Notice