Play Ball: High-Performance System Solutions for Stadiums and Arenas
Meeting the special design and performance needs of this demanding building type
Sponsored by Ephesus Lighting, NanaWall Systems, Stonhard, ThyssenKrupp Elevator Americas, and Wooster Products
This test is no longer available for credit
Performance Considerations
Beyond design considerations, everything in a stadium or arena environment has to meet demanding performance requirements. This includes the ability to handle large crowds, withstand repeated usage, hold up against weather and thermal forces, and provide the safety needed for large assembly spaces. We will look next at the same four design areas discussed above in terms of their performance.
Operable Wall Performance
Operable glass walls need to cover a number of key functions and do so with an eye not just for today but toward long term durability. Thermal and energy performance are important where they separate conditioned and unconditioned spaces as already mentioned. But operable glass walls need to address other environmental concerns as well. During pleasant weather, they can be opened to allow fresh air and connection to the outdoors. When the panels are closed, however, they need to allow for a secure, weather-resistant barrier that protects against rain, snow, humidity, noise, and extreme temperatures. Because of the typically large opening sizes, the corresponding large perimeter area, and multiple joints between panel sections, the ability to seal tightly along all of these locations when closed is important. From an operational standpoint, the glass panels need to quickly and easily glide or fold into the open or securely closed positions meaning the mounting and tracking mechanisms must be proven and reliable.
The manufacture and production of these systems can certainly vary between suppliers since they require considerable diligence and attention to detail in order achieve high performance levels. Hence, it is incumbent on specifiers to request independent testing reports on the selected products to determine the results for thermal performance, penetration of wind or water, security, and acoustical characteristics. This stringent and thorough third party testing ensures optimum performance for specific site conditions.
John Poston, an architect and principal with Ellerbe Becket worked on the design of the Autzen Stadium at the University of Oregon in Eugene. For that project, they successfully specified and incorporated operable glass walls as a key component of the design. He commented that "The operable glass wall uniquely balanced operability and thermal performance in delivering unobstructed panoramic views of both Autzen Stadium and the stunning Oregon landscape beyond. It has performed perfectly since day one." He elaborated on the particulars of the design too, pointing out "The design is unique in terms of its operability, especially on the press level. There, the sliding glass sections pocket back into each suite individually, and the whole section opens with no intermediate mullions."
Steven Ziegler is an architect with Ewing Cole Cherry Brott who designed Citizens Bank Park for the Philadelphia Phillies. His experience reinforces the need to look carefully at different products in terms of performance. "The selected product was one of the only operable glass wall companies that could achieve the weather seals we required, especially for the doors between the outside seating and insides of the suites. Also, during the off-season the window units needed to maintain the interior spaces without wasting energy or damaging finishes, keeping water and humidity and extreme temperatures out. We went searching for this answer, and the one we specified was one of few that could do it."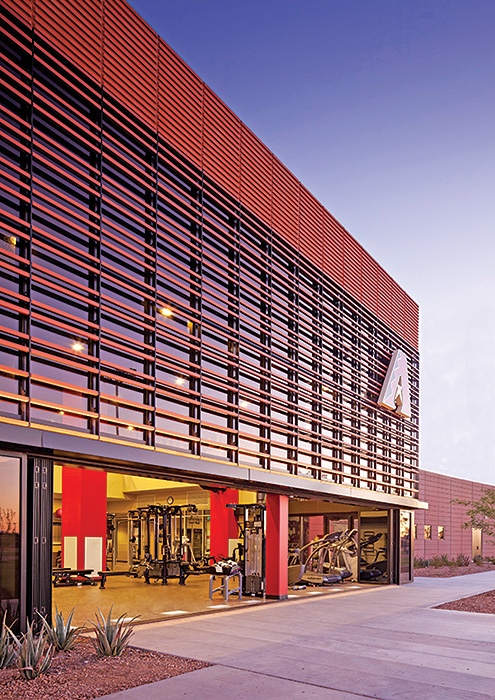 Photo courtesy of Nanawall
Using opening glass walls helped the Arizona Diamondbacks and Colorado Rockies Salt River Fields spring training facility achieve LEED Gold status. The glass walls provide excellent thermal control when closed with energy savings calculated at 23.5% over baseline. When open, they provide fresh air ventilation for the training facility.
Flooring Performance
The decision to use resinous, seamless, poured in place flooring systems can often be driven as much by performance as by design attributes. Durability and clean-ability is a key factor when choosing flooring for high-performance stadiums and arenas and these products have been shown to rise to the occasion. Safety with regards to people walking on flooring that is reasonably slip resistant is also a concern which can be adequately addressed and met with these seamless systems.
Products that are most suitable for best performance in stadiums and entertainment venues include decorative epoxy or urethane based product lines. Within the design variations available, these are typically formulated to withstand throngs of daily foot and wheeled traffic and harsh cleaning procedures. For heavy duty locations, products can be specified that provide a dense, stain resistant, epoxy and urethane based flooring system with minimal installation time and maximum durability. These are available in an extensive range of flake finishes and color options depending on the manufacturer. These heavy duty systems are also designed to withstand heavy traffic areas and provide excellent impact resistance.
When it comes to sustainability and green building design, there are a growing number of products available that contribute to that effort. For example at least one manufacturer offers epoxy mortar systems that blend recycled glass chips into the surface for a stylized look and a sustainable solution. Similarly a four-component, polyurethane mortar system is available that incorporates post-industrial recycled glass and rapidly-renewable materials into its composition. There are also general service epoxy mortar systems that use recycled material. Perhaps more importantly, though, it is reported that over 90% of new product development and reformulation efforts for the past several years have been geared to water based urethanes or 100% solid epoxy based chemistry. This effort not only provides safer floor and coating products to both industrial and commercial markets, it also reduces hazardous waste.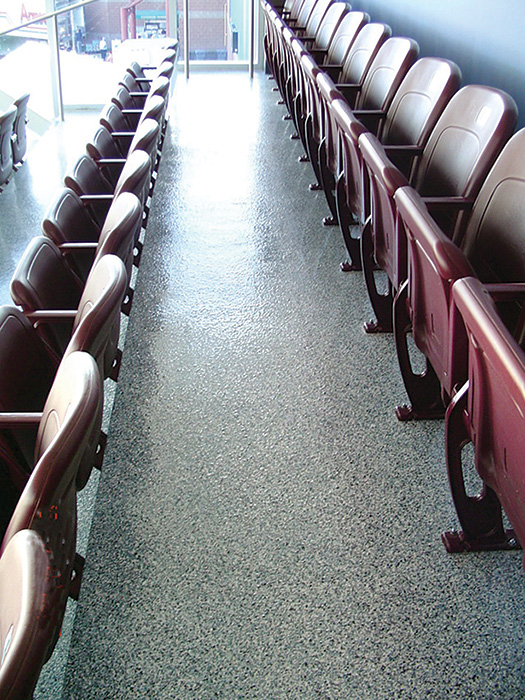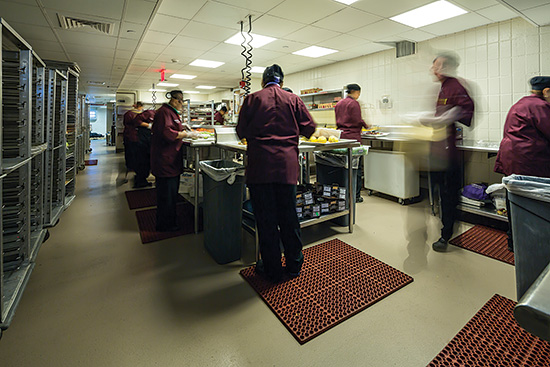 Photos courtesy of Stonhard
Seamless, poured in place flooring used in general use areas like seating or heavy duty locations such as kitchens can be specified in a variety of product types, colors, textures, and recycled content.
Originally published in Architectural Record
Originally published in August 2015
Notice