Eight Fundamental Performance Characteristics of Healthcare Flooring Specification
How evidence-based design (EBD) supports clinical and operational efficiencies
Sponsored by Interface
EBD PERFORMANCE CHARACTERISTIC #5: REDUCE SURFACE CONTAMINATION AND POTENTIAL RISK OF HAIs43
According to the CDC, one in 20 hospital patients acquires an infection while receiving treatment for other conditions. These are called healthcare-associated infections, or HAIs.44 Altogether more than 1 million HAIs occur in the health care industry every year and are responsible for $28 billion to $33 billion in potentially preventable health care expenditures annually.
A patient study revealed that HAI patients cost $43,000 more to treat than noninfected patients, and the average length of stay was 19.2 days longer for HAI patients than for patients without infections.45
This issue places a huge burden on the finanacial health of the institution, as CMS rules classify HAIs as 'never events' so the health system absorbs the cost.
Research published in the American Journal of Infection Control (AJIC) noted that although health care facility floors are often heavily contaminated, limited attention has been paid to disinfection of floors because they are not frequently touched.46,47,48 However, floors are a potential source of transmission because they are often contacted by objects that are subsequently touched by hands (e.g., shoes and socks). In a recent study, it was reported that non-slip socks worn by hospitalized patients were frequently contaminated with MRSA (Methicillin-resistant Staphylococcus aureus) and VRE (Vancomycin-resistant enterococci).49 Moreover, Koganti et al. demonstrated that a nonpathogenic virus inoculated onto floors in hospital rooms rapidly disseminated to the hands of patients and high-touch surfaces inside and outside the room.50 Specfication of a resilient floor that is not a medium for microorganisms can be a proactive approach.
Findings from the research have implications for infection control. First, studies are needed to examine the efficacy of current floor cleaning and disinfecting strategies in removing potential pathogens from floors with a need to reduce the burden of spores on floors.51 Second, surface density of a premium rubber floor has an extremely dense, closed surface that is inherently dirt repellent due to a special production process that ensures optimum material cross-linking.
In the FGI Guidelines, Section A2.1-7.2.3.1 recommends that the room types listed in this section shall have floor and wall base assemblies that are monolithic and have an integral coved wall base that is carried up the wall a minimum of 6 inches (150 millimeters) and tightly sealed to the wall. These room types are:
Operating rooms
Class 2 and Class 3 imaging rooms
Cesarean delivery room
Procedure rooms where cystoscopy, urology, and endoscopy procedures are performed
Endoscope processing rooms
IV and chemotherapy preparation rooms
Airborne infection isolation (AII) rooms
Protective environment (PE) rooms
Anteroom to AII and PE rooms, where provided
Sterile processing facilities
Surfaces of all kinds must be considered when infection control is the goal. Indeed, the word "surface" is mentioned more than 390 times in the CDC: Guidelines for Environmental Infection Control in Healthcare Facilities: Recommendations of CDC and the Healthcare Infection Control Practices Advisory Committee (HICPAC).52
Guidelines establish best practices for dealing with and preventing HAIs. A technical brief titled "Cleaning Hospital Room Surfaces to Prevent Healthcare-Associated Infections" states: "The cleaning of hard surfaces in hospital rooms is critical for reducing healthcare-associated infections."53
The specification of flooring and how it is cleaned can play a significant role in reducing HAIs. For products with factory-applied wear-layers, third-party testing can assure that the wear layer will sustain space-specific demands.
EBD PERFORMANCE CHARACTERISTIC #6: IMPROVE PATIENT AND FAMILY SATISFACTION56
Patient satisfaction is a difficult topic to quantify scientifically. A health system's focus is on patient satisfaction and outcomes that are tied to reimbursements from CMS. Much of what we 'feel' as a consumer when we enter a space is based on the first 30 seconds and our perception of how we think the level of care will be.
Flooring can foster wayfinding, helping to define paths of travel and areas within patient rooms. For instance, flooring can delineate the patient, caregiver, and family zones. The practice has been called "pattern with purpose."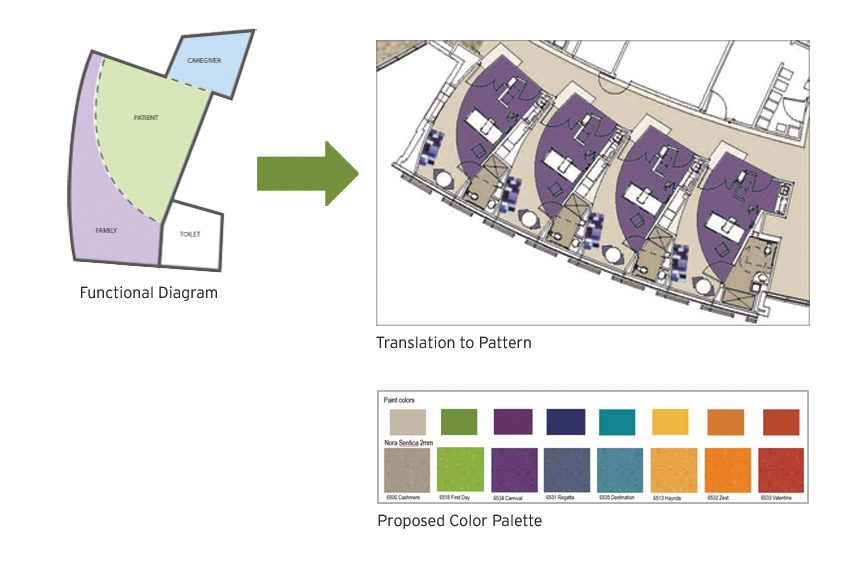 Image courtesy of Interface/FKP | CannonDesign
Flooring can promote wayfinding, helping to delineate paths of travel and zones within rooms.
Resilient flooring that eliminates the need for coating, stripping, and refinishing best supports positive scores for patient satisfaction. The absence of blocked-off corridors during extensive maintenance and the elimination of toxic maintenance protocol and the noise generated from equipment contributes to an environment more conducive to healing. Select a resilient floor that cleans with no chemicals and no smell to mitigate the issue of respiratory distress in patients and caregivers.
EBD PERFORMANCE CHARACTERISTIC #7: IMPROVE IAQ58
The growing use of EBD has a focus on IAQ and supports ongoing design trends centered on health, wellness, and safety by specifying and using green interior building materials. The architecture and design community and its client partners are paying greater attention to the sustainability of building materials and environmental considerations as a whole. In healing environments, health and wellness is supported with positive IAQ. When specifying flooring, one must also consider the intended maintenance protocol and material content to best support IAQ.
Ideally, the composition of flooring should meet stringent sustainable standards. GREENGUARD Gold certification tests for the 35 chemicals listed by California Standard Section 01350 (CA 01350), a U.S. standard for evaluating and restricting volatile organic compound (VOC) emissions for indoor air, plus an additional 330 chemicals, and it includes a total volatile organic compounds (TVOC) measurement for product emissions. GREENGUARD Gold certification is recognized and accepted by several green building programs, including LEED v4. For LVT, look for a FloorScore Certified product to emit low VOCs. When selecting carpet tiles, the product must meet the IAQ requirements of the Carpet and Rug Institute's Green Label Plus.
In addition, a health product declaration (HPD) provides manufacturers with a standardized manner of reporting the material contents of building products and the potential health hazards that are associated with these materials. An HPD is developed according to the directions of the Health Product Declaration Collaborative and is complementary to life-cycle documentation, such as a life-cycle cost analysis (LCCA) or environmental product declaration (EPD).59
Specifiers are turning to manufacturers that provide complete transparency into both the human and environmental health impacts of both resilient and soft surface flooring.
Selection of resilient flooring systems with a never-wax protocol results in a lower resource outlay for maintenance and eliminates the need for harsh cleaning chemicals. As a result, it contributes to healthier IAQ for building occupants. For soft surfaces, products that can be cleaned with a simple peroxide-based cleaner will ensure floors can be easily sanitized.
An issue gaining increased visibility regarding public health beyond the walls of healthcare facilities is the carbon footprint of building materials. The impact of climate change on health is well documented by the CDC and others, and the lower the carbon footprint materials, the better to positively affect health outcomes of our communities. Manufacturers whose products are third-party verified carbon neutral reduce and then offset carbon emissions in a number of ways, from reforestation projects to solar energy-powered plants and water-purification programs. Check each manufacturer's website for explanation and documentation of its efforts, if any, to reduce or eliminate its carbon footprint.60
Not all floors are created equal. Some resilient floors can contribute up to 80 percent of the operational budget for a coated or waxed floor. It's incumbent on the specifier to verify material content, maintenance protocol, and environmental considerations to ensure that the flooring can sustain the 24/7/365 demands of the healing environment while protecting public health.
Originally published in Architectural Record
Originally published in May 2019
Notice