Eight Fundamental Performance Characteristics of Healthcare Flooring Specification
How evidence-based design (EBD) supports clinical and operational efficiencies
Sponsored by Interface
EBD PERFORMANCE CHARACTERISTIC #8: REPRESENT THE BEST ROI62
Flooring can substantially contribute to patient experience, safety, and outcomes, and it is a critical capital investment decision for healthcare facilities.63,64 It is crucial when making this design decision to evaluate a flooring material's long-term cost-effectiveness in relation to its initial costs.65
Flooring specifiers and facility owners are often confronted with industry misconceptions regarding different flooring materials, their associated maintenance protocol, and their ability to sustain the demands placed on them in a high-traffic acute-care facility, outpatient environment, or post-acute care or medical-based senior-care facility.
To best evaluate operational optimization, the ability to examine the real-time implications of operations and maintenance (O&M) from a first cost vs. TCO is needed. TCO is a critical component of flooring selection. A credible LCCA tool allows specifiers and end users to compare the economic impact of alternative materials over the reference service life of a product.
Factors that can impact LCCA include the cost to purchase, install (including labor, material, adhesive, and prep), and clean and maintain the floor (including man-hours, labor rate, material, equipment size, cleaning frequency, and cost of chemicals). Professionals who practice an EBD process can incorporate LCCA into their selection criteria since flooring plays a significant role and is a long-term facility investment. As an example, premium rubber flooring is sustainable and can last decades while still maintaining its original aesthetics. It has an extremely low LCCA compared to many other coated resilient flooring alternatives.
When looking at maintenance costs alone, VCT is significantly higher than maintaining an LVT or a premium rubber flooring product when associated man-hours for cleaning, labor, and supplies are factored in.
Specify a manufacturer partner who can provide a complete flooring solution that addresses all major construction challenges, including constrained capital budgets, installation time, and high concrete moisture and system complexity. To attain one point of contact for warranty, a certified flooring installer with the ability to turn a space quickly and in a shorter construction timeframe improves the bottom line for the health system.
A POST-OCCUPANCY EVALUATION (POE) FOR FLOORING: EBD DECISIONS SUPPORT HEALTHCARE OPERATIONAL EFFICIENCY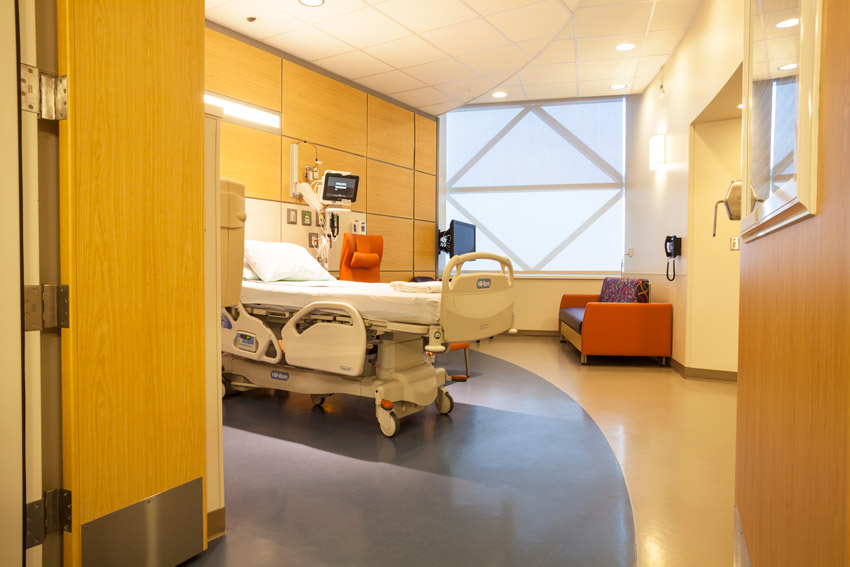 Photo courtesy of nora systems, Inc.
A post-occupancy evaluation was conducted on flooring for the extensive expansion at the Nemours/Alfred I. duPont Hospital for Children in Wilmington, Delaware.
The C-suite demands their project partners assess, measure, and provide solutions supporting operational optimization given limited capital dollars. The ability to measure and support transforming outcomes with flooring was recognized with a flooring post-occupancy evaluation in 2016. An extensive expansion at the Nemours/Alfred I. duPont Hospital for Children in Wilmington, Delaware, provided an opportunity to gather important information on the efficacy of the flooring specified for the project. Opened in 2014, the 450,000-square-foot, $270-million expansion features 144 single-patient rooms and an expansion of the existing ED from 24 bays to 44 bays.68
A full-scale flooring mockup was imperative. The goal was to design the project to earn a LEED Silver rating. Some 20 flooring manufacturers were evaluated, and flooring from four manufacturers was used in the mockup. More than 250 people evaluated the mockup.
The design team identified the performance criteria for the flooring as follows:
Safety
Acoustics
Maintenance
Ergonomics
Sustainability
Durability
Warranty
Life-cycle cost
Price
Originally published in Architectural Record
Originally published in May 2019
Notice