Minimalism in the Kitchen
Form follows function in new generation systems that maximize efficiency, ergonomics, and aesthetics
This course is no longer active
Sponsored by bulthaup
Learning Objectives:
Identify the design philosophy of a minimalist kitchen as it relates to health, safety, and welfare.
Discuss the ergonomic rationale for placement of elements within a kitchen space.
Explain how the interior design of drawers and pull-outs relates to a personal sense of space and autonomy.
Describe how kitchen design and materials can achieve sustainability goals through resource conservation and energy efficiency.
Credits:
Every architect knows Louis Sullivan's famous maxim, form (ever) follows function, a guiding tenet of the modern aesthetic. Sullivan's idea that the purpose of a structure should be the starting point for its design has produced minimalism, which seeks to eliminate all non-essential forms, features, and concepts—no easy feat to accomplish.
Noted architect John Pawson maintains that minimalism is not merely a case of "throwing out the sofa and painting the walls white." "This is not architecture of absence: It is defined not by what is not there, but rather by the rightness of what is," Pawson writes. "You reduce, you simplify and at first there is less and less to look at. Then, as you go on attenuating and compressing, you come to a point at which you go through a barrier and pass through into…a kind of mirror world, in which you see, looked at with enough clarity, not emptiness but a sense of richness."
In the kitchen, a form follows function minimalist philosophy has resulted in transformation of a traditional space to flexible structures and systems that are both efficient and sculptural, and that mirror current social trends, accommodate changing lifestyles, and satisfy people's longing for individuality and authenticity.
This article will explore these kitchen systems and their components in the context of current trends and social ideals, as well as their consistency with ergonomic, sustainable, aesthetic, and cultural goals.
Kitchen Trends
Food preparation is in. The past years have seen a booming interest in food—healthy, gourmet food made at home. Cooking has become a pastime enthusiastically embraced by both women and men. This applies not only to family meals but in light of the recent economic downturn to a return to in-home entertaining. All these factors have given rise to a new importance of the kitchen, and today's kitchens are increasingly recognized as the hub of the house. They are open-concept, flexible spaces and often an extension of the great room—a trend that designers say will continue to prevail. "Homeowners know that the kitchen is truly the center of the home well beyond food preparation," says New York architect and residential design specialist Judith Raymond. "The separation between kitchens and dining rooms is coming down to create a more open space where family and friends can gather as dinner is being prepared and after dessert as well. People don't want to have to go from room to room to entertain. The kitchen is where they want to be."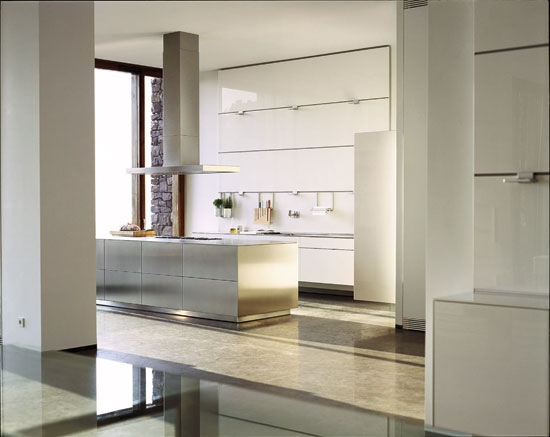 Minimalist kitchens are both efficient and aesthetically pleasing.
Photo courtesy of bulthaup
To further their culinary pursuits, home cooks increasingly want chef's kitchens and the latest in appliances and workspaces. To enhance the kitchen's appeal as an entertainment area, many consumers are turning to sophisticated, high-end design solutions that incorporate both practical and aesthetic advantages in an integrated look. "As designers, we have to combine the 'showplace' living room with the 'down and dirty' kitchen functions—incorporating all sorts of cooking, refrigerating, and dishwashing equipment, while balancing the qualities of form, proportion, materials, lighting, color, and details that make a room beautiful and convey the owner's style," says Raymond. Contemporary minimalist kitchens, which by their very nature are stylish, clutter-free, and ergonomically developed, continue to be popular choices in all demographics, from young urbanites to retirees renovating a country home.
Originally published in Architectural Record
Originally published in June 2013
Notice