Minimalism in the Kitchen
Form follows function in new generation systems that maximize efficiency, ergonomics, and aesthetics
This course is no longer active
Sponsored by bulthaup
Workspaces
In the minimalist kitchen, efficiency is key. Several areas within the kitchen are used as workspaces.
The Active Wall
As the cornerstone of a minimalist kitchen, the active wall offers numerous design and functional advantages as a result of wall panels and accentuation of the horizontal lines. Wall panels can be suspended with or without shelves. For added strength, shelves can be bonded invisibly at the factory to the panels. Kitchen designers make much use of what is known as "the functional gap," a small, less-than-half-an-inch space located between the panels, to suspend all manner of useful elements—cookbook holders, paper towel holders, knife blocks, herb pot holders, shelves with or without inserts for spice jars, and food containers as well as coffee makers, and TV and audio systems. These elements are not fastened to the panels themselves but are instead suspended in the gaps, which confers great freedom in changing their order or placement, or substituting other elements. Functional elements can be suspended at any point and at any height in the function gap, or fastened directly at gap height.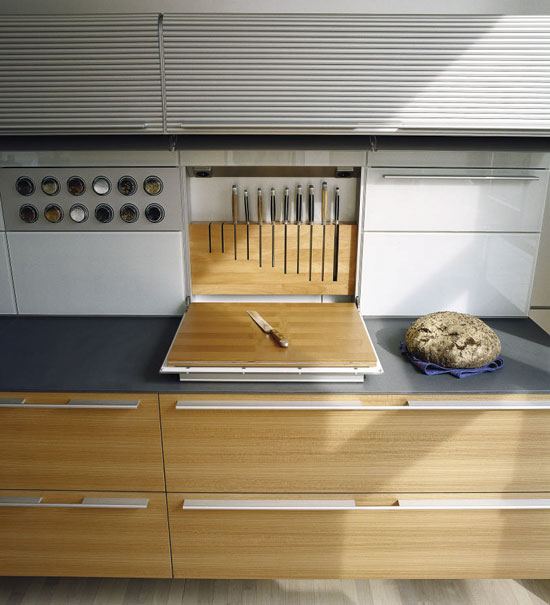 This function box contains a cutting board, knife block, and two electrical outlets.
Photo courtesy of bulthaup
The Monoblock
A key component in sculptural kitchen architecture is the monoblock, a base unit that integrates worktops, burners, and plumbing. The dimensions and material can be selected to suit, with the precision-finished stainless steel or laminate structure concealing the selected base cabinets into a single unit.
A purist-looking, seamless stainless steel body with a homogenous appearance appears like a solid block of metal, with no visible seams between the back, side, and top surfaces. For true minimalist design, fronts can be exclusively stainless steel with handle-free drawers, and designed to create contrasts with other kitchen surfaces such as wood, lacquer, or laminate. Handleless doors, drawers, and pullouts open with a simple touch and close at an individually adjusted speed that corresponds to how full they are. Alternatively, handles can be stylishly shaped with the cut out in the handle indicating the direction in which the door or pull out opens, or designed as a long open shape, from which dish towels can be hung.
In addition to stainless steel, monoblocks are available in laminates. Monoblocks using solid wooden fronts are constructed using a sandwich technique, in which three solid wooden layers are combined with two stabilizing aluminum sheets. In some cases, the minimal thickness of the solid wood and the fine aluminum sheets can be exposed at the edge, revealing the high-tech construction technique. Wall panels and side panels can also be produced in a similar manner. The monoblock can be planned as a freestanding island, with or without rear panel, as a peninsula or standing in front of a wall.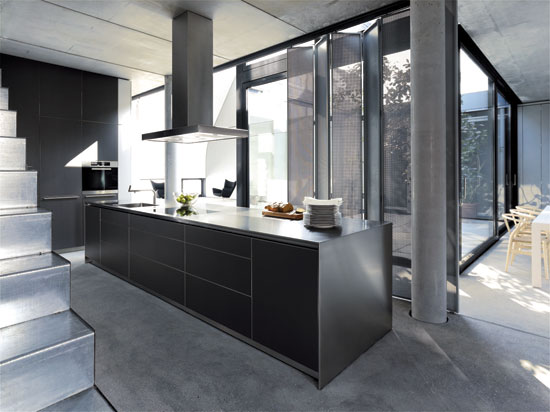 The monoblock integrates worktop, burners, and plumbing, and appears like a solid block of metal with no visible seams for a true minimalist design.
Photo courtesy of bulthaup
Originally published in Architectural Record
Originally published in June 2013
Notice