Minimalism in the Kitchen
Form follows function in new generation systems that maximize efficiency, ergonomics, and aesthetics
This course is no longer active
Sponsored by bulthaup
An Open Mobile Kitchen
Following the minimalist principles of "clearing away anything superfluous" and allowing maximum customization, this kitchen prototype assures that everything needed for a two-person household is visible at a glance and within reach. Starting from the philosophical origins of every living space—the fire and water points—this open and mobile kitchen is based on a workshop layout comprising three main elements: a workbench housing the sink and cooker; tool cabinet for utensils, crockery, and food; and appliance cabinet for the oven, dishwasher, and fridge.
Opening the in-door storage doors provides an overview of the entire kitchen domain. Once the doors are closed again, the beauty of the simple purpose-oriented form becomes clearly apparent. The compaction of the storage space makes pull-outs and drawers unnecessary. Even the diversity of units is smartly minimalist—just a few basic types and materials, such as oak and walnut veneer combined with worktops made from stainless steel, oak, walnut, and gray sandstone offer a limitless range of design variations. With its flexible structure, modules can be combined at will, and new worktops, water points or appliance modules can be put onto the workbench, adapting it to the owner's personal habits and customs. Elements can be extended to suit if the circle of family and friends increases, for example, or when new appliances come on the market, and changed if a different material is desired for the worktop.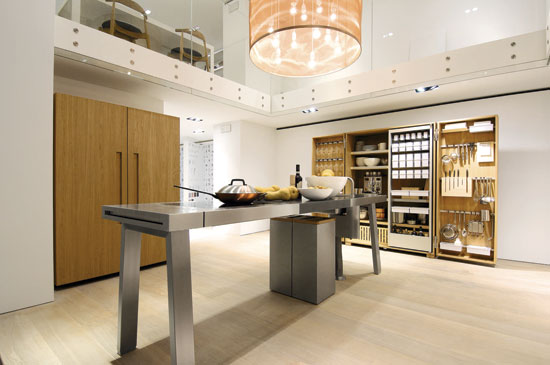 This minimalist open kitchen is composed of a workbench, tool cabinet, and appliance cabinet.
Photo courtesy of bulthaup
The Worktop
Only inches thick, today's minimalist worktops are the most rigorously used areas of the kitchen and must be able to withstand pressure, shocks, acidity, and heat as well as being easy and quick to clean. Although worktops can be less than half an inch thick, they are engineered to withstand extreme pressure. Such ultra-thin worktops are offered in stainless steel, seamless laminate, laminate with aluminum edges, and synthetic stone. Dyeing the laminate throughout the surface and edges gives the best results. Laminate worktops can also be edged in aluminum to protect against pressure and humidity.
Function Boxes
The most important area in the kitchen is the worktop, with preparation and serving zones, a water point, and a cooking area. In the classic fitted kitchen, there are only two solutions, as the worktop is neglected. Some minimalist kitchens, however, provide solutions that maximize use of this previously neglected area—the space between the worktop and the wall unit. The solution is based on "function boxes," which provide storage for spices, oil and vinegar, kitchen tools, knives, and small containers—most things needed in preparing or serving food, cooking, and cleaning. When the doors of the function boxes are closed, the pure minimalist form of the kitchen is uninterrupted, concealing ergonomically arranged storage solutions. The doors can be opened either completely or just halfway. In contrast to sliding doors, where one side is always hidden away, this solution keeps everything in view.
There are function boxes in variable widths, depths, and heights that can be planned for all manner of uses to suit individual needs. Wing lights with fluorescent tubes can be integrated for illumination and energy efficiency, as can an integrated mixer tap for the water point that is positioned high enough to enable even bulky crockery to be rinsed easily and tall pots to be filled with water.
Function boxes can be subdivided to create multiple compartments. The lower flap of the boxes can house both dividers and a knife block, or cutting and breakfast boards. Some manufacturers also offer compatible containers for storing sugar, salt, utensils, and other foods for an integrated look and operational efficiency. Such containers can be arranged according to themes, type or season, creating colorful patterns that reflect the preferences and cooking style of the user in a unique way. While a good fit for the functional spaces of the kitchen, the containers can be easily removed and placed in other locations, such as on dining tables or worktops, shifting their orientation from chef to diner.
Shutters or top box units placed on top of the worktop or integrated into tall units offer extensive storage space and can accommodate even larger kitchen appliances stored at ergonomically sensible heights. Equipped with compartment shelves, insert boxes, sockets, and interior lighting, shutter boxes can remain open in daily use and give the user access to their contents without doors getting in the way. One visual advantage characterized by the shutter units in particular is that they accentuate the horizontal lines.
Just how well a cupboard door closes or opens, and the width of the angle of access to the interior space are determined primarily by the hinge. Ultra-flat hinges with noise-attenuated stops that extend minimally into the interior and have an opening angle of at least 105 degrees invite easy access to units and insure that internal drawers can be removed without problems. When drawers have the same stops and attenuation as the pull-outs, they have the same interior width, enabling fronts to be planned end-to-end without any interruption to the horizontal line.
Water Points
As an average of 60 percent of time in the kitchen is spent on preparing, serving, and washing up around the water point, it is important to carefully consider the ergonomics, functionality, and versatility of sinks, flat basins, and drain boards. Drain boards and sinks in various widths can be welded into a utility recess, with the number and position customized. Functional elements, such as strainers, bowls, and basins, as well as sliding elements such as the cutting board and the sliding grater can enhance the water point and should be positioned accordingly. Special mixer taps are another convenience. Mounted to the wall or a function box, they can control the flow and temperature of the water with just one hand—an asset to a busy cook with a hot pot or bowl in the other hand.
Extractor Hoods
Extractor hoods that vent to the outside via ducts or in a recirculating version utilizing an environmentally safe, easily cleanable activated carbon filter are important elements in any kitchen. Powerful, quiet motors, versatile functions, logical interfaces, accommodation for controlling additional sources of light, easy cleaning, and care are all desirable attributes of a kitchen extractor, as is the ability to be installed over a kitchen island, on the ceiling, or over the cooking area on the wall. Extractor hoods with a swivel-out filter facilitate removing and cleaning the grease and odor filter. Hoods with integrated motors are designed for a higher level of performance than needed for normal use, meaning they are significantly quieter in normal mode and deliver optimum extraction under extreme conditions. Motor heads equipped with sound insulation and sufficient suction space will result in quieter operation.
An innovation in extractor hoods that combines optimized lighting and air filtration, is a virtually portable appliance that features a horizontal floating line of light in combination with an aerodynamic shape similar to that of wind instruments. When activated, the two slats that run along the lighting strip open to the side and expose the entire extraction surface. The aerodynamic side view lets one actually feel the movement and compaction of the rising air. Hanging from two steel cables, the appliance's position can be easily changed should the configuration of the kitchen need to be altered or should cooks prefer to prepare food such as fondue, raclette, or teppanyaki dishes directly at the table.
Originally published in Architectural Record
Originally published in June 2013
Notice