Minimalism in the Kitchen
Form follows function in new generation systems that maximize efficiency, ergonomics, and aesthetics
This course is no longer active
Sponsored by bulthaup
Interior Spaces—Organizing Storage
Having enough space for pots and pans, kitchen tools and accessories, appliances, bottles, and food is a key challenge in a kitchen. In minimalist kitchens, the active wall and reduced thickness of the fronts and worktops create greater storage capacity. Base units of different sizes and shapes play a crucial supporting role in the kitchen, and offer ample storage space, especially when equipped with interior drawers, deep storage drawers, doors as well as various internal fittings including bread cutting board, crockery inserts, tray, porcelain boxes, and multi-slicers since these make maximum use of the full unit depth.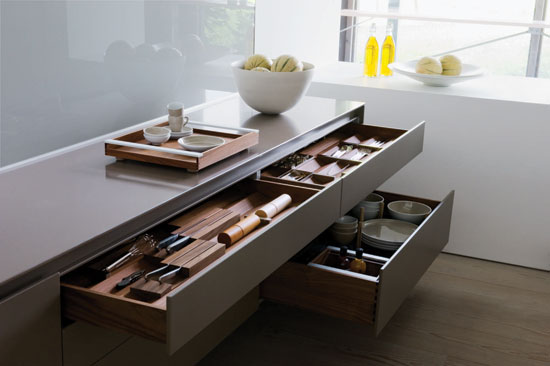 Interior fitting system is based on the concept of functional prisms and high-quality accessories.
Photo courtesy of bulthaup
Interior Fitting Systems
Manufacturers have introduced an alternative interior fitting system for drawers and pull-out elements that signifies a break with the rigid organizational structures of the past. The old systems made it necessary to store silverware, cooking utensils, and other tools in right-angled containers, and to align working practices with these organizational structures and not the other way around. As the exclusive focus on function has been replaced by a focus on intuition, these newer systems allow users to design—and redesign—drawers as they see fit, with easy access for both right-and left-handed users.
The interior fitting system is based on the concept of functional prisms—geometric structures that create functional and aesthetic order. Drawers carved into angled troughs feature triangular blocks of steel that slide to define the exact size of the spaces that the user needs to accommodate utensils, boxes, knife blocks, trays, and jars for seasonings and spices, etc.; they are also designed to slot into the prism structure. These flexible sliding elements organize and hold utensils in place, in a custom scheme that can be easily configured and reconfigured, creating a flexible and highly personal storage that grows organically with the evolving needs of the user. With the prism arrangement, which can be integrated into all pull-outs, drawer interiors take on a seamless, attractive look, almost like a collage, regardless of how the dividers and accessories are arranged.
Accessories and Related Furniture
The kitchen and areas around it form the heart of the home and are the hub of domestic communication. Some kitchen system manufacturers have gone beyond the strict confines of the kitchen, offering furniture with the same minimalist design and ergonomic function and similar thin material thicknesses and accentuation of horizontals to create an overall lightweight appearance in adjoining living and dining rooms. Options include tables, chairs, bar stools keyed to kitchen systems height, and benches that are either affixed to the multifunctional wall's carrier frame or freestanding.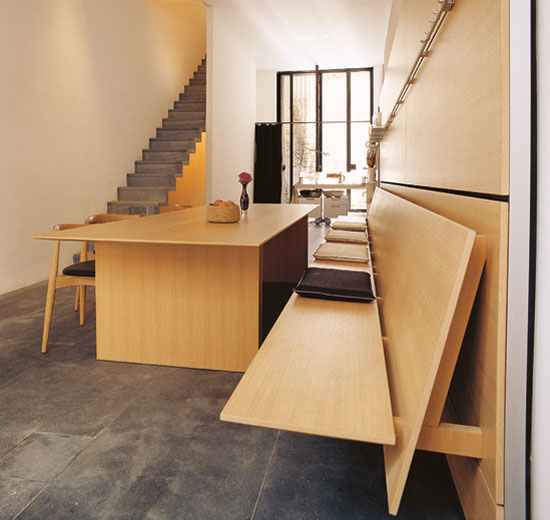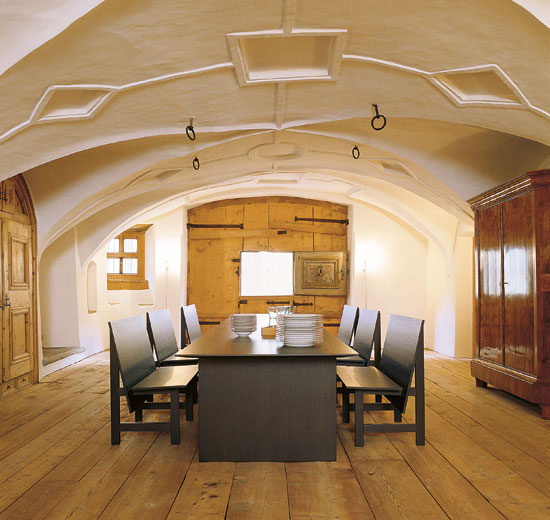 The tables and benches shown here in natural gray oak (top) and black-brown oak (bottom) highlight the lightweight appearance and horizontal orientation of the minimalist kitchen. The cross-section of the materials used is no more than 16 mm and it can withstand heavy loads.
Photos courtesy of bulthaup
Originally published in Architectural Record
Originally published in June 2013
Notice