Minimalism in the Kitchen
Form follows function in new generation systems that maximize efficiency, ergonomics, and aesthetics
This course is no longer active
Sponsored by bulthaup
Design Considerations
In designing a minimalist kitchen, architects will want to consider a range of aesthetic and sustainability issues.
Materials
In high-end minimalist kitchens, quality solid wood, laminates, stainless steel, synthetic stone, veneers, and even concrete are all design possibilities, and can be customized to create complementary or contrasting design schemes. Among the most modern and versatile materials, aluminum is a well-recognized choice for the minimalist kitchen. To prevent oxidation in the daily use of the kitchen, aluminum fronts should be anodized. In fact, strip anodizing of aluminum surfaces is the only means of offering aluminum in a reproducible color quality. Finishes are available in a natural aluminum, bronze, and darker gray which in some cases is achieved through development of an eloxate using organic pigment to imbue the finish with a pleasantly dark appearance that changes with the reflection of the light.
Ultra-thin solid wood fronts are produced in a sandwich construction, combining three solid wooden layers with two stabilizing aluminum sheets. The minimal thickness of the solid wood and the fine aluminum sheets are visible at the edge. Wood can be finished to appear either smooth and sleek or in a coarser version. In some cases, wood fronts such as those in oak can be fashioned to maintain the rough structure of the original saw cut, finished with an invisible natural coat for protection. Rather than sealing the surface, the lacquer accentuates the impression of the saw cuts, enhancing the natural character and vitality of the wood. Rough-sawn woods can be stained in darker shades to blend harmoniously with other kitchen elements.
In terms of veneer, the quality horizontal-veneered fronts require selection from a single tree trunk so that the grain of the wood continues in a horizontal direction over the entire front. Some woods such as maple, cherry, oak can be veneered either horizontally or vertically. For darker veneers, architects should consider treated woods such as smoked oak. Light and dark veneer strips are crafted to achieve a plank character.
Glossy and matte lacquer finishes are available in an extensive range of colors. Glossy, high-quality "piano" lacquers are striking, particularly in white, which contrasts well with materials such as stainless steel, aluminum, and wood. Matte lacquer surfaces are used more for setting sophisticated color accents in the kitchen and adjoining rooms, or for transitions between the kitchen and the neighboring areas.
Green Issues
At the heart of sustainability is conservation of resources and the notion of doing more with less. By focusing on individual preferences and systems that can be easily altered and expanded over time, minimalist kitchens have a long service life, without the need for costly full-scale renovations as needs change. This organic growth is based on the quality of materials, and the universality and flexibility of the systems. While the overarching design of such kitchens is inherently green, architects can delve further into sustainability by opting for appliances such as water-saving dishwashers, energy-efficient refrigerators as well as environmentally sound materials that are sturdy enough to withstand use, easily cleanable, and responsibly sourced. Wood used for veneer, for example, should be obtained from sustainably managed forests and treated with water-based, environmentally friendly lacquer.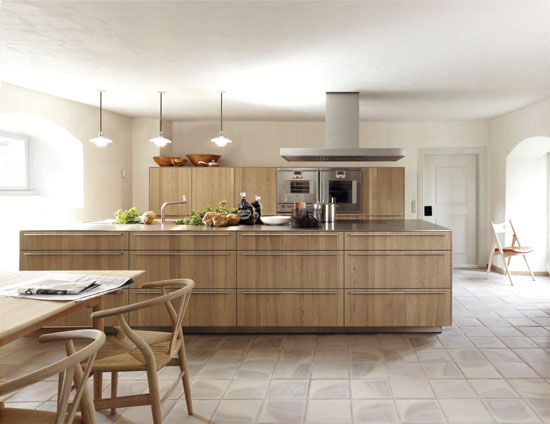 Wood from managed forests adds to the kitchen's sustainability.
Photo courtesy of bulthaup
Originally published in Architectural Record
Originally published in June 2013
Notice