The Business Case for Building with Wood
How wood construction can contribute to process efficiency, sustainability, and marketability
Sponsored by Think Wood
This test is no longer available for credit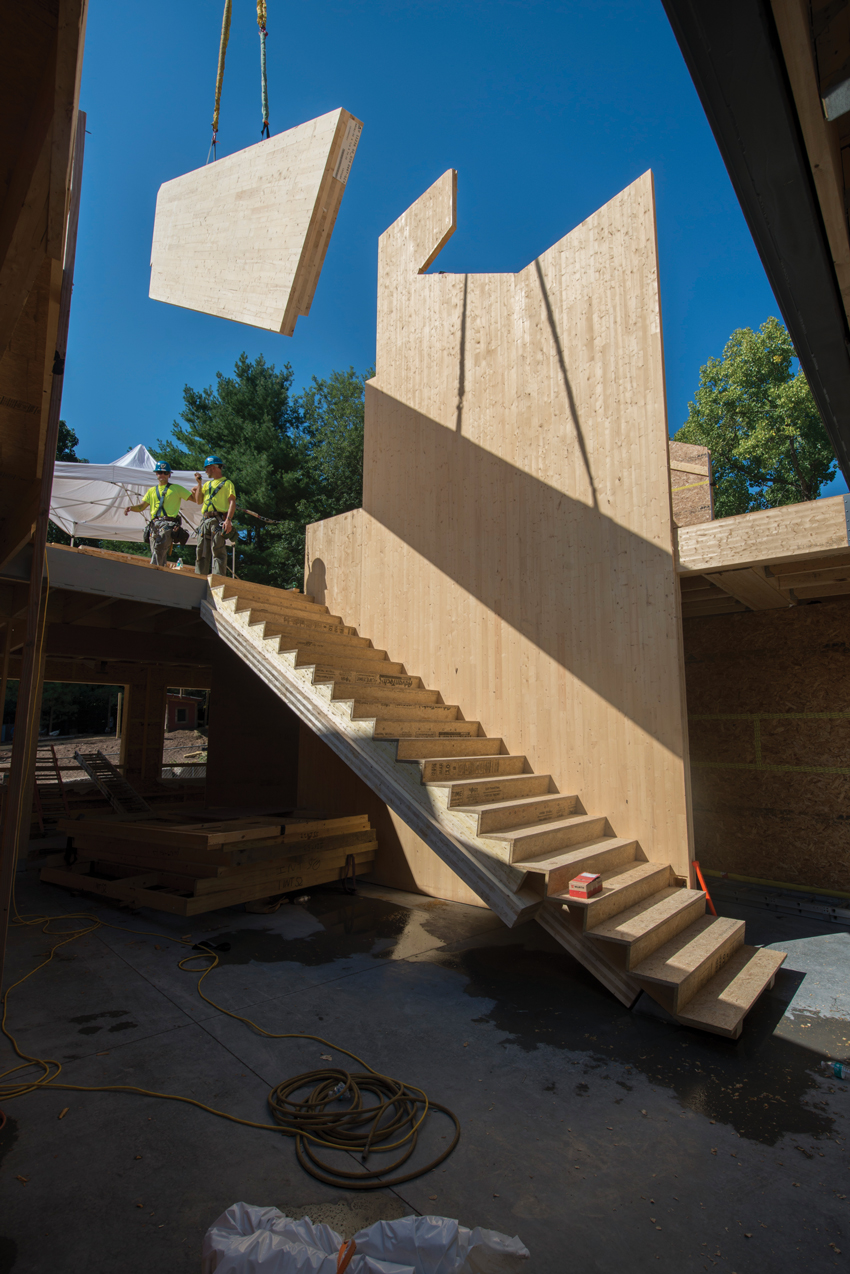 Photo: Courtesy Gray Organschi Architecture
A new addition to Common Ground High School in New Haven, Conn., was framed using heavy timber and mass timber components in just four weeks.
Albina Yard, a four-story, 16,000-square-foot speculative office building with ground-floor retail located in North Portland, Oregon, demonstrates how the use of prefabricated components can streamline construction as well as the benefits of the precisely engineered panels that enable a predictable and easy-to-construct system. The building utilizes mass timber construction along with a glulam timber frame. CLT panels were made with regionally sourced Douglas fir and manufactured in Oregon; Albina Yard was the first project in the country to use domestically produced CLT.
The design team at LEVER Architecture always planned to use wood as the primary structural material. It priced two approaches: standard tongue-and-groove wood decking and CLT; however, its primary goal was to utilize domestic CLT in a market-rate office building, thus paving the way for broader market adoption in Portland and beyond. Consequently, the team worked with engineers and fabricators to optimize CLT costs by simplifying details and leveraging CLT's two-way spanning capacity to use fewer glulam beams. Prefabrication also allowed components to be assembled on-site five times faster than a conventional wood decking system.
The glulam wood columns and beams were milled in Portland using a Hundegger K2 CNC joinery machine. According to LEVER, the use of CAD/CAM software and CNC technology "allowed the team to rapidly design and prototype precise connections, milled to a 1⁄8-inch tolerance."15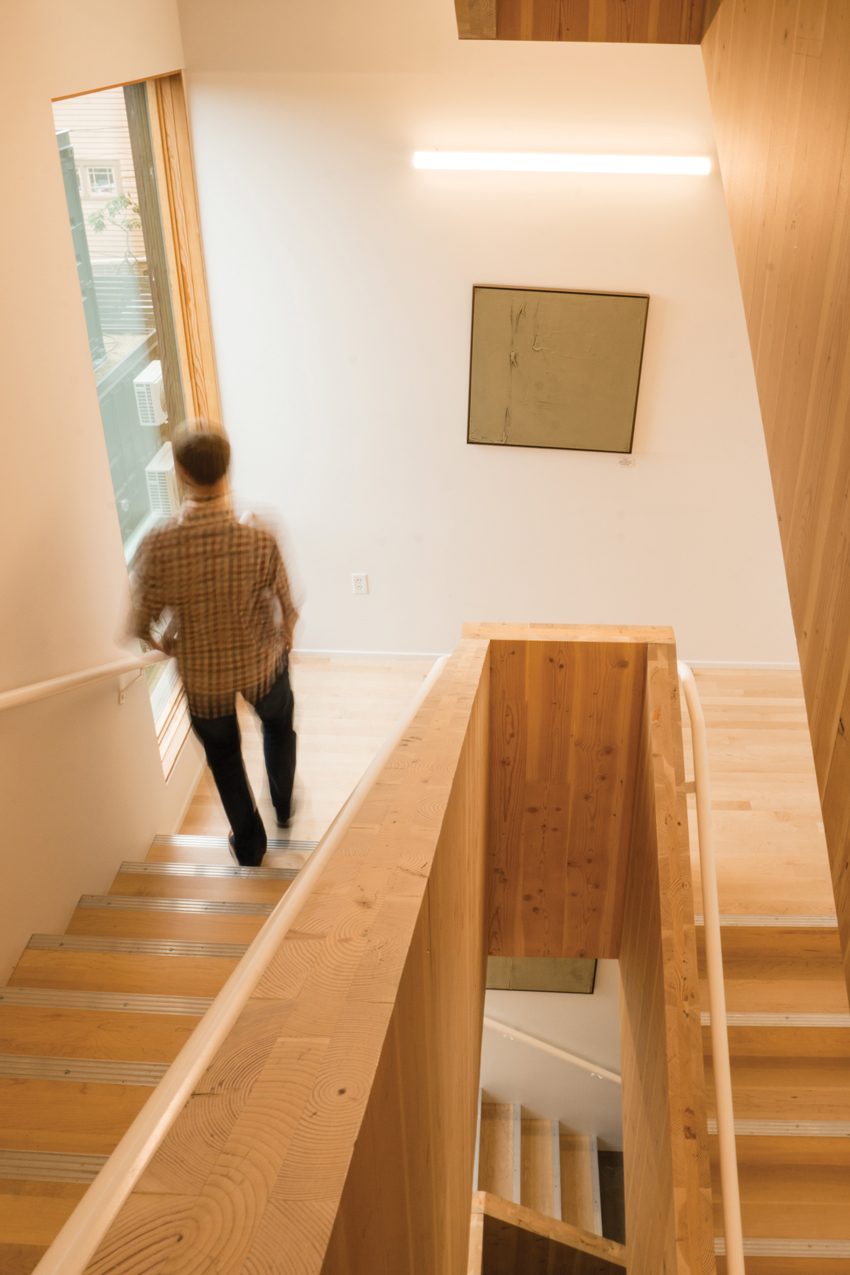 Photo: Courtesy of Oregon Department of Forestry
At Albina Yard, a speculative mass timber office building constructed in Portland, exposed wood, high ceilings, and shared spaces are designed to inspire creative collaboration.
Expanding Markets and Technologies for Wood
Over the past decade—and thanks to a few early adopters—projects have shown how code-compliant wood structures can meet seismic, fire, and other code requirements while satisfying project goals and budgets. Now, these newer methods of wood construction are moving into the mainstream.
Schools, office buildings, mixed-use projects, and hotels are all examples of markets that are primed for expanding use of wood construction. These sectors have average building sizes well within the scope of current codes, and examples in each category are showing how wood construction—whether light-frame, heavy or mass timber, or a hybrid—can make for more cost-competitive construction, achieve performance and sustainability goals, and create appealing and distinctive buildings that attract higher rents.
Commercial Office Building: Karuna at One North
Karuna at One North in Portland consists of two new buildings totaling 85,540 square feet: a five-story Type IIIB building (consisting of four floors of Type IIIB construction over a Type I concrete podium) and a separate four-story Type VA building (consisting of three floors of Type VA construction over a Type I concrete podium). Both include offices above ground-level retail.
Glulam columns and beams create the primary structures. Fire-retardant-treated wood (FRTW) shear walls form part of the lateral-resisting system, and sprinklers added on the exterior allow the structure to exceed the 40-foot combustible exterior finish limit.
Influenced by the work of modernist Spanish architect Antoni Gaudí and designed by Holst Architecture, the building exteriors feature warm wood cladding accented by shaded window walls that curve out from the facade. Karuna at One North uses 50 percent less energy than a conventional code-built structure but was built at a comparable cost per square foot.16 On its website, Holst states, "Using a mostly timber wood frame helped us achieve our rigorous sustainability goals and set a new standard for offices." According to developers, rental rates surpass those of offices in downtown Portland, even though the building is 1 mile north of downtown.
The project has garnered several awards, and the new buildings join another distinctive wood building that was completed a year earlier. Dubbed The Radiator for its gilled facade that was designed by Path Architecture and completed a year earlier, the Type IIA structure was the first five-story wood-frame building to be erected in the city in more than 100 years.
School: Franklin Elementary
School districts are increasingly embracing wood as a safe, cost-effective, and sustainable alternative to more conventional methods of construction. Franklin Elementary is the first design-build school project in the state of West Virginia, and the first school in the United States to be built using CLT.
Facing a short construction window and tight budget, Franklin's school district chose CLT for the structure over concrete masonry units and insulated concrete forms, which are commonly used for school construction in the state.
The CLT structure highlights the versatility of the material and how it can be used to accommodate design. In places where the design needed to avoid columns, the thickness of the CLT panels was increased to enable greater spans. Similarly, the roof panels ranged in thickness from about 5 to 99⁄16 inches.
Speed of construction was a huge plus on this project. After the foundation was completed in late March 2014, a small crew from City Construction Company began setting CLT panels; the last was set in mid-June. During one day, a crew of four plus a crane operator installed 33 panels, or 10,000 square feet of building surface.
Construction was able to proceed safely in all weather conditions, which allowed the project to be completed on time—another benefit for challenging climates. Now that the state's School Board Authority has approved CLT construction, it can be used to construct other schools throughout the state.
Hospitality: Candlewood Suites Hotel at Redstone Arsenal
When building a new Candlewood Suites hotel at Redstone Arsenal in Alabama, developer Lendlease chose CLT for its speed and quality. The four-story, 62,688-square-foot hotel was built 37 percent more quickly and with 44 percent fewer person-hours than similar hotels. It was built with just an 11-person crew: three experienced carpenters and eight unemployed veterans who received on-the-job training. CLT was utilized for all exterior walls, parapet walls, interior walls, elevated floor slabs, and roof deck; glulam columns and beams were also part of the structure. The wood components are sealed with cladding on the exterior and drywall on the interior.
As with Franklin Elementary, the project team remarked on the ability to safely work with CLT under all weather conditions. Bill Tobin, vice president and master superintendent at Lendlease, cited several safety advantages of CLT. Very few crew members were required to work within the swing radius and fall of the crane, and safety measures such as handrails were attached to panels while they were still on the ground, ensuring they were immediately safe to workers once set into place.17
The CLT construction also helped achieve other performance goals, including energy efficiency and sound protection. The CLT panels were manufactured to a tolerance of less than 1⁄16 inch, which guaranteed an airtight envelope. In addition, field testing of CLT floor and wall assemblies resulted in sound transmission class (STC) ratings significantly higher than those required by code.
Originally published in Architectural Record
Originally published in December 2018
Notice