The Business Case for Building with Wood
How wood construction can contribute to process efficiency, sustainability, and marketability
Sponsored by Think Wood
This test is no longer available for credit
Energy Efficiency
It's no coincidence that many of the recent wood-frame and mass timber buildings are reaching for ambitious energy-performance goals and green building certifications. Wood has low thermal conductivity compared to steel and concrete. Precisely manufactured assemblies such as pre-fabricated light-frame walls and wood components such as CLT panels can help building envelopes achieve superior air tightness.10 In addition, the dimensional stability of these components ensures that air tightness does not degrade over time.
Wood has inherent insulating qualities, and wood-stud walls are easy to insulate. In addition, wood construction is flexible enough to accommodate assemblies necessary to achieve the requirements of more stringent energy codes. These assemblies may include deeper wall cavities, the use of continuous exterior insulation, or a hybrid of both.
Wood buildings can not only meet or exceed energy code requirements but also meet the rigorous standards of green building programs such as LEED, the Living Building Challenge, Passive House, and the Architecture 2030 Challenge.
Expanded Markets and Market Distinction
Wood construction is enjoying a renaissance. Developers and building owners are choosing wood construction for commercial office buildings, hotels, schools, and institutes of higher education, and some are promoting the performance and sustainability of wood as a way to distinguish their buildings.
Wood can help building owners meet market demand in several ways. One of the most obvious is through market distinction. In today's competitive market, retailers often need to rebrand to capture loyal customers, and companies must offer work environments and amenities that appeal to the new generation of workers. Wood can be part of designs that help secure higher rents and attract quality employees and tenants.
Open layouts: Open layouts, which facilitate collaboration and daylighting, are becoming more popular, especially in commercial offices. Mass timber construction facilitates open layouts because wood members—glulam beams, NLT, and CLT panels, for example—can accommodate larger spans that reduce or eliminate the need for support columns.
Aesthetics and biophilia: When ceilings are treated with wood or when wood structural panels are left exposed, they contribute to an interior aesthetic that is increasingly recognized as beneficial to health. The burgeoning field of biophilic design is revealing quantifiable health and wellness benefits of materials perceived as "natural" or organic, especially when paired with good daylighting and strategies that ensure healthy indoor air. In addition, studies have revealed that tenants and homeowners show a preference for exposed wood, particularly in residential settings.11, 12
Regional identity: Wood, especially when left exposed, can be used to convey a building owner's preference for natural materials and connect occupants to the local environment. For example, western red cedar and southern yellow pine are strongly linked with their regions. Projects that showcase regionally sourced wood products celebrate the region's identity and can even instill feelings of pride and belonging.
Connectivity: Strong, reliable internet connectivity is a must in today's buildings. While all building materials, even glass, block Wi-Fi signals to some extent, wood is on the lowest end of the spectrum. Concrete, brick, and metal are among the top signal blockers.13
The Advantages of Off-Site Construction
Prefabricating components and assemblies off-site offers many advantages, including efficiency at every stage of the process, less disruption of building activities, and faster speed of construction.
The most common categories of off-site prefabrication include modular systems, panelized systems, subassemblies or components, and hybrid systems.
Modular assemblies are complete buildings or rooms that are fabricated off-site and delivered fully assembled, complete with fixtures and exterior and interior finishes.
Panelized systems are complete assemblies such as walls. They may be open (non-insulated) or closed (insulated). Enhanced panels come complete with windows, doors, electrical and plumbing, and finishes.
Subassemblies and components include floor and roof trusses and panelized components such as cross-laminated timber (CLT) panels.
Hybrid systems include a combination of two or more discrete system types.
The Factory Advantage
Off-site production holds a number of advantages. Manufacturing can be more easily controlled, ensuring superior quality, and it is not subject to the foibles of weather and delays caused by the other trades. The factory setting is usually safer for workers as well, as assembly takes place on the ground in a familiar, monitored environment free from weather-related hazards.
An additional benefit is the accuracy and precision enabled through the use of computer numerical control (CNC) machining. The increasing use of 3-D modeling software such as building information modeling, or BIM, can be combined with off-site manufacturing to achieve very high efficiencies. BIM allows teams to thoroughly review components before they are fabricated and can also be used to coordinate logistics, such as the delivery of components.
Computer automation and the controlled factory environment enables much greater material efficiency as well; in addition, unused or leftover materials can be stockpiled for later use or used as fuel. Off-site production can reduce waste by 20 to 40 percent.
Because of wood's light weight, wood-frame and mass timber construction is ideally suited for prefabrication. Panels are manufactured specifically for each job, complete with precut openings for doors and windows and service channels for MEP equipment. They can be shipped to the job site precisely when they are needed, precluding the need to store materials on an already-crowded job site. Weather protection is important for prefabricated parts and assemblies; consequently, manufacturing, transportation, and construction site logistics must be very good.
In a dramatic example of how prefabricated mass timber panels can reduce construction time, the primary superstructure for the Plumas County Biomass Boiler Building in Quincy, California, was erected in just over a week. The project, which was led by the Sierra Institute for Community and the Environment, utilized CLT panels for the structure and required only a small crew to lift, set, and screw them into place.
The building, which was completed in December of 2017, houses an innovative biomass boiler system that utilizes woody byproducts generated from forest restoration and management activities. The interior surfaces of the CLT panels were left exposed to showcase the material. The project also set a precedent in California by using CLT as the seismic-force-resisting lateral system (the first building in California to use CLT for both gravity and lateral systems) and is a pertinent example of resilient design that can help ensure important infrastructure remains functional following a disaster.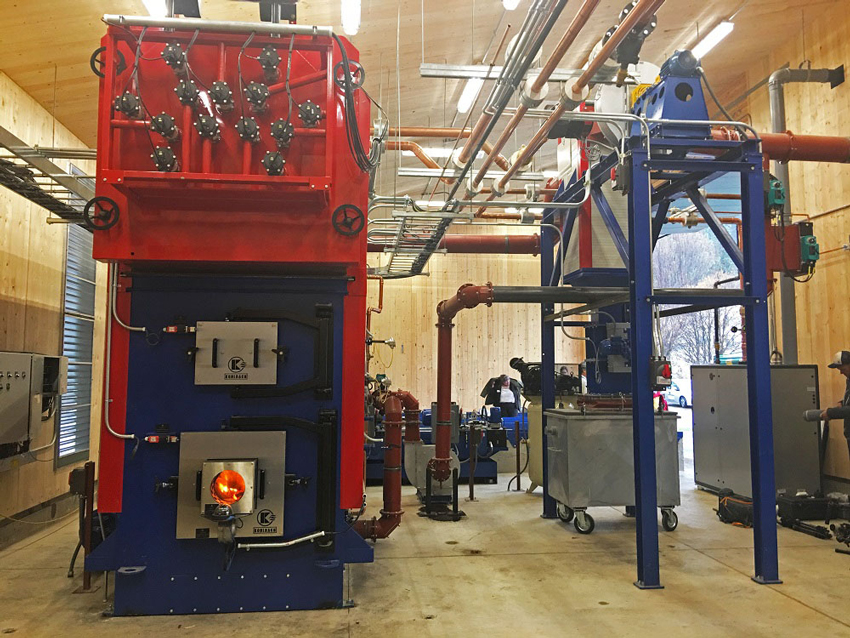 Photo: Courtesy of Sierra Institute for Community and Environment
At the new Plumas County Biomass Boiler Building in Quincy, California, the interior surfaces of the CLT panels were left exposed to showcase the material.
In many of these innovative buildings, wood is being used for pragmatic reasons such as speed of assembly but also to achieve ambitious sustainability goals and convey messages about an institution's or organization's mission. A $7.5-million, 14,000-square-foot addition to the Common Ground High School exemplifies this approach. Located in New Haven, Connecticut, the environmental charter school offers students an innovative curriculum of urban agriculture combined with sustainable land-management practices.
The new school building was framed in just four weeks by a crew of five using prefabricated materials. Alan Organschi, designer and principal at New Haven, Connecticut-based Gray Organschi Architecture, designed the project, which is constructed with heavy timber and mass timber components. Black spruce CLT panels act as the tension surface and final ceiling finish. Vertical CLT panels form bearing and shear walls, while glulam rafters and heavy timber trusses span the large ground-floor multipurpose space.
The project was used as an opportunity to connect students with the resources used to construct their new addition, which is targeting LEED Gold certification. Students learned which forests produced the wood and where the CLT panels were fabricated. They also appreciate the "fresh" indoor air quality, which can in part be attributed to the wood materials used throughout.14
Originally published in Architectural Record
Originally published in December 2018
Notice