The Business Case for Building with Wood
How wood construction can contribute to process efficiency, sustainability, and marketability
Sponsored by Think Wood
This test is no longer available for credit
Market Distinction
Increasingly, the next generation of multifamily tenants, office workers, and students value uniqueness and authenticity in their homes, schools, and workspaces. Informed by mobile technology and driven by a sense of creative place-making, buyers and tenants are especially drawn to the pockets of the built environment that convey warmth and "naturalness" and a connection to the past—but with modern amenities and super-fast Wi-Fi speeds, of course.
Many building owners are turning to wood construction in order to distinguish themselves to their customers and clients—and in some cases, to rebrand. They're using building design to project values: environmental sustainability, health and wellness, and the celebration of local culture.
Specific demographic groups are pushing some of these trends. Millennials, defined as the generation born between 1981 and 1997, have the reputation of being both tech savvy and environmentally conscious. They have embraced the sharing economy and are comfortable with services such Uber, Lyft, Airbnb as well as shared workspaces and open office plans. This huge cohort, with an estimated 83 million individuals, was greatly impacted by the Great Recession of 2007. Saddled with student debt and a depressed job market, many delayed traditional milestones such as marriage and home ownership. Today, Millennials are eager to enter the housing market; however, the things they are looking for in a home tend to be slightly different than their parents.
Millennials value health and wellness. They're more likely to patronize locally owned restaurants that serve dishes with ingredients sourced from nearby farms and ranches. They spend significant portions of their income on "self-care"—whether fitness classes, organic food, or massages. They want to do work that is meaningful and seek employment with companies that have good track records when it comes to sustainability and workers' rights, and they expect perks like employee lounges and fitness centers.18, 19
Alongside this influence, there's growing support for biophilic design in the building professions. Biophilia is commonly defined as the affinity humans feel for the natural world. Proponents of biophilic design argue that fostering the connection between people and the natural world is vital to health and well-being. Starting with a now-famous study published in 1984, which showed that post-operative patients recovered more quickly if their rooms included views of green space compared to those whose rooms faced out onto a wall, numerous studies since have quantified the benefits of biophilic design on productivity, absenteeism, and perceived well-being.20, 21
Wood is a natural material that can directly connect building occupants with ecological systems. It is often incorporated into "green" buildings with other natural materials and "organic" colors and finishes that together create wholesome, nurturing interior environments. A collaborative study conducted by the University of British Columbia and FPInnovations has established a link between wood and human health. In this study, 119 university students were exposed to rooms which included visible wood surfaces and "control rooms" with white surfaces. Students in the wood rooms showed lowered sympathetic nervous system (SNS) activation, which is a proxy for stress.22
Making It Real in Retail
In the world of retail, companies face a constant struggle to distinguish themselves. They not only have to attract (and keep) loyal customers from other brick-and-mortar companies, they must convince customers to physically walk into their buildings rather than shop online. Consequently, there is a huge emphasis on customer experience, often abbreviated as CX, which can be defined as the long-term relationship between a customer and a brand.
Sometimes this means companies must rebrand to keep up with changing preferences and values. Chain restaurants present an interesting test case. Known in the past for their comforting sameness, today many are creating distinctive buildings attuned to their cultural and environmental surroundings, in part to capture the loyalty of Millennials, who value authenticity and localism. This is accomplished as much with building design as with the menu offerings. Some of these companies are moving away from garish colors and synthetic plastics and are instead integrating organic palettes and natural materials, including wood, into their buildings.
A revamped McDonald's in Chicago's River North neighborhood illustrates this trend and exemplifies urban sustainability. The 19,000-square-foot restaurant is a one-story building with a sophisticated glass and steel facade. But its most outstanding feature is its CLT roof deck.
Designed by Ross Barney Architects and built by Walter Daniels, the building is considered Type IIIB construction (construction other than heavy timber in which the structural interior framing elements are entirely or partly wood). It marked the first time CLT has been used in Chicago, and a rush of mass timber buildings have since broken ground.
Inside, the space is lit with ample daylight and warmed with exposed CLT panels and green plants. The deck is dropped above the ordering area, and the glass-lined space supports a cluster of birch trees. In addition, a row of apple trees growing on the roof is visible through the clerestory windows, connecting diners with the plants from which food comes.
"The major message that they want to convey by their new architecture is authentic and natural, and that's what their new prototype really stresses," Carol Ross Barney, principal at Ross Barney Architects, told Chicago Magazine.
The roof supports a solar array; other sustainable features in the LEED-certified project include permeable paving and daylighting, which reduces energy demand from artificial lighting. The Chicago McDonald's reflects the company's larger sustainability goals, which include cutting greenhouse gas emissions from its restaurants, corporate offices, and supply chains by 36 percent by 2030.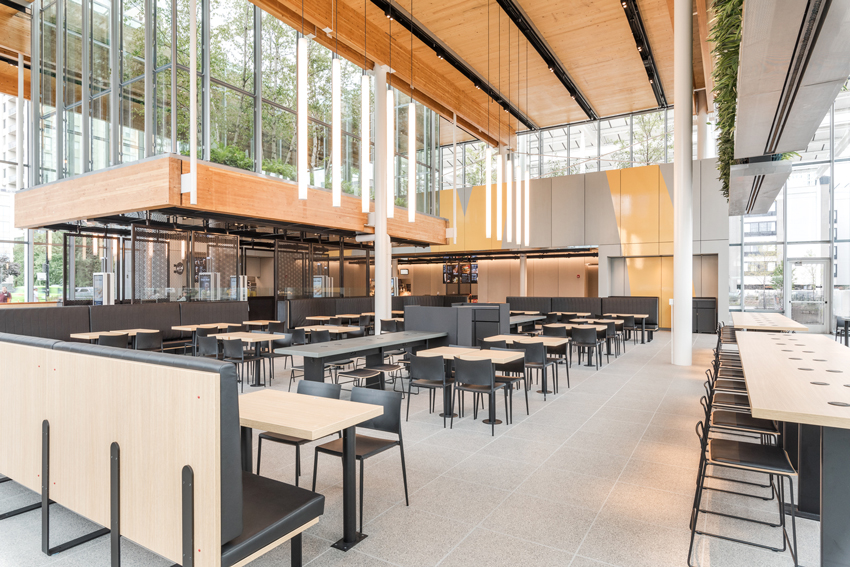 Photo: Courtesy of Ross Barney Architects
A new flagship McDonald's restaurant in Chicago, built in part using CLT panels, effectively rebrands the fast-food chain and sends a strong message about the company's commitment to sustainability.
Attracting Quality Tenants and Employees
T3, which stands for Timber, Transit, Technology, was completed in Minneapolis in 2016. Taking design cues from old brick and timber warehouses, T3 is the first commercial property in the United States to use wood for its structure and interior. The seven-story, 220,000-square-foot building, designed by Michael Green Architecture in collaboration with the DLR Group, was constructed with 8-by-20-foot NLT panels and glulam beams and columns. The six stories of timber framing are built on a 29,000-square-foot concrete podium. Laminated veneer lumber (LVL) was used in the stairs.
This building was created expressly to attract a certain kind of tenant. The T3 North Loop website states: "A company's brand optics—what it represents in the minds of employees and other stakeholders—is of paramount importance," and it touts T3 as a "tangible recruiting tool for employers." The building has plenty of features and amenities expressly designed to appeal to millennial workers: workspaces that promote collaboration and are also "high-tech, stylish, comfortable, cool, and fun." Amenities include an open but flexible office plan, coffee bar, fitness center, bike repair shop, and rooftop deck. The building is also within walking distance to many restaurants and public transit options—the second "T" in T3.
"There was this demand for a new type of office," says Steve Cavanaugh of DLR Group. "More textural, more sustainable. It was aligning with the values of the younger tech companies. And when that market demand started to push in there married with the development of wood technology, it started to become more feasible."
The building owner did not secure any leases before going forward with construction. However, before completion, Amazon has leased two floors to become the anchor tenant; as of this writing, the building has been sold to an investment group and is 82 percent leased. Additional T3 buildings are in the works for Atlanta and Chicago, with more to come, proving the replicable nature of this design.
The timber structure was completed in two-and-a-half months at an average of nine days per floor—a rate which exceeds conventional steel-framed or concrete construction and allowed the owner to lease the space sooner. In addition, the 2.2 million board feet used in the structure will sequester about 700 tons of carbon for the life of the building.
But although the project has garnered much attention and praise for its Timber construction, the other two Ts in T3—Transit and Technology—are also key to its success.
The project is located one block from a major transit hub and has direct access to the Minneapolis Skyway, a system of elevated walkways which connects buildings, and a hike-and-bike trail. T3 is also the first office building in Minneapolis to receive preliminary Wired Certification, a standard which identifies buildings with best-in-class internet connectivity. The standard considers several factors, including the quality and diversity of IT connectivity, the extent of physical internet infrastructure, and the IT readiness of a building. According to WiredScore, T3 received certification "due in part to the density and diversity of lines to the site, multiple points of entry for carriers, and multiple riser pathways to support IT security and future growth of building tenancy."23
What does the wood construction have to do with Wi-Fi connectivity? Quite a lot, it turns out. Different construction materials interfere with wireless signals to varying degrees. Concrete and masonry are the worst when it comes to blocking wireless signals, whereas tests conducted by the U.S. National Institute of Standards show the impact of plywood and drywall on Wi-Fi signals to be near zero.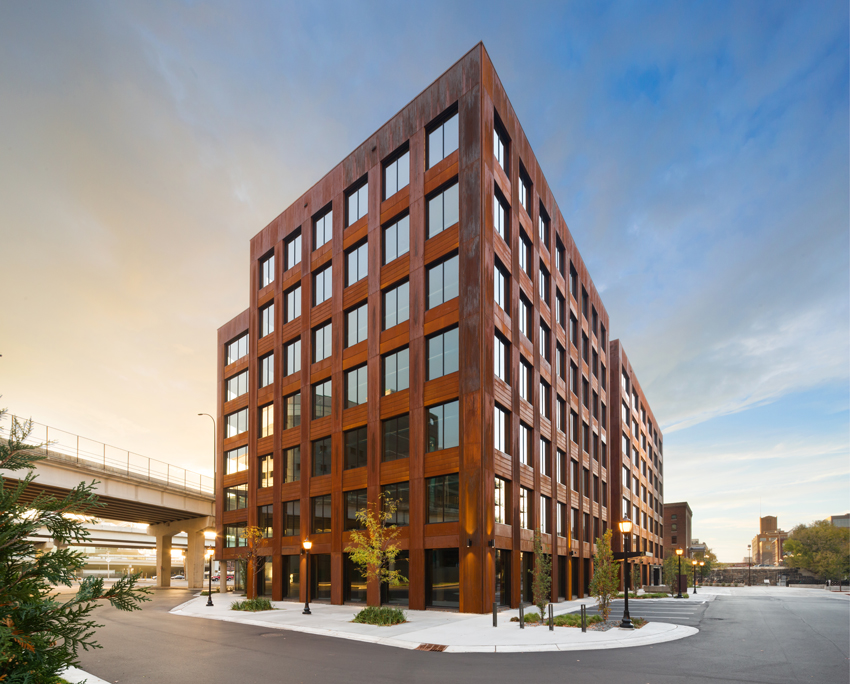 Architecture: Michael Green + DLR Group | Photo: Ema Peter
T3, a speculative "tall wood" building completed in Minneapolis, demonstrates the marketability of mass timber buildings and is already being replicated in several other major cities.
Conclusion
Project owners and developers are increasingly turning to wood for its flexibility, sustainability, and cost advantages. The aesthetic and design possibilities of wood are also enabling these owners to enjoy a competitive advantage when it comes to attracting tenants and employees. Consequently, we are seeing examples of wood construction in all sectors, from mid-rise offices and hotels to schools and hospitals. As architecture firms continue to build expertise and capacity, expect to see more of these exemplary wood projects break ground in the near future.
Originally published in Architectural Record
Originally published in December 2018
Notice