The Business Case for Building with Wood
How wood construction can contribute to process efficiency, sustainability, and marketability
Sponsored by Think Wood
Learning Objectives:
Explain how wood construction can be used to reduce construction timeframes, ensure quality, and accommodate changes in the field.
Name some value propositions other than cost that are making wood an attractive construction choice for building owners.
Describe common prefabricated and modular components and assemblies that are used in wood construction today.
Describe how wood is being used to create environments that appeal to the new generation of employees and occupants.
Explain how recent code changes are enabling cost-effective, high-density designs.
Credits:
This course can be self-reported to the AIBC, as per their CE Guidelines.
This course is approved as a Structured Course
Approved for structured learning
Approved for Core Learning
This course is approved as a Core Course
Course may qualify for Learning Hours with NWTAA
Course eligible for OAA Learning Hours
This course is approved as a core course
This course can be self-reported for Learning Units to the Architectural Institute of British Columbia
This test is no longer available for credit
For those involved in shaping tomorrow's built environment, this is an exciting time. Several converging trends are presenting both design challenges and new market opportunities. Cities are getting denser, spurring mixed-use projects that combine ground-level retail and several stories of residential units. Urban dwellers, millennials in particular, are seeking affordable dwellings that are close to work and include plenty of amenities. New office construction continues to be strong, but these offices are eschewing traditional configurations and instead tend to include common areas and open plans that encourage collaboration. At the same time, firms are under pressure to innovate, implement lean practices, and create repeatable designs. More stringent building and energy codes and a growing emphasis on resilience are catalyzing performance-based designs—buildings that not only ensure occupants can safely evacuate during a disaster but that also maintain some functionality during an event and to be safely used afterward.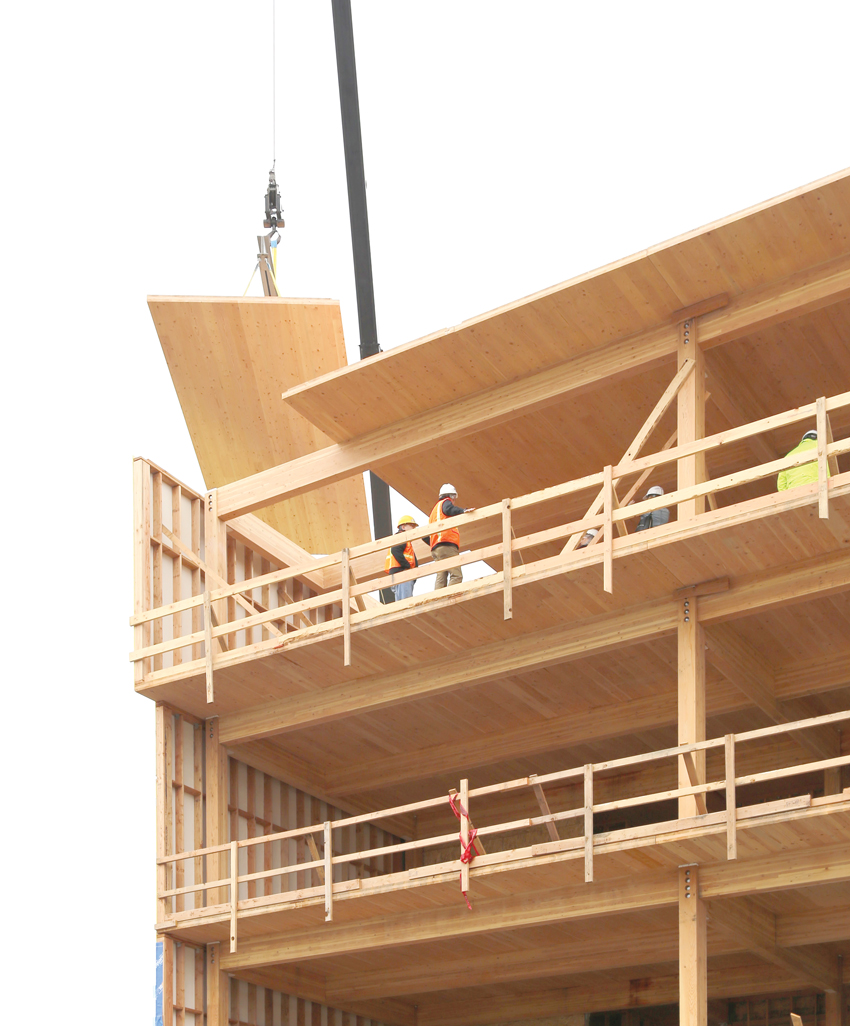 Image: LEVER Architecture
Speed of assembly is one of the greatest advantages of prefabricated panelized components. At Albina Yard, a new office building in Portland, CLT panels enabled each floor to be built in a matter of hours.
Alongside these trends, builders and owners are facing a tightening lending market, especially from the larger banks.1 To remain competitive, many construction companies are incorporating off-site manufacturing into their processes to ensure faster, more efficient project delivery and make up for the shortage of construction workers.2
Increasingly, building owners and design professionals are turning to wood construction to satisfy all of these industry, market, and regulatory demands and challenges. Long valued as a building material for its performance and cost advantages, today's building owners are choosing wood to satisfy these and other value propositions, from environmental sustainability and resilience to creating distinctive buildings that appeal to the next generation of employees and apartment dwellers, all while meeting tight budgets and construction timelines.
Innovations in off-site manufacturing and prefabricated wood components and assemblies have expanded the options for wood construction. To fully serve their clients, design professionals must understand these trends and technologies and be able to communicate the benefits of the various wood construction systems to their clients.
Cost Benefits
There's a reason why light-frame construction is the go-to method for most residential and many commercial projects. Wood is an abundant resource in North America, and tradespeople are familiar with the materials and methods of wood construction.
A comparative analysis of one- to four-story office buildings constructed between 2009 and 2015 conducted by WoodWorks shows that wood offices cost 20 to 30 percent less per square foot than their non-wood counterparts.4
But beyond lower construction and lower overall costs, wood construction—and especially the use of prefabricated wood components and assemblies—allows project owners to meet tough construction timelines, ensure quality control, and differentiate their projects from others, whether offices, schools, or multifamily apartment buildings. In some cases, wood offices can capture higher rental rates than similar non-wood buildings. For example, the developer for Clay Creative, a timber office building in Portland, reports that tenants were willing to pay $7 more per square foot than a similar non-wood structure located across the river downtown.
Faster Project Delivery
Because they are manufactured off-site, prefabricated components are less vulnerable to weather delays and other complications associated with site-built construction. Off-site fabrication does require logistical planning to ensure the components arrive on time and in sequence; however, once the packages arrive, construction proceeds quickly. In fact, speed of construction is one of the key benefits of both light wood-frame construction and mass timber. Mass timber structures can be built more quickly than comparable steel, concrete, or even light wood-framed structures, which translates into reduced construction costs.5 The methods often require smaller crews, and, depending on the size of the project and its proximity to other buildings, smaller cranes can be used to lift panels higher. In an example that highlights the speed and efficiency of mass timber construction, CLT panels were used to construct shear wall cores for the four-story John W. Olver Design Building at UMass Amherst. Four 60-foot-tall CLT panels comprising one of these cores were lifted and dropped into place with a crane and anchored to the foundation in a single weekend.6 These wood components also add to the building's distinctive aesthetic, where exposed wood is promoted as a demonstration of the school's commitment to sustainability.
Faster construction schedules mean the building can be commissioned more quickly, enabling building owners to begin earning rental revenue sooner. Projects with shortened construction schedules and smaller crews may prove attractive to lenders—a real advantage during an era of tight lending and rising labor costs.7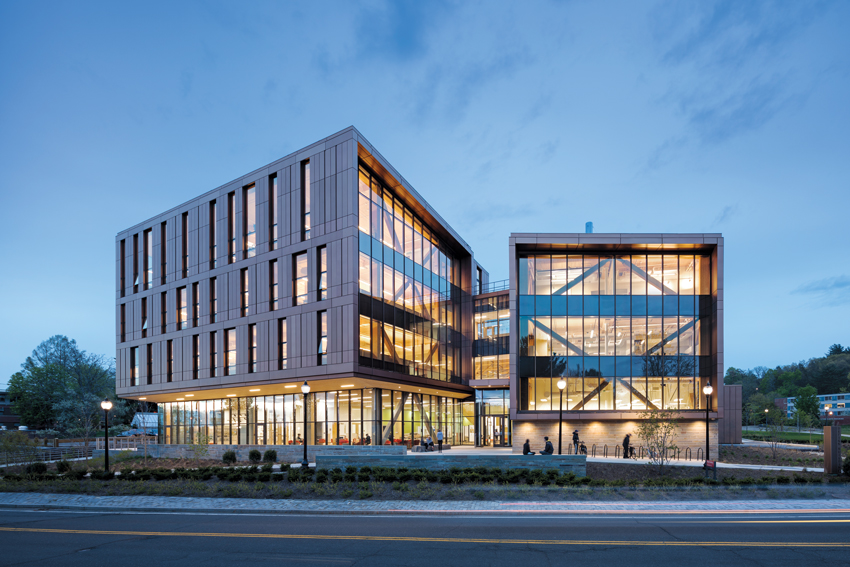 Photo: © Albert Vecerka/Esto
Designed as an innovative and inspiring building that visibly demonstrates the UMass Amherst's commitment to environmental sustainability, the John W. Olver Design Building uses a CLT structural system that significantly reduces its carbon footprint.
Indirect Savings
Wood is light but strong. Glulam is stronger than steel at comparable weights, and it is stronger and stiffer than dimensional lumber, making it a cost-competitive choice for long structural spans and tall columns.8 The lighter weight of wood can lead to reduced foundation sizes and other structural elements. For example, Carroll Smith Elementary School in Osceola, Arkansas, was originally designed in concrete block using steel construction elements. Its design would have required expensive piers to address soft soil conditions, and the steel elements would have concentrated the load in small areas. Consequently, the project team opted for wood floors, walls, and roof deck, which reduced the need for piers and reduced the overall cost of the structural system—choices that saved approximately $10 per square foot compared to a steel structure with light metal-gauge framing.
Sustainability
Wood construction is often touted as a sustainable choice, and for good reason—wood is a naturally renewable material which, when sustainably harvested, has a lower environmental impact than many other building materials.
We can look at the environmental footprint of a building material from several angles, including the energy and water required to extract, manufacture and transport it, its longevity, and what happens to it at the end of its life. This process, known as life-cycle assessment (LCA), can be used to compare different materials.
The production of concrete and steel are energy-intensive processes that release large amounts of greenhouse gases. Wood, on the other hand, requires far less energy to harvest and process. In addition, forests take in carbon dioxide from the atmosphere and store it as biomass. Wood is 50 percent carbon by dry weight. This means that wood products store, or sequester, carbon for the life of the building. Wood byproducts can also be used as fuel.
As an example, the original design of the John W. Olver Design Building included a steel structure. Changing the design from steel to a timber composite system significantly lowered the building's carbon footprint; in fact, the 70,000 cubic feet of timber utilized in the building will store 2,000 tons of carbon dioxide over its life.9 From a structural perspective, this choice also allowed the team to reduce the number of beams by about half and eliminate beams perpendicular to MEP routing in many areas.
When thoughtfully managed, timber is a renewable resource that can create jobs for local economies, especially when mills manufacture "value-added" products such as engineered beams and mass timber components. In addition, because panels are manufactured specifically for each project, job-site waste is practically eliminated. Manufacturers can also repurpose leftover scraps for other elements or use as fuel. In some cases, mass timber products may utilize lumber that may have otherwise been wasted, such as wood from beetle-killed trees.10
Originally published in Architectural Record
Originally published in December 2018
Notice