Raised Access Floors: The Foundation of Flexibility and Efficiency
Economical modular systems simplify facility management and increase indoor air quality
This course is no longer active
Advertorial course provided by Steelcase Corporation
Learning Objectives:
Identify the lighting requirements in each area of site lighting.
Describe different methods to direct light toward intended areas or away from areas not to be illuminated.
Describe lighting distribution types and how they are best suited for lighting outdoor environments.
Explain how isofootcandle plots are used to design site lighting.
Credits:
Many architects practicing over the past 20-30 years or so have seen the appearance of raised flooring systems that allow for flexible access to the space below. One of the first applications of this type of flooring was for large, complex, mainframe computer systems that usually required separate rooms with specific climate control and wiring requirements. Today access floor systems are becoming increasingly common for a variety of reasons.
Access floors are defined as a system of panels and supports that create a raised floor above the actual structural floor. By raising the floor up, a space is created in between the raised floor and the building structural floor where functional components like wiring for power, voice, and data can be routed and plumbing lines located. This space in between has also become increasingly valuable for heating, ventilation, and air conditioning (HVAC) distribution either as a plenum space or with defined ductwork. The United States Green Building Council (USGBC) has identified this type of HVAC system as a way to improve indoor air quality through their Leadership in Energy and Environmental Design (LEED) program.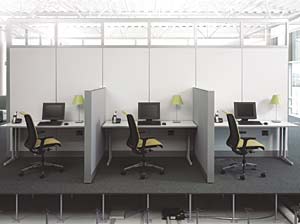 General overview shot of office space with access floor.
Photo Courtesy of Steelcase
Access Floor Construction
Access floors include two different types made up of several components with various options as follows.
Access Floor Types. There are two types of access floors: full-height and low-profile.
Full-height access floors are ideal for new construction. This type needs to be used if underfloor HVAC routing is desired. Also, this type needs to be coordinated early in the development or schematic design phase of the process to allow for drops in the floor and smooth transitions to eliminate excessive ramping.
Low-profile access floors can be used in both new buildings and renovation work, but they are optimal for renovations due to their minimal impact on the floor-to-ceiling cavity.
Originally published in Architectural Record.
Originally published in December 2005
Notice