Raised Access Floors: The Foundation of Flexibility and Efficiency
Economical modular systems simplify facility management and increase indoor air quality
This course is no longer active
Advertorial course provided by Steelcase Corporation
LEED Details, Versions, and Variations
As described on their web site, the USGBC has three different variations of the well-known rating system where raised access floors and underfloor air distribution systems can make a significant impact.
1. LEED − NC:LEED for New Construction and Major Renovations (LEED-NC) is a green building rating system that was designed to guide and distinguish high-performance commercial and institutional projects, with a focus on office buildings. Practitioners have also applied the system to K-12 schools, multi-unit residential buildings, manufacturing plants, laboratories and many other building types. It is important to note that USGBC requires a formal registration of a project in order to start an ongoing review file during the design and construction of a project. Certification at either the base, silver, gold, or platinum levels only occurs after the building construction is complete and all relevant documentation has been verified for certification to be awarded. LEED-NC is currently being used in two different versions:
LEED-NC Version 2.1. This rating system has been in use for the past few years as the basis for all LEED-NC project registrations and certifications. It includes specific intent, requirements, submittals, technologies, and strategies for each credit and the associated points.

LEED-NC Version 2.2. This is the latest version of this most widely used rating system. USGBC has announced that LEED® for New Construction (LEED-NC) v2.2 has been approved by its membership, and launched on November 11, 2005 at the Greenbuild Conference and Expo in Atlanta, Ga. This means that this new version 2.2 becomes the basis for registering and applying for LEED-NC certification instead of prior versions. USGBC has extended the deadline for LEED-NC version 2.1 Project Registrations until December 31, 2005. As of January 1, 2006, LEED-NC version 2.2 will be the only LEED-NC version available for registration. Projects will NOT be able to register for LEED-NC version 2.1 after December 31, 2005. Note that all previously registered LEED-NC version 2.0/v2.1 projects will still be able to apply for certification using the standard in place at the time of project registration. And, unlike the transition from v2.0 to v2.1, in this revision, projects will not be able to mix different versions of credits within one submittal. If projects are registered for version 2.0 or version 2.1, and a determination is made that version 2.2 would work better, a switch can be made entirely to version 2.2 with no additional registration cost.
LEED-NC is based on a total of69 points with award levels as follows:
| | |
| --- | --- |
| Certified | 26 to 32 points |
| Silver | 33 to 38 points |
| Gold | 39 to 51 points |
| Platinum | 52 or more points |
Figure 9 - Improved Thermal Comfort
Figure 9 - Improved Thermal Comfort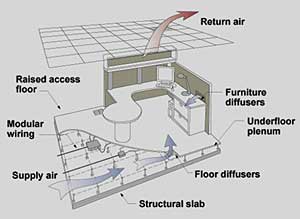 Originally published in Architectural Record.
Originally published in December 2005
Notice