Raised Access Floors: The Foundation of Flexibility and Efficiency
Economical modular systems simplify facility management and increase indoor air quality
This course is no longer active
Advertorial course provided by Steelcase Corporation
LEED Certification Contribution
Access floors can also benefit building owners and managers through their potential to contribute to United States Green Building Council's (USGBC) Leadership in Energy and Environmental Design (LEED) certification. As most architects are already aware, there is a growing interest and concern in the building industry to take a more pro-active role in caring for the environment. The reasons for this concern are varied but include several research findings.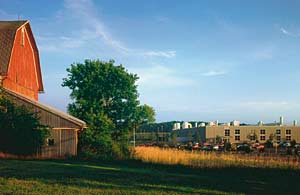 LEED rated building.
Photo Courtesy of Steelcase
Reports from the Worldwatch Institute indicate that 40 percent of raw stone, gravel, and sand, and 25 percent of virgin wood is used in commercial buildings. Commercial buildings were found to use 40 percent of the energy, and 16 percent of the water supplies in most communities. Construction and demolition waste are about equal to municipal garbage.
In response, the USGBC has been recognized for promoting a transformation in the design and construction of buildings through the LEED program. This program is an independent rating system that defines green or sustainable buildings by commonly accepted standards of measurement. It is based on a point rating system that awards recognition at various levels. Achieving the base minimum number of points earns the distinction of a LEED certified building. Achieve increasingly higher point levels, and the distinctions become LEED Silver, Gold, or the ultimate level of Platinum.
More important than the distinction, however, achieving LEED certification for a building can promote energy savings, environmental preservation, healthier work spaces for people, and greater value to the building. Over time, the associated utility and incremental construction cost savings can result in the complete payback of the LEED related measures within a relatively short period of time.
Depending on the focus of the design objective, access floors can contribute to a variety of possible LEED points. They can do so, typically in three main categories:
Materials and Resources (MR), where the access floor components contain 25 to 50 percent or more recycled material content, and are manufactured within 500 miles of the project location.
Indoor Environmental Quality (EQ), where they are part of an overall underfloor air distribution design that increases ventilation effectiveness, reduces the use of volatile organic content (VOC) materials, allows for individual temperature control, and thermal comfort.
Innovation and Design Process (ID) where the access floor is part of an overall innovative design approach to sustainable building design.
Access floors have come a long way since they first arrived to address the needs of mainframe computers. With all of the attributes and advantages described above, plus the ability to create a healthier, more flexible, and sustainable environment, it's easy to see why they have been dubbed, "the foundation of flexibility and efficiency."
Originally published in Architectural Record.
Originally published in December 2005
Notice