Raised Access Floors: The Foundation of Flexibility and Efficiency
Economical modular systems simplify facility management and increase indoor air quality
This course is no longer active
Advertorial course provided by Steelcase Corporation
Within that framework, access floors have the potential to contribute to the following LEED-NC points:
Materials and Resources (MR)
13 total possible points; up to four points applicable to access floors:

MR 4.1 ~ 4.2 25 or 50 percent Recycled Content of Materials 1-2 points
−Total weighted recycled content versus costs.
MR 5.1 Manufactured Locally within 500 miles 1 point
MR 5.2 Mfg. locally with Regional Materials (500 miles) 1 point
Indoor Environmental Quality (EQ)
15 total possible points; up to nine points applicable to access floors
EQ 2 ~ Increased Ventilation Effectiveness (air-changes) 1 point
EQ 3.1 ~ Indoor Air Quality Plan during construction 1 point
EQ 3.2 - Indoor Air Quality Plan before occupancy 1point
EQ 4.1 to 4.4 ~ Low Voss paints/adhesives/carpet/wood 1-4 points
EQ 6.2 ~ Individual Controls temperature/lighting 1 point
EQ 7.1 and 7.2 − Thermal Comfort per ASHRAE 55 1 point
Innovation in Design (ID)
Five total possible points.
ID 1.1 to 1.4 ~ Innovation in Design 1-4 points
2. LEED-EB: The LEED Green Building Rating System for Existing Buildings (LEED-EB) is a set of performance standards for the sustainable operation of existing buildings. The LEED-EB criteria cover building operations and systems upgrades in existing buildings where the majority of interior or exterior surfaces remain unchanged. LEED-EB maximizes operational efficiency while minimizing environmental impacts. It provides a recognized, performance-based benchmark for building owners and operators to measure operations, improvements, and maintenance on a consistent scale. It is a road map for delivering economically profitable, environmentally responsible, healthy, and productive places to live and work, by addressing the following:
Whole-building cleaning and maintenance issues including chemical use
Ongoing indoor air quality (IAQ)
Energy efficiency
Water efficiency
Recycling programs and facilities
Exterior maintenance programs, and
Systems upgrades to meet green building energy, water, IAQ, and lighting performance standards
LEED-EB is based on a total of85 points with award levels as follows:
| | |
| --- | --- |
| Certified | 32 to 39 points |
| Silver | 40 to 47 points |
| Gold | 48 to 63 points |
| Platinum | 64 or more points |
Within this framework for existing buildings, access floors have the potential to contribute to the following LEED-EB points: Figure 10-Personal Control
Figure 10: Personal Control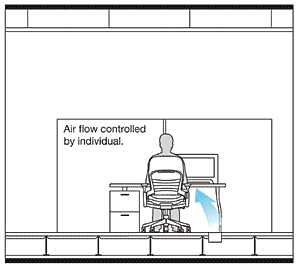 Originally published in Architectural Record.
Originally published in December 2005
Notice