Wood and Indoor Environment
Creating beneficial spaces for living, working, well-being
Sponsored by reThink Wood
Humans Love Wood
Although not the most scientific of statements, the reaction of people to the projects featured in this course can only lead to the conclusion that "humans love wood." Acoustic performance can be carefully measured and calibrated, and so can blood pressure and skin conductance. But the deep positive connection between humans and wood materials is just as powerful, though harder to measure. Reasons given by clients and architects for choosing wood often include references to beauty and warmth, connection to both the local landscape and larger nature, "upscale" connotations, and the expression of an organization's core values and mission.
For example, there are many reasons why a school district might opt for wood construction—including lower cost, speed of construction, sustainability, and the flexibility to address changing needs. Schools get a lot of abuse, so durability is also important. And good acoustics, as discussed, are an essential condition for student learning.
But as we have seen, there is a deeper, if less measurable, reason why wood is chosen as a central design element for many schools. Architects, not to mention students, teachers, and parents, often believe that exposed wood enhances learning by providing an inviting and enriching environment—a belief that is not unique to North America.
In Japan, for example, officials at the Ministry of Education believe wood has numerous qualities that promote the learning process. In a three-year study of 700 schools, Japanese researchers studied how the educational environment is shaped by the type of materials used for school buildings. Data found reduced flu outbreaks in wood-framed schools compared to concrete facilities.3 A second Japanese study surveyed teachers and students to measure their impression of wood versus reinforced concrete—and both groups had similar, favorable impressions of wood schools. Results also showed that teachers and students in wood buildings felt less fatigue, and that students perceived schools with larger areas of wooden interiors to be brighter than reinforced concrete structures.4
Another study, this time in Austria, found that interior wood use in classrooms reduced pupils' stress levels, as indicated by criteria that included heart rate and perceived stress from interaction with teachers.5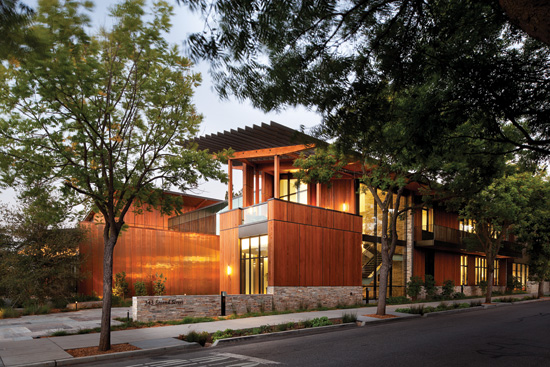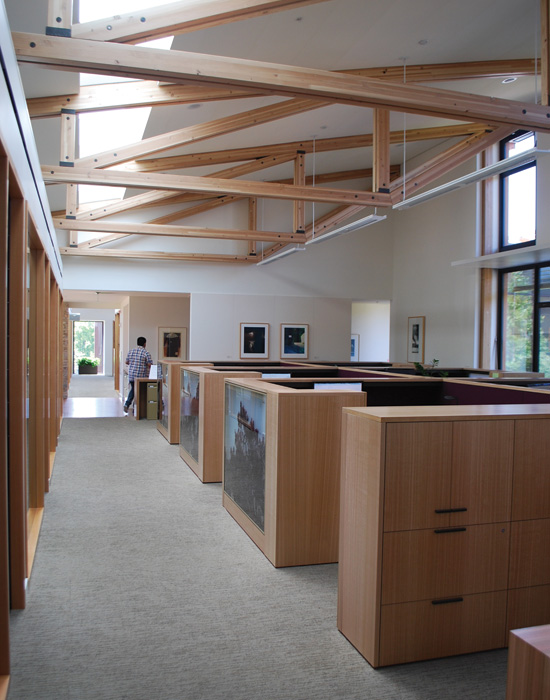 Photos by Jeremy Bittermann, courtesy of EHDD
Occupants of the David & Lucile Packard Foundation headquarters are in constant contact with nature, indoors and out. Wood is the main exterior cladding material of the LEED Platinum building (top), and features prominently in the interiors (bottom), with extensive views of the outdoor courtyard.
Originally published in Architectural Record
Originally published in June 2013
Notice