Wood and Indoor Environment
Creating beneficial spaces for living, working, well-being
Sponsored by reThink Wood
This test is no longer available for credit
Creating a 'Sense of Place' in Public Buildings
Polk Stanley Wilcox Architects
In the introduction to this paper, Arkansas-based architect Reese Rowland, FAIA, of Polk Stanley Wilcox, is quoted as saying wood gives warmth to a building like no other material. reThink Wood was speaking to Reese about the civic projects in his firm's portfolio, and the fact that several include wood roofs that add significantly to the experience of being in those buildings. "A sense of place is what makes a great building, community, and city," he said. "For our firm, the quest for meaning in each project has led to the creation of very personal architectural expressions that are unique to each client's place, time and story. Wood has always been a natural choice to tell those stories."
For the 30,000-square-foot Hillary Rodham Clinton Children's Library, a charrette with local children revealed that their main desire wasn't for the latest video games, but a forward thinking space that 'lifted expectations' and was warm and inviting. The team chose a modern expression of the "Hundred Acre Wood" childhood memories of many Arkansans, and Rowland says wood was the only material that could provide the necessary warmth, color and textures. Completed in 2013, the project includes a tongue and groove Southern pine roof deck made from local lumber, as well as a wood slat system designed to replicate the walls of barns and filter clerestory light from the butterfly roof above.
At the El Dorado Conference Center, wood was used as a main expression to exude a timeless quality, referencing a history of timber and oil that helped the city flourish while contributing to its growing role as a regional conference destination. The architecture references the region's history without simply repeating an historic style, and allows a seamless blending of public, business and educational uses. Roofs over the public halls include glue-laminated (glulam) timber beams with structural tongue and groove decking on wood purlins, and are cantilevered to the west for sun control.
Highlighting the thread of 'honest structural expression' throughout these projects, the main anchor of the Heifer International Murphy Keller Education Center is a 2-foot-thick curved concrete wall, representing the barrier between industrialized nations and the world where the majority of humans live. Floating lightly from the wall, a timber roof, supported by glulam beams, is freed and separated by a continuous skylight, reflecting light onto the wall and exhibits. Maple-slatted walls hide air grilles, provide a means to hang exhibits and reduce sound reverberation. The exhibit space extends to a giant wood porch, where tree columns branch out, gently touching the pine roof canopy, extending the forest into the building form.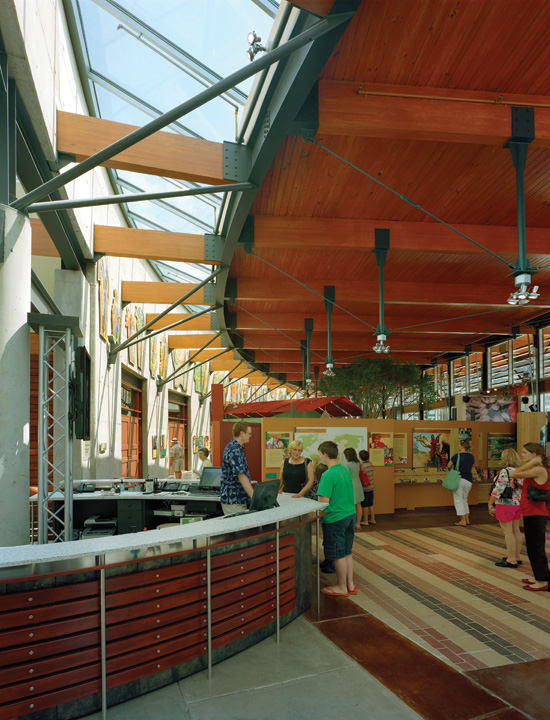 Photo by Timothy Hursley
Heifer International Murphy Keller Education Center
Little Rock, Arkansas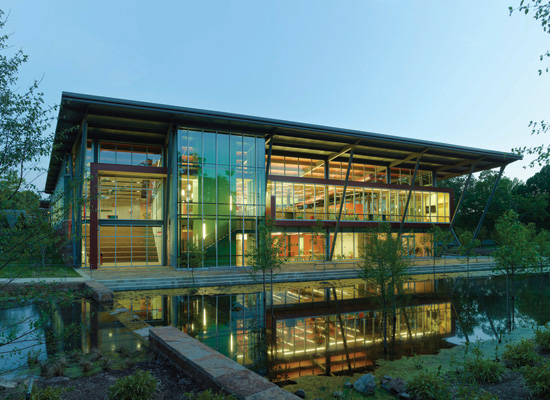 Photo by Timothy Hursley
Hillary Rodham Clinton Children's Library
Little Rock, Arkansas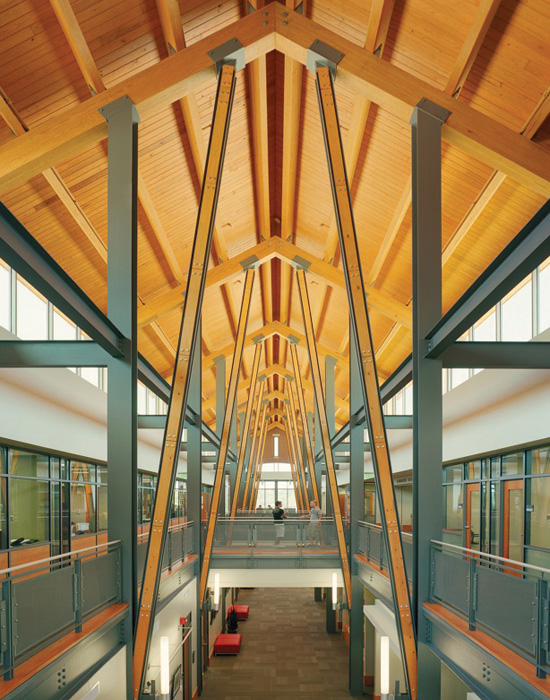 Photo by Timothy Hursley
El Dorado Conference Center
El Dorado, Arkansas
Originally published in Architectural Record
Originally published in June 2013
Notice