Wood and Indoor Environment
Creating beneficial spaces for living, working, well-being
Sponsored by reThink Wood
This test is no longer available for credit
David and Lucile Packard Foundation Corporate Headquarters
Although the David and Lucile Packard Foundation may have a more worldly mission, wood was chosen for its corporate headquarters in Los Altos, California, as a sign of commitment to ideals.
"The inherent warmth of wood was a great match with the client, Packard family members and the Foundation's culture," says architect Marc L'Italien. "It's a very relaxing building to be in and one where the occupant is in constant contact with nature, through views into the outdoor courtyard and being surrounded by natural materials. This palette allowed us to create an environment that's somewhere between a family residence and a retreat center—one that fosters great human interaction and collaboration. It does not feel like an office building and the wood plays a major role in that vibe."
Wood is the main exterior cladding material of the LEED Platinum building and features prominently in the interiors. Selected casework, doors, and furniture utilize eucalyptus veneer salvaged from the Presidio in San Francisco. The extensive use of wood was a natural choice, expressing the Packard Foundation's commitment to the natural environment and sustainability.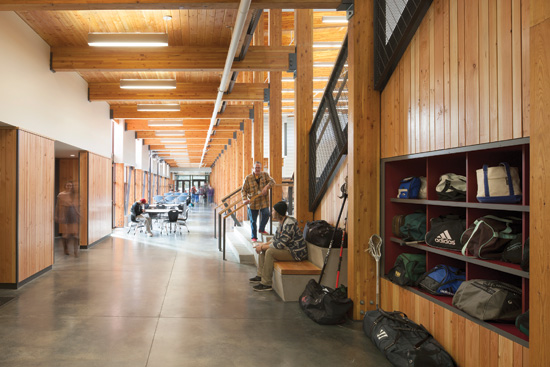 Photo by Lara Swimmer
Vashon Island High School
Vashon Island, Washington
Integrus Architects

At Vashon Island High School, the use of wood throughout and extensive daylighting were key to the strong indoor-outdoor connection desired by the community.
According to L'Italien, much of his firm's work is with institutions, and the firm tends to design 50- to 75-year buildings. "This does guide decisions toward more durable materials that age with grace and require the least amount of maintenance. Whenever we can, we select materials with integral finish, both from a sustainability angle and because there is inherent beauty in well-detailed natural materials. This is one of the most overlooked aspects of sustainability. It's not about the points. It's about designing places where people want to be. The more they like their environments, the less likely these structures are to be demolished. A strong following and internal flexibility allows them to be repurposed when the users and owners change over time.
"The building is well loved and demonstrates how sustainability can be about more not less. There is no sacrifice here."
Building for Humans
Wood is a material that consistently brings out the superlatives in building occupants. Research is increasingly confirming a response that most of us feel naturally, without need for explanation. Humans feel good and do well in surroundings that are beautiful and connected to the living green world outside by thoughtfully designed wood materials inside.
Endnotes
1. Wood and Human Health, Issue 1, FPInnovations
2. Wood as a Restorative Material in Healthcare Environments, FPInnovations, 2015
3. Back to Nature: Can wood construction create healthier, more productive learning environments, Building Design + Construction, 2005
4. Approaching the Design and Planning for School Capital Program with Wood, Mikio Moronuki, Director, Research Center for Educational Facilities, Tomoe Corporation, Japan
5. C. Kelz1,2, Grote V.1,2, Moser M.1,2, Interior wood use in classrooms reduces pupils' stress levels, 1Institute of Physiology, Medical University of Graz, Austria; 2 HUMAN RESEARCH, Institute for Health, Technology and Prevention Research, Weiz, Austria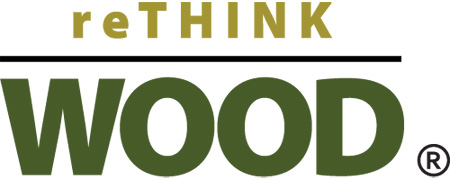 The reThink Wood initiative is a coalition of interests representing North America's wood products industry and related stakeholders. The coalition shares a passion for wood products and the forests they come from. Innovative new technologies and building systems have enabled longer wood spans, taller walls, and higher buildings, and continue to expand the possibilities for wood use in construction. www.rethinkwood.com
Originally published in Architectural Record
Originally published in June 2013
Notice