Wood and Indoor Environment
Creating beneficial spaces for living, working, well-being
Sponsored by reThink Wood
Peoples Health New Orleans Jazz Market
For Atlanta-based Kronberg Wall Architects, one of the greatest challenges in designing this 14,000-square-foot contemporary jazz performance space, was acoustics. Located in an historic building in the birthplace of jazz—and home to the New Orleans Jazz Orchestra—the acoustics needed to add vibrancy and energy to the music being performed. According to firm principal Eric Kronberg, part of the design brief was also that the aesthetics of the space should "feel as warm as Louis Armstrong's horn sounds."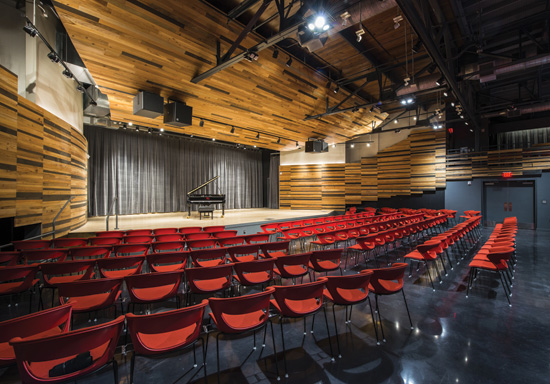 Photo by Peter Vanderwarker
Peoples Health New Orleans Jazz Market
New Orleans, Louisiana
Kronberg Wall Architects
Working with acoustics consultants Kirkegaard Associates, Kronberg Wall used wood for a majority of the reflective surfaces both to create the desired sound and warm aesthetic.
The team designed a carefully shaped pair of acoustic 'clouds' over the stage combined with curved, wood-clad cheek walls that extend out into the hall. These surfaces are designed to reflect sound back to the musicians for on-stage communication and out to the audience for a more exciting experience.
The hall includes salvaged cypress planks, oiled instead of polyurethaned to maintain a slightly porous surface. "The oil finish allowed the highest pitch sounds to be slightly absorbed by the wood," said Kronberg. "This helped to avoid excessive brightness and made the overall sound warmer." All of the wood was installed tongue and groove with hidden fasteners so it performs acoustically as a solid surface.
Arena Stage at the Mead Center for American Theater
When Arena Stage at the Mead Center for American Theater reopened after a major renovation, it was the first modern structure of its size to use heavy timber components in the United States capital. It was also the first project in the U.S. to use a hybrid wood and glass enclosure to envelop two existing structures, both historic theaters from the original site.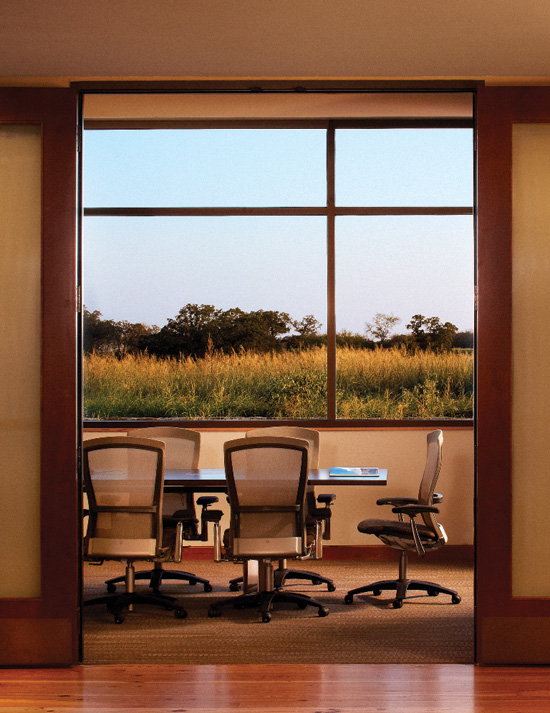 Photo by Casey Dunn, courtesy of Dunnam Tita Architecture + Interiors
Research is confirming that interiors with natural materials and views, exemplified here in the Greater Texas Foundation in Bryan, Texas, can lower stress and promote relaxation.
Designed by Bing Thom Architects and winner of a WoodWorks Wood Design Award, the result is an ambitious space where the visitor experience is deeply affected by the innovative use of wood—where 18 parallel strand lumber columns, each 45 to 63 feet tall, brace a tall glass façade against wind loads and carry roof loads (up to 400,000 pounds) from the steel roof trusses, some as long as 170 feet.
However, while much has been written on the columns, wood was also chosen for its acoustic capabilities. A third theater, a smaller space referred to as the Cradle, posed a challenge due to the sound reflections caused by its oval shape. So the project team developed a wall system that would appear visually substantive, but could absorb and disperse sound so the actors' voices carry properly in the space. "After some trial and error, we developed a wood slat system made from poplar, designed to look like a basket weave," said Michael Heeney, principal and executive director at Bing Thom Architects. "The unique wall, which was cost-effectively installed by our drywall contractor, gave us the character and acoustic dispersion we needed."
The team also used stained poplar to warm and absorb sound in the lobby, which is big enough for 1,400 patrons from all three theaters to gather at the same time.
Originally published in Architectural Record
Originally published in June 2013
Notice