Landscape Architecture: Great Outdoor Spaces by Design
Materials and strategies for enriching outdoor experiences
Sponsored by Bison Innovative Products, Endicott Clay Products Company, and Thermory USA
Construction and Design Standards for Clay Pavers
When designing an outdoor space using clay pavers, the designer must consider the intended use of that space and select the appropriate type of paver and detail the appropriate construction application and setting bed. ASTM provides standards for pavers depending on the intended use. Pavers manufactured in the United States must comply with consensus standards published by ASTM International. Two ASTM standards provide the requirements for clay pavers for exterior use: ASTM C902: Standard Specification for Pedestrian and Light Traffic Paving Brick and ASTM C1272: Standard Specification for Heavy Vehicular Paving Brick.
The pavers meeting ASTM C902 are suitable for patios, walkways, interior floors, plazas, residential driveways, and commercial driveways. There are three applications that help to define pavers based on the intended use. These application designations limit the dimensional tolerances, distortion, and extent of chipping. Application PS pavers are intended for general use and can be installed in any bond pattern with either sand-filled or mortared joints. Application PA pavers are generally used in many historic paving applications and where an architectural character is desired. Application PX pavers have tighter dimensional tolerances, thus allowing consistently narrow joints between the pavers.
Pavers meeting ASTM C1272 standards are used in areas that will receive heavy vehicular traffic, such as streets, commercial driveways, and industrial applications. There are two types of pavers depending on the method of installation. The type is based on the compressive strength, breaking load, and absorption properties. Type F pavers are set in sand setting beds with sand-filled joints, can be installed over flexible or rigid bases, and are required to be no less than 25/8 inches thick exclusive of chamfers. Type R pavers are used in mortar setting beds with mortar joints over a concrete base but can also be set on a bituminous setting bed with sand-filled joints. Their minimum thickness is 21⁄4 inches. The three applications of PS, PX, and PA are also common to ASTM C1272 standard pavers. However, ASTM C1272 pavers must be without cores or perforations. The Brick Industry Association provides a series of Technical Notes that elaborate in detail regarding the property requirements of clay pavers (www.gobrick.com).
The intended use of the area designed for clay pavers will dictate the appropriate setting bed. Setting beds provide a means of adjusting paver height, as there can be slight dimensional variations in pavers. Setting beds can be of sand, bituminous, or mortar depending on whether the area is intended for pedestrian and light vehicular use or heavy vehicular use. The setting bed supports the pavers and distributes the load to the base material. Bases can be of aggregate, asphalt, cement-treated aggregate, or concrete, again depending on the intended use and application of the clay pavers.
Winter Maintenance Considerations
For maintenance in cold climate areas, snow removal and de-icing applications should be evaluated for areas designed with clay pavers. Blades on snow equipment should be set high enough so as not to scrape the pavement surface in a manner that causes chipping. Rubber or urethane blade edges can also be used. If snow is intended to be stockpiled onto areas with clay pavers, the load capacity of the pavement must be adequately designed. There are a number of chemical products available for preventing and removing ice from pavements. Calcium magnesium acetate and urea are products that perform well and reduce potential staining of the pavement surface. Calcium magnesium acetate performs more effectively at lower temperatures. Rock salt is not recommended as it contains calcium chloride, which may cause efflorescence on the pavers.
Clay pavers can be laid over hydronic snowmelt systems, which eliminates the need for ice-melt applications and, in some cases, can eliminate the need for plowing or snow clearing. Hydronic snow-melt systems consist of plastic tubing networks that are laid below the pavers, usually cast into a concrete slab. Sometimes the tubing is incorporated into the bedding material underneath the pavers. A heated liquid is pumped around the tubing system during near- and sub-freezing conditions to maintain a pavement temperature that is slightly above freezing. This prevents the accumulation of snow and ice
Clay Pavers for Special Applications and Conditions
Clay pavers can be used to cover suspended decks and can also for permeable paving systems. When used as a pavement surface on a suspended deck, the designer must consider the prevention of water penetration into the structure and must deal with elastic deflections. A waterproof membrane should be designed into the structural slab to prevent water penetration. Horizontal drainage mats with a 2 percent slope will help with water drainage.
If the structural slab is located over a habitable space, insulation may be required to prevent heat loss in the building. Both foamed concrete and extruded polystyrene have been used for insulation layers depending on the application and intended use of the structural slab.
Clay pavers can be used when permeable pavements are required to reduce or delay stormwater runoff into drainage systems or for use in environmentally sensitive areas. The permeability in the surface is achieved by creating wider joints that are filled with permeable aggregate in place of sand. The pavers are also laid over a permeable setting bed and base of aggregate and stone. The water can thus penetrate through the joints into the base layer and be stored in the base layer until it infiltrates into the subgrade.
Special clay pavers with a dimpled surface cast into them provide a tactile warning surface in walkways and along streetscapes where ADA-compliant tactile warning strips are required. The smaller size of the clay pavers provides a great deal of design flexibility in the location and size of the tactile warning area. The Harley Avenue Streetscape in Fort Worth, Texas, provides an example of dark-grey-colored, dimpled-surface clay pavers used to create tactile warning strips that help challenged users identify the locations of bollards in the plaza designed with clay pavers.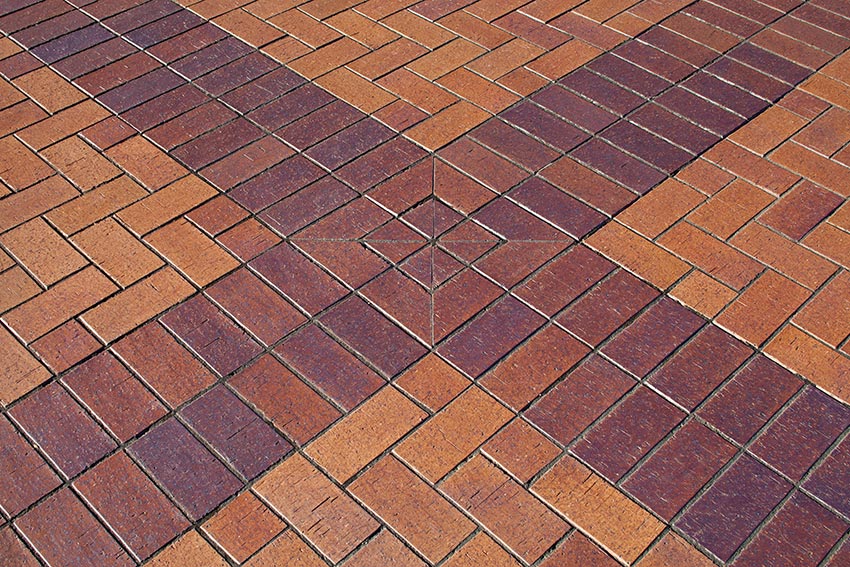 Photo courtesy of Tilley Interests
ADA-compliant clay pavers provide tactile warning strips at the Harley Avenue Streetscape in Fort Worth, Texas.
Clay pavers can be used in a wide range of applications, and the variety of textures and colors they provide gives designers a number of options for creating inviting and durable pavement surfaces. As clay is a natural material, it meets LEED and SITES criteria that provide points for regional materials. Those clay pavers that are used for stormwater management help to meet LEED criteria 6.1 and 6.2 for Stormwater Design. And using clay pavers in creating plazas, walkways, patios around building exteriors, and streetscapes will provide designers with possible points for LEED Pilot Credit 14: Walkable Project Site, LEED Pilot Credit 78: Design for Active Occupants, and SITES criteria 6.4, 6.5, and 6.6 under Human Health and Well-Being.
The Overall Benefits of Outdoor Spaces
There are a number LEED, SITES, and WELL certification strategies that can have a positive impact on the health and well-being of a building's occupants. Outdoor spaces such as plazas, roof gardens, and outdoor decks that are easily viewed and accessible from a building interior benefit building users and occupants while also providing LEED, SITES, or WELL credits.
Wood decking, clay paver surfaces, metal and wood planters, and wood tile roof systems are products that provide designers with multiple options for landscape architectural place making. These products that are sustainably produced and transported can help designers meet LEED, SITES, and WELL criteria focused on Materials Selection.
Outdoor spaces with surfaces that are light in color and have a high SRI and rooftop gardens that provide planters and areas for plantings help to reduce the heat island effect on a project, thus contributing to LEED and SITES points in the Site Design categories of those rating systems.
Outdoor spaces that provide opportunities for physical activity, social interaction, safe site accessibility, and equitable use of a site meet multiple criteria in the Human Health and Well-Being areas of the SITES rating system and also address goals of Mind, Movement, and Community in WELL certification. In addition, site designs that expand user opportunities outside of the building shell and provide an integrated, sustainable, human-focused approach to the project contribute to the design objectives of Whole Building Design.
End Notes
1 Cellulose is an insoluble substance which is the main constituent of plant cell walls and of vegetable fibers such as cotton. It is a polysaccharide consisting of chains of glucose monomers.
2 Hemicellulose is any of a class of substances which occur as constituents of the cell walls of plants and are polysaccharides of simpler structure than cellulose.
References
Note 14. Technical Notes on Brick Construction. The Brick Industry Association. May 2017. Web. 18 July 2019.
Elena M. Pascarella, RLA, ASLA is a practicing landscape architect, continuing education presenter, and consultant engaged in a private practice based in Rhode Island. The firm's portfolio can be viewed at www.landscapeelementsllc.com.
Originally published in Architectural Record
Notice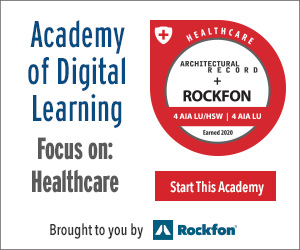 Landscape Architecture: Great Outdoor Spaces by Design
Buyer's Guide
Rooftop Deck Systems

Manufactured in the USA with 20 percent post-industrial recycled materials, Bison Pedestals create level decks over sloped surfaces. They elevate and support wood tiles, pavers, site furnishings, and a variety of other surfaces. Bison Wood Tiles are commercial grade, constructed from sustainably harvested hardwoods, and available in standard and FSC-certified options.
Pavers

Endicott clay pavers are an ideal choice for designers who appreciate their aesthetic beauty, color retention, and low maintenance requirements. They're fired at temperatures exceeding 2,000 degrees Fahrenheit, rendering them colorfast and resilient to wear and staining. Endicott Pavers make great walkways and streetscapes possible. Explore the movement.
Benchmark White Ash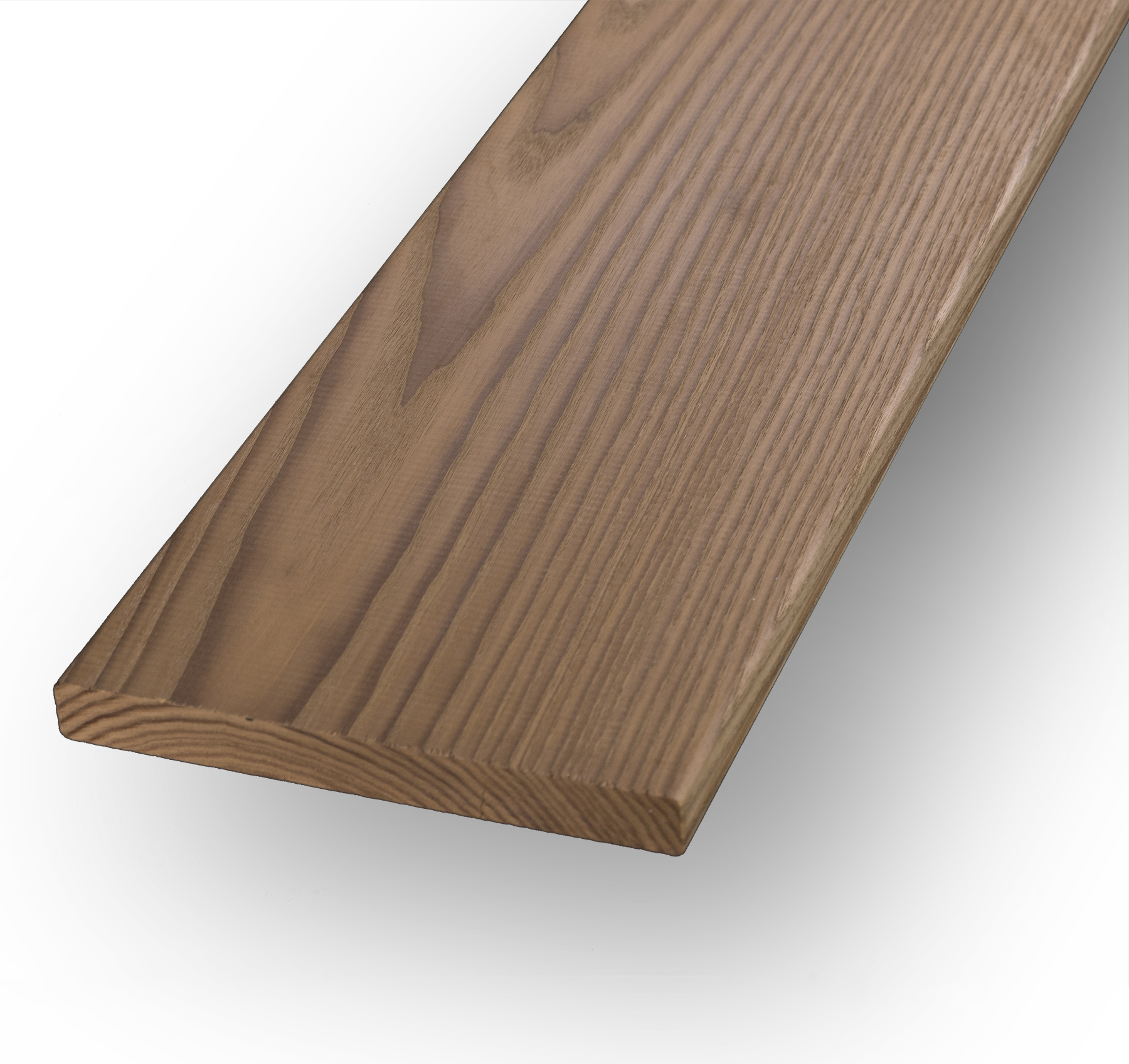 Benchmark White Ash is the natural result of our modification process. Each board is thermally modified using heat and steam, resulting in enhanced rot resistance, a high degree of dimensional stability, and a deep, rich color. Benchmark White Ash is an ideal alternative to tropical woods in performance and appearance.