Landscape Architecture: Great Outdoor Spaces by Design
Materials and strategies for enriching outdoor experiences
Sponsored by Bison Innovative Products, Endicott Clay Products Company, and Thermory USA
Thermally modified wood provides a material with extensive flexibility for designers. White ash thermally modified wood was used by designer Thomas Tampold of Yorkville Design Centre to create outdoor decking and raised planters at this residence in Toronto.
Scots pine decking was used by JJW Landscape Architects and Keinicke & Overgaared Architects in the design of this geometrically configured outdoor deck and planters for a project in Copenhagen, Denmark.
In each of these cases, the wood is installed quickly and easily using a custom-developed clip strip that the installer presses down on and the boards click into place. The wood boards are pre-grooved with tracks for the clips so alignment is automatic. There is no need for drill bits or screws, thus creating a clean look with no hazards to bare feet.
The residential deck in Toronto and the plaza in Copenhagen illustrate applications and uses of thermally modified wood in ground-level settings. The durability characteristics and installation procedures for ground-level settings are the same as for rooftop locations. As thermally modified wood is responsibly harvested, it is a product that meets LEED and SITES criteria for sustainable practices in materials.
Clay Pavers: An Environmentally Friendly Material to Meet Sustainability Criteria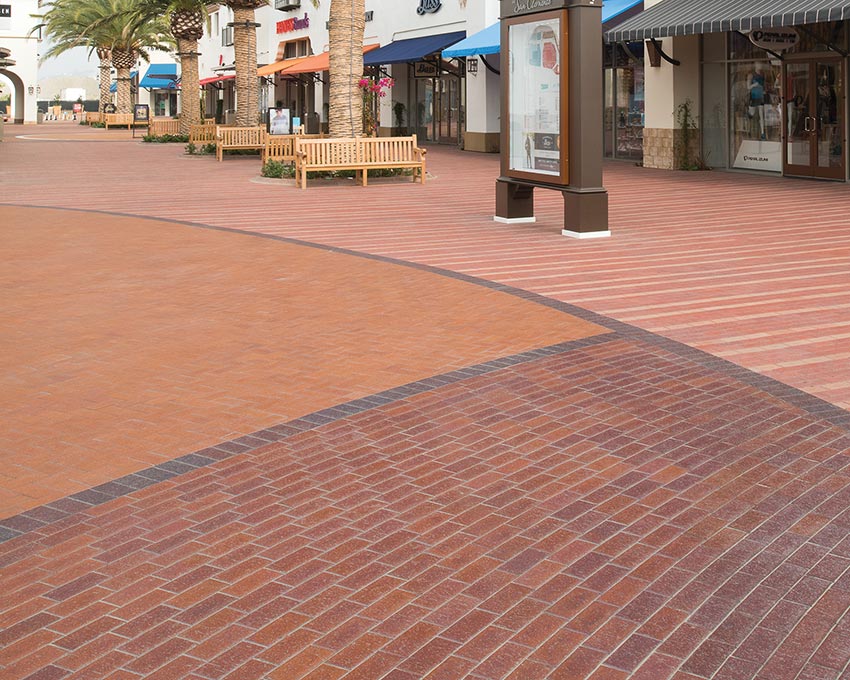 Photo courtesy of Endicott Clay
Multiple colors and patterns can help to humanize the pavement scale, as shown at this plaza in San Clemente, California.
Clay pavers provide the landscape architect with both quality material performance and design flexibility. Clay is an environmentally friendly raw material that has been used to fabricate bricks and clay pavers for hundreds of years. Clay pavers are fired at temperatures exceeding 2,000 degrees Fahrenheit. This process of firing provides designers with pavers that are non-fading and resilient to wear and staining. Because of this high-heat firing process, the pavers never need sealing to retain their color. And because there are no dyes used in the fabrication process, the cost of clay pavers is less than pavers comprised of other materials, such as concrete.
Design Flexibility: Variety in Color, Texture, Style, and Pattern
Clay pavers come in a variety of sizes and types, including permeable pavers, relieved edge lugged pavers, pool coping pavers, Danish hand-molded pavers, bullnose threads for stairs, and ADA handicapped detectible warning pavers. Clay pavers are used in both pedestrian and vehicular applications, including patios, pool decks and pool copings, large outdoor plazas, walkways, and driveways. The relatively small size of clay pavers creates a pavement surface with a human scale. The small size also allows for the nuances of different colors, textures and patterns to be clearly seen when standing from one vantage point within a pavement field.
Clay pavers are available in a wider range of colors. Due to the natural color of clay, the most common colors are the reds and browns of earth tones, but clay pavers are also available in buff, black, and gray. The color is typically consistent through the body of the paver, as it is fired in through the entire paver. Clay pavers are also highly resistant to weathering and fading due to their vitrified composition. As clay pavers are made from natural materials, there may be inherent color variations in pavers due to different production runs. For designers, the color variations from the different production runs can be mitigated in the field pattern. Using different colors helps to break down the scale of the very large pavement areas. Borders can be laid in a different color from the field, thus adding interest to the design. Patterns that flow, repeat, and intertwine can also be added.
The texture for pavers and paver treads is wire cut. Wire-cut brick pavers are formed by slicing a brick-sized piece with a wire tool from a larger bulk- length of clay. The clay is formed and fired as a large rectangular piece and then sliced into several small brick-sized pieces by pushing the wire-cutting tool through the clay. This slicing process by the wire cutter leaves a rough surface on the cured brick as it is pushed through the larger piece of clay. When the brick pieces are fired, the heating causes the rough surface to form cracks and crevasses, which provides the surface texture that is visually appealing to many designers and builders. The wire-cut rough surface texture provides more secure footing for pedestrians during rain events. Some clay pavers can also be manufactured with a dimpled surface to serve as tactile/detectable warning strips required for ADA compliance at crosswalks.
Pavement texture can be created not only by the surface texture but also by the treatment of the edges. Clay paver edges can be square, round, beveled, or relieved. Edge treatments can be uniform along the entire paver edge, or they can be variable, such as with pavers that are made to look historic. Fired pavers can also be tumbled to create "distressed" edges.
Due to their size, clay pavers provide great flexibility in the creation of pavement patterns. The most popular patterns are herringbone bond, running bond, stack bond, and basket weave. Pavement patterns should be selected based on the horizontal loads to be received and the proposed setting bed. Setting beds of sand and bituminous are the most prone to horizontal movement or paver creep, so a herringbone bond pattern would be more appropriate for these types of setting beds, as this pattern best distributes horizontal forces, thus reducing the potential for paver creep. Patterns with continuous joints (running bond) do not distribute horizontal loads as well, and when using these patterns, they should be oriented perpendicular to the direction of traffic to reduce the possibility of paver creep.
Permeable clay pavers have half-inch ridges around the edges. These ridges maintain the joint spacing between the pavers. The joints as well as the subbase under the pavers are filled with crushed stone. Stormwater will run off the paver surface into the joints and percolate down into the subbase of crushed stone, eventually permeating down through the subgrade into the groundwater table.
In segmental paving applications, chippage can occur when pavers move against each other. This is usually due to improper installation techniques. When paver spacers are used along the edges of clay pavers, the chippage issue is eliminated. The paver spacers create and ensure the needed spacing between each paver to accommodate jointing sand while providing the crisp appearance of square edge pavers. Paver spacers come in both cross and T configurations. Each side of the spacer measures 1¾ inches high by 1 inch wide by 3⁄32 inch thick. There are four sides or segments to the cross-style paver spacer and three sides or segments to the T style.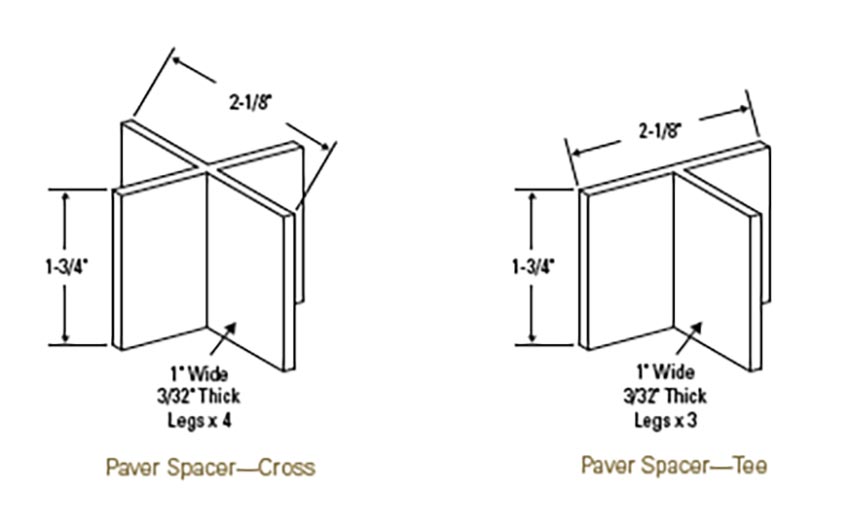 Images courtesy of Endicott Clay
Shown are two styles of paver spacers.
Originally published in Architectural Record
Notice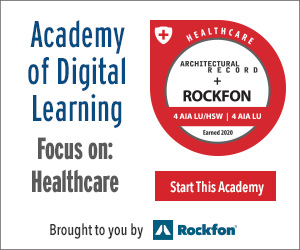 Landscape Architecture: Great Outdoor Spaces by Design
Buyer's Guide
Rooftop Deck Systems

Manufactured in the USA with 20 percent post-industrial recycled materials, Bison Pedestals create level decks over sloped surfaces. They elevate and support wood tiles, pavers, site furnishings, and a variety of other surfaces. Bison Wood Tiles are commercial grade, constructed from sustainably harvested hardwoods, and available in standard and FSC-certified options.
Pavers

Endicott clay pavers are an ideal choice for designers who appreciate their aesthetic beauty, color retention, and low maintenance requirements. They're fired at temperatures exceeding 2,000 degrees Fahrenheit, rendering them colorfast and resilient to wear and staining. Endicott Pavers make great walkways and streetscapes possible. Explore the movement.
Benchmark White Ash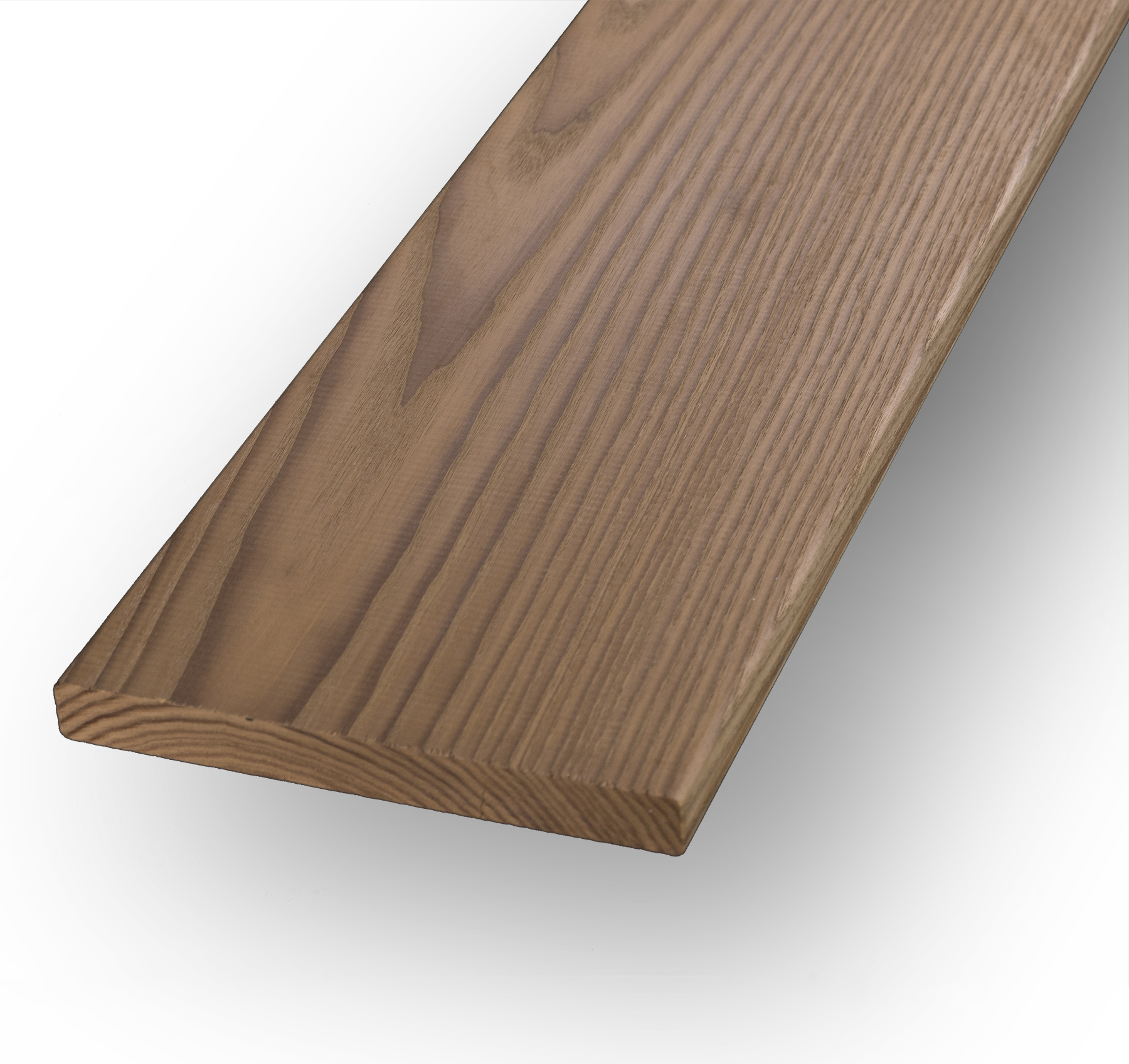 Benchmark White Ash is the natural result of our modification process. Each board is thermally modified using heat and steam, resulting in enhanced rot resistance, a high degree of dimensional stability, and a deep, rich color. Benchmark White Ash is an ideal alternative to tropical woods in performance and appearance.