Landscape Architecture: Great Outdoor Spaces by Design
Materials and strategies for enriching outdoor experiences
Sponsored by Bison Innovative Products, Endicott Clay Products Company, and Thermory USA
Design Applications for Enhancing Roof Gardens with Wood
Thermally modified white ash, spruce, and Scots pine decking, cladding, and porch flooring offer great versatility and durability as well as an environmentally sourced product for the design of rooftop decking. Each fiber of the wood board is modified, using the thermal-modification process of heat and steam to achieve rot resistance to the core of the board. This provides decking with a Class 1 durability rating. Class 1 Durability is a European rating system that classifies exterior wood products based on their resistance to rot and decay. Class 1 is the highest possible rating and it means that, without any additional maintenance and with proper installation, the wood will remain resistant to rot for a minimum of 25 years. White ash and spruce are classified as Class 1 durability. Class 2 durability ratings indicate that the wood is resistant to rot for 20 years or more. The Scots pine is classified as Class 2.
As a comparison with other wood species, ipê from Brazil and old-growth Burmese teak have Class 1 ratings, while most other tropical rainforest species attain Class 2 ratings or less. Domestic old-growth cedar can be classified as Class 2, although currently harvested cedar is mostly tertiary growth so it meets a Class 3 standard, which indicates resistance to rot for 10 years or more.
In addition to durability, thermally modified wood provides a product that has a rich, natural color that is not the result of a stain. Left untreated with UV-protectant oil, the boards will slowly age to a stunning platinum grey. In addition, each board goes through a milling process that produces an extremely smooth finish, thus eliminating roughness and splinters.
Because of its high durability and low maintenance requirements, thermally modified wood offers great versatility for the design of exterior surfaces, whether for porches, outdoor decks, or roof patios, as thermally modified wood can withstand foot traffic and harsh weather conditions and still retain its beautiful character and smooth finish.
Sustainable Woods for Durability and Aesthetics
Thermally modified white ash, scots pine, and spruce woods are sustainable alternatives to tropical woods or composites. The wood is harvested responsibly in Northern Europe (ash, pine and spruce) and North America (ash) from naturally renewable forests, making it a long-lasting alternative to tropical woods without sacrificing durability and with superior dimensional stability. The wood is responsibly harvested by sourcing from a number of different locations around the world, thus leaving each forest healthy and thriving. The wood is also shipped via ocean container, which is more fuel-efficient than rail transportation and nearly 10 times as efficient as 18-wheeler trucks.
White ash, scots pine, and spruce are chosen as most suitable species for the thermal-modification process for the following reasons:
These are sustainable wood species that can be harvested responsibly without contributing to deforestation or damaging the environment.
These wood species yield the best results via the thermal-modification process, achieving a Class 1 durability rating.
The thermal-modification process uses only heat and steam, creating cellular alterations that occur on both a chemical and cellular level in the wood. The sugar content and water-absorption capacity of the wood are altered in the thermal-modification process, thus modifying both cellulose and hemicellulose cells.1 Cellulose is made up of smaller units of glucose, and hemicellulose is made up of shorter carbohydrate structure, monosaccharides.2 Hemicellulose has the higher oxygen content so the cells of this cellular group can be altered by slightly burning these specific cells within the wood before burning the other cellular groups. This sequential burning process causes a reaction that creates additional heat within the wood. The thermal-modification process uses the steam to control the burning process. This produces wood boards that are rot resistant for 25-plus years. This process also produces wood with greater structural integrity of the fibers and dimensional stability. Aesthetically, it provides a simple, beautiful, timeless wood product that gets better with age.
Thermally modified wood goes through an extensive testing process for rot resistance, dimensional stability, termite resistance, strength, formaldehyde content, and flame spread. This testing ensures wood boards that are durable and resistant to rot and moisture. The testing process takes anywhere from a week to several months depending on the test. The thermal-modification process is very detailed and computer controlled to ensure the exact same result is achieved every single time the wood is processed through the testing chamber
Only select northern hardwoods from North American and European forests, renowned for their well-documented sustainable forestry practices, are used to produce thermally modified woods. This fact normally satisfies the customer's desire for an eco-friendly product, and FSC certification becomes unnecessary. However, FSC certification is available on a special-order basis, depending on the product needed, the size of the order and whether the FSC material is available. FSC certification requires a 25 percent price premium and an extra 12–14 week lead time to source the raw material especially for the order.
Some softwoods used in the thermal-modification process are certified by the Program for the Endorsement of Forest Certification (PEFC), a European-based certification system that is not widely known in the U.S. market. These softwoods are sourced from Scandinavian forests, which are closely managed and extremely sustainable but not FSC certified.
Using Wood for Its Design Flexibility and Aesthetics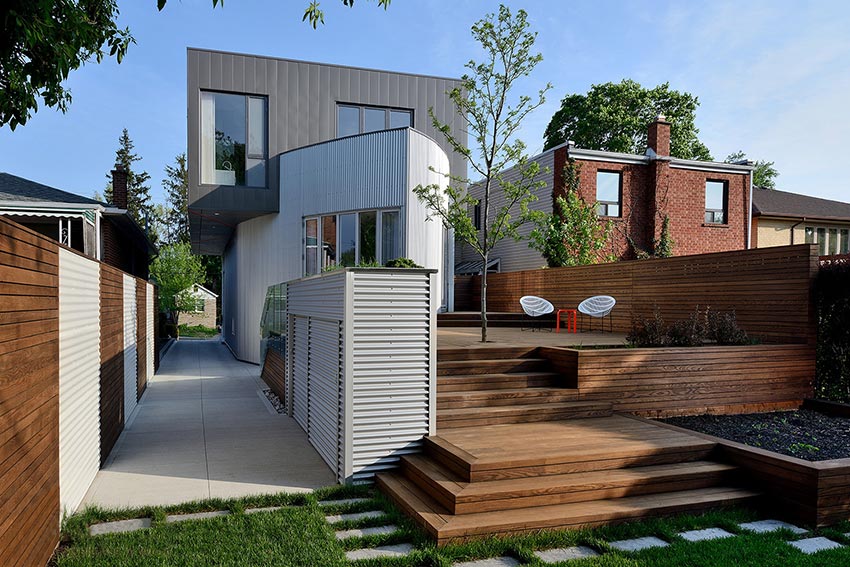 Photo Credit: Larry Arnal
Thermally modified wood was used to create multitiered decking and planters for a private residence.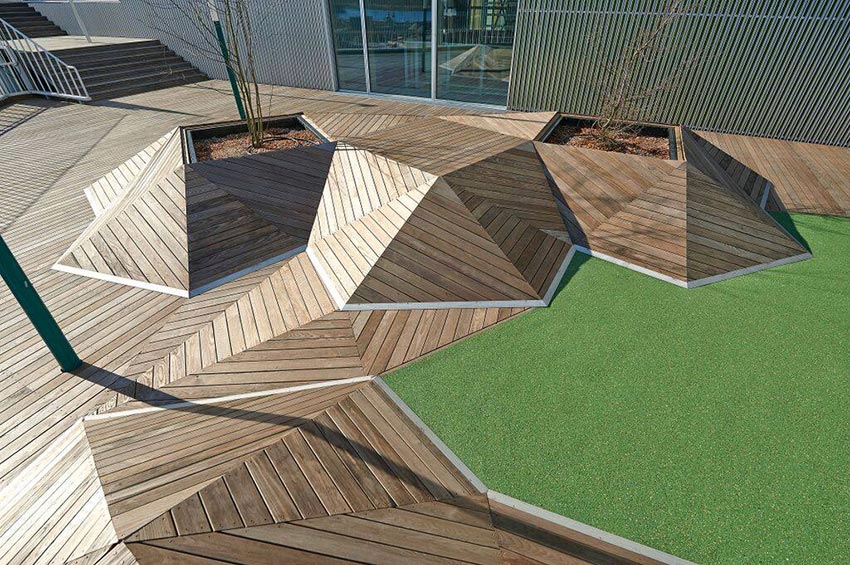 Photo Credit: Brahl Fotografi
A geometrical deck in Copenhagen was created through Thermory Estonia.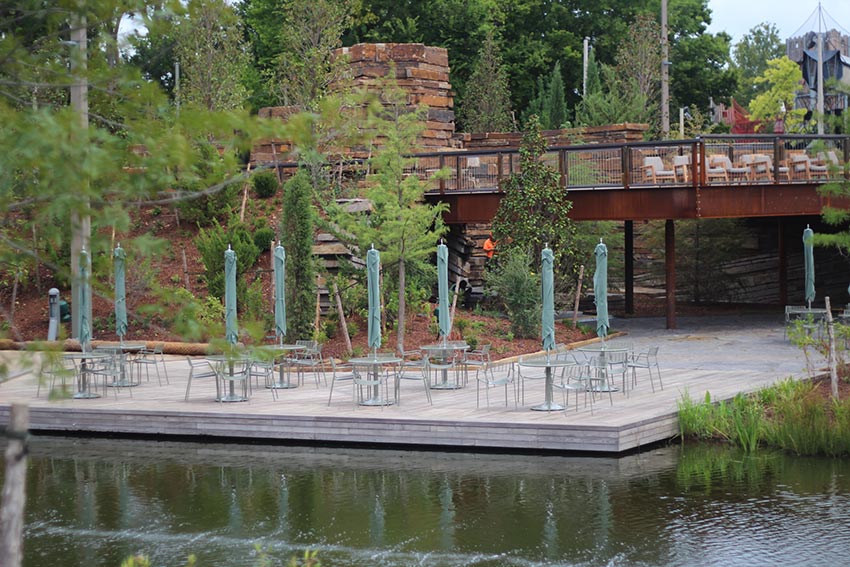 Photo: Ryoma Tominaga
The Gathering Place, a 64-acre park located just outside of downtown Tulsa, Oklahoma, was intentionally designed by Michael Van Valkenburgh Associates to bring people together and is unifying the suburban sprawl of the city. White ash decking and cladding was used for this project.
Originally published in Architectural Record
Notice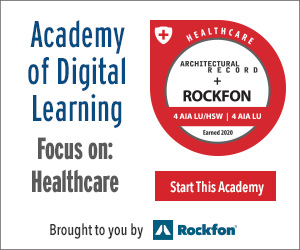 Landscape Architecture: Great Outdoor Spaces by Design
Buyer's Guide
Rooftop Deck Systems

Manufactured in the USA with 20 percent post-industrial recycled materials, Bison Pedestals create level decks over sloped surfaces. They elevate and support wood tiles, pavers, site furnishings, and a variety of other surfaces. Bison Wood Tiles are commercial grade, constructed from sustainably harvested hardwoods, and available in standard and FSC-certified options.
Pavers

Endicott clay pavers are an ideal choice for designers who appreciate their aesthetic beauty, color retention, and low maintenance requirements. They're fired at temperatures exceeding 2,000 degrees Fahrenheit, rendering them colorfast and resilient to wear and staining. Endicott Pavers make great walkways and streetscapes possible. Explore the movement.
Benchmark White Ash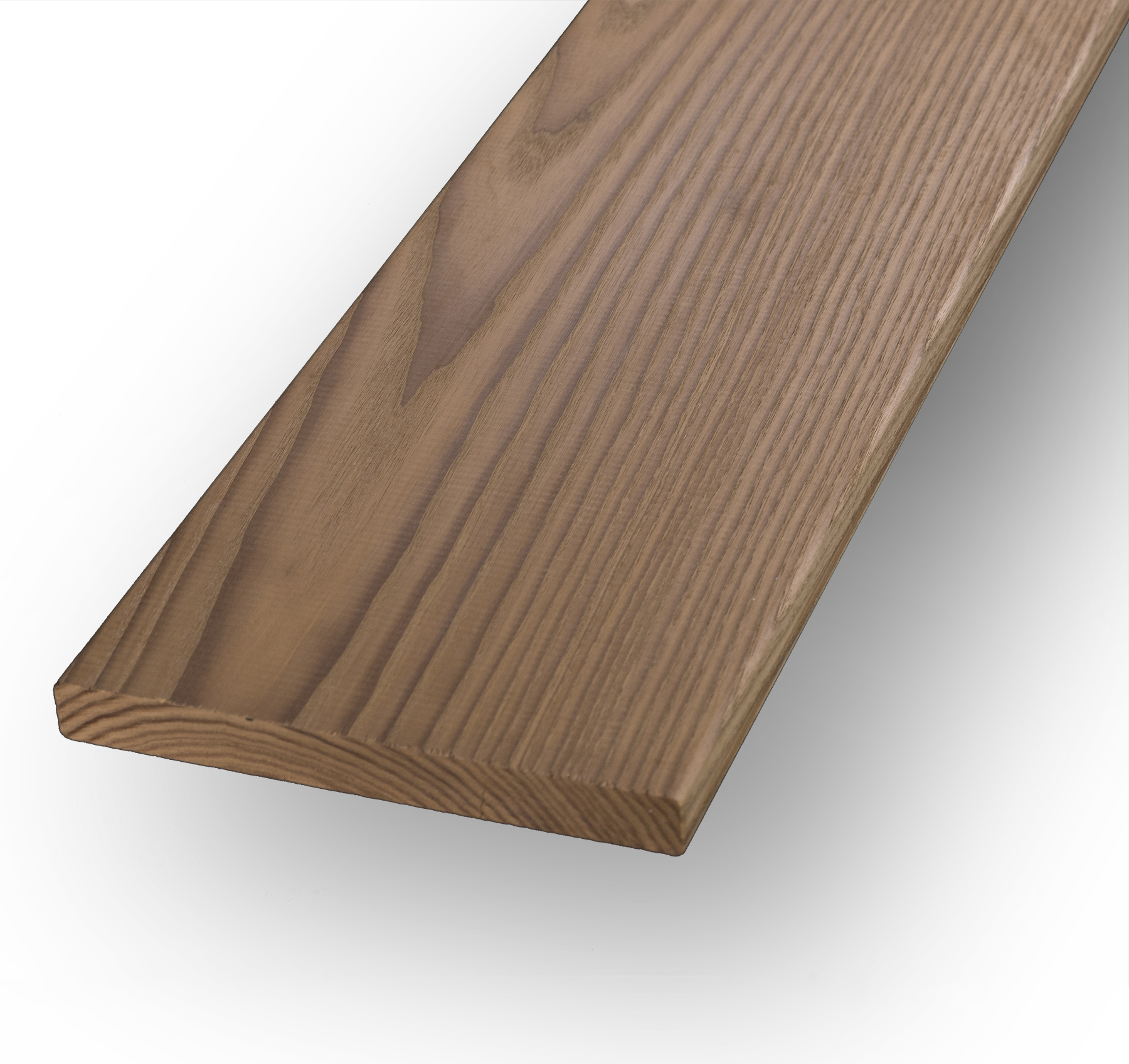 Benchmark White Ash is the natural result of our modification process. Each board is thermally modified using heat and steam, resulting in enhanced rot resistance, a high degree of dimensional stability, and a deep, rich color. Benchmark White Ash is an ideal alternative to tropical woods in performance and appearance.