Appealing and Long-Lasting Hospitality and Retail Design
Design doesn't need to suffer in order to achieve performance
Sponsored by ASI Group, Bison Innovative Products, Bradley Corporation, Cascade Architectural, CornellCookson, CRL, Geberit, Inpro, and Louis Poulsen
You are not currently logged in to your CE Center account.
Log in
to view and complete the quiz questions that are embedded in this article.
Elevator Interior Renovation
Among the most used interior spaces in a hospitality setting are the elevator cabs which can become a daily ambassador of the message or branding of the building. However, these cabs are subject to deterioration and damage precisely because of their heavy use. Therefore, the elevator cabs need to be upgraded regularly either to overcome a worn and unsightly appearance or to simply upgrade the look to be consistent with the organization or other parts of the building.
The most cost-effective and innovative way to carry out such an elevator cab upgrade is to use preconfigured elevator cab renovation systems from a manufacturer that has a specialty line of products to address these needs. This system can include any or all the following elements.
New Panels: The elevator panels that line the walls are what primarily make up the appearance of the cab. These panels also typically take quite a beating - from luggage carts, suitcases, service work, etc. Replacement panels can be made of durable and rugged materials, with the appearance of wood, metal, stone, or custom choices.
New ceilings and lighting: Elevator ceilings come in many different styles and can be selected to suit an overall design concept. Lighting in elevator cabs can be chosen from among common lamping options such as halogen, incandescent, fluorescent, or energy-efficient LED. Keep in mind that people tend to be more comfortable in a well-lit interior, so combining a brighter ceiling with increased lighting output can help people feel more relaxed inside not to mention creating a newer and cleaner look.
New Handrails: Handrails in elevators get attention for ADA or accessibility code requirements but they also provide stability for users (i.e., something to grasp) while the elevator stops and starts. This is particularly true for elderly, disabled, or injured people who need help to reduce the risk of a fall. Beyond the people aspect of handrails, they provide a means for a complete look to the cab and can act as a wall guard, too.
Paying attention to both the appearance and durability of elevator cabs can clearly pay off in terms of creating successful, innovative interiors.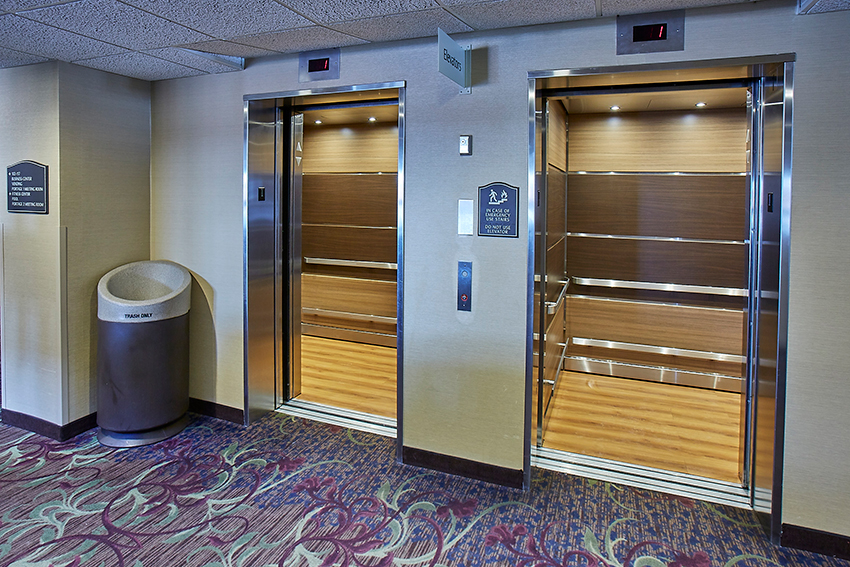 Photo courtesy of Inpro
An elevator renovation at the Best Western Hotel in Portage, Wisconsin, completes the interior design of the building and offers opportunities to make a positive first impression.
Appealing Electrical Lighting
The attraction of interior spaces is directly influenced by the lighting within those spaces. When natural daylighting isn't available, either because of time of day or the location of a space within the building, then electrical lighting design becomes paramount not only for the utility of being able to see, but to create the total experience of the space. There are, of course, many different approaches that have been used in retail and hospitality settings, but we will focus here on a Scandinavian concept that is based on creating an "island of light" that can be indirect, soft, and inviting.
One way to achieve this type of lighting is to use pendant style fixtures. This approach is quite versatile with different types, sizes, colors, and shapes of pendant fixtures that can hang down in a variety of ways. It can also be very versatile in the way that light is either diffused or directed onto adjacent walls, floors, tables, counters, etc. The net effect can be artistic unto itself in terms of the light fixture but also in terms of the lighting effects that are possible. This technique can also save on the amount of energy used by directing light to where it's needed instead of adopting a lighting solution of high ceiling lights, illuminating the whole space with one layer of lighting.
There are two common approaches when this type of pendant lighting is used in hospitality and retail projects.
Cluster Pendants The arrangement of pendant fixtures into a pattern or a cluster provides the opportunity to focus light where it's needed while the fixture can make its own statement. For example, clustering sphere-shaped glass fixtures that diffuse light can create a desired ambiance in the immediate surrounding areas. This can help accent a particular space and draw people in to gather or for some other experience. Fixtures of this type can provide uniform, general, and diffuse illumination, with the quality of the glass ensuring that the fixture is evenly lit. In some cases, an opening at the bottom of the glass sphere can produce downward directed light which can create multiple pools of light on a surface below.
Linear Pendants When people gather around a table for eating, drinking, or just socializing, pendant light fixtures can be used to create some very deliberate lighting effects. For example, a linear arrangement of conical-shaped fixtures with a matte, white-painted inside helps assure even distribution of a soft, comfortable downlight across a table. If there is an opening at the top of the fixture, that can provide decorative illumination of the pendant support above or general ambient lighting. The linear pendant support itself ensures that the fixture retains the full expression of its visual shape, both when illuminated and when switched off. Overall, as evening approaches, the diverse, task-focused lights work together to illuminate their designated spaces.

Photo courtesy of Louis Poulsen
Pendant style lighting can be arranged in clusters or along a linear system, with varied lamps and globes to create different lighting conditions.
Combining the artistic aspects of pendant lighting fixtures with their diverse lighting capabilities offers designers a vibrant tool for restaurants, hotels, and other spaces
Originally published in Architectural Record
Originally published in June 2022
Notice