Appealing and Long-Lasting Hospitality and Retail Design
Design doesn't need to suffer in order to achieve performance
Sponsored by ASI Group, Bison Innovative Products, Bradley Corporation, Cascade Architectural, CornellCookson, CRL, Geberit, Inpro, and Louis Poulsen
You are not currently logged in to your CE Center account.
Log in
to view and complete the quiz questions that are embedded in this article.
3. Restroom Design Designing For Hygiene
Providing attentive restroom design in hospitality and retail environments provides several benefits to facility stakeholders, including guests, staff, and businesses. Those benefits range from infection control/hygiene, restroom functionality, long-term durability, improved maintenance, elevated aesthetics, consumer satisfaction, greater user privacy, and business return on investment.
Restrooms and plumbing systems in retail and hospitality businesses have rarely been under as much scrutiny as they are right now. Management might expect more inquiries from patrons leery of infection prevention measures in restrooms. With that in mind, there are several things that designers should be aware of including the following.
Consumer Concerns
Ongoing industry surveys about customer/ guest germ concerns, public restroom usage, and handwashing habits indicate that the recent pandemic has greatly impacted the perceptions – and reputations – of hospitality venues and retailers. The most recent survey, conducted in January 2022, revealed that almost 80 percent of Americans continue to be in an elevated state of germ consciousness, triggered by the coronavirus. Also, certain types of facilities cause more trepidation about coming into contact with germs. In fact, Americans are most concerned about germs in retail/stores (50 percent), medical facilities (39 percent), restaurants (34 percent), and gas stations (28 percent).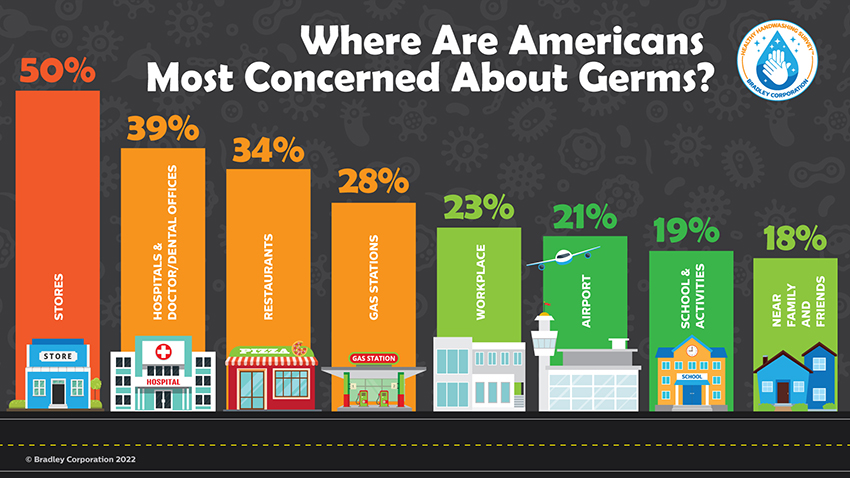 Photo courtesy of Bradley Corporation
Consumer surveys in 2022 show that Americans are concerned about germs and hygiene, particularly in retail and hospitality settings.
Surveys also indicate that Americans are willing to put their money behind restroom cleanliness. Almost 60 percent say they are likely to spend more cash at a business with clean, well-maintained restrooms. Another 58 percent say when out running errands, they'll take restroom breaks at a business they know has "good" restrooms. Men are especially likely to show preferential treatment based on restroom appearances, as are Millennials and Gen Xers.
Conversely, there is a business blowback from retail and hospitality restrooms that are unclean or in disarray. Surveys indicate that 51 percent of Americans say an unpleasant public restroom at a business shows poor management, up from 39 percent in 2021. Close to 60 percent of respondents will leave the business immediately or unlikely to return after encountering an unpleasant restroom.
High Demand for Touchless Technology
One recognized means to help address some of the consumer concerns related to hygiene and convenience is the use touchless bathroom fixtures – fixtures that use sensors to turn water, soap, or hand drying on instead of using our hands to do it. Touchless benefits like minimizing germs, cleanliness, user convenience, and ease of maintenance have always resonated with people. But the coronavirus pandemic accelerated demand for touchless technology fixtures, making them the new gold standard in restrooms. Not only do they eliminate a possible point of germ transfer, but they are also easier to keep clean, maintain, and service than manually activated fixtures.
Survey results from 2022 showed that Americans view touch-free technology as the number one feature that makes them feel safer from germs in restrooms. A whopping 84 percent of American adults think it's important that commercial restrooms be equipped with touchless fixtures. Further, 63 percent say they are more likely to return to a business that offers no-touch capabilities in its restrooms. The top most important touchless restroom features are faucets, soap dispensers, flushers, and restroom entrance doors.
Good restroom design has clearly evolved to include the use of touchless technology in restaurants, hotels, stores, and similar facilities with many architects and designers expecting to see an increase in demands from clients for touchless fixtures.
Improved Toilet Installations
It is clear that sanitation, safety, and sustainability have become and will remain important considerations for guests and clients alike for hospitality and retail design, especially regarding the facilities' restrooms. Meeting those objectives includes maintaining control over the amount of water used in public restrooms and hotel rooms. According to the U.S. Environmental Protection Agency (EPA), 15 percent of the water used in commercial buildings comes from hotels and other lodging facilities. They further point out that the highest percentage (30 percent) of that use comes from domestic and restroom use.
Based on these data, one common design goal in restrooms is to control the amount of water used. This is particularly true for flushable toilets where the design of the flow mechanism and the controls that actuate it are critical. Traditionally, floor-mounted toilets with a manual flush have been the norm in many retail establishments and hospitality facilities. However, wall-hung toilets and touchless flush pates are becoming the new standards since they offer superior features in both performance and design. In particular, those that use in-wall tanks concealed from view and user access provide improved water flow control with cleaner looks, quieter operation, and the potential for cleaner restrooms in general. Some of the notable attributes of this approach are as follows:
In-Wall Design While some may think that a high-performance toilet solution needs to look clinical or austere, the reality is that there are contemporary design alternatives. To accommodate a range of different project types, there are multiple options to bring a design vision to life. Beyond these aesthetic benefits, there are also clear space savings achieved by recessing the toilet tank system into the wall, allowing for more usable space in restrooms in many cases. By hiding the tank and plumbing components in the wall, designers can lift the toilet off the floor to increase accessibility. This design also frees up more space within the bathroom by moving the toilet tank and flush and fill valves inside the wall.
In-Wall Performance In addition to better water control that is available from dual flush actuators, in-wall systems are a reliable and high-quality solution for designing contemporary bathrooms that meet the demands of all involved. Overall, sanitation and safety are achieved by having less of the toilet system exposed and the bowl raised up from the floor. This adds to the comfort and convenience for users as well as ease of cleaning for janitorial crews. In terms of maintenance, all working parts remain easily accessible, although the high reliability of this type of unit reduces the need for maintenance crews to access it in the first place. The support frame is based on solid steel construction with a seamless, one-piece tank made of durable, leak-free, high-density polyethylene. Units are typically tested and proven to support up to 880 lbs. (400 kg) without deforming the frame or the wall.
Flushing Options Installing special flush plate and button designs facilitate hands-free or light-touch flushing. These options make the toilet easy to operate and help keep the bathroom space cleaner and more sanitary than is possible with a standard toilet with a flush lever.

Photo courtesy of Geberit
The use of in-wall toilet systems improves the overall aesthetic of retail and hospitality restrooms and also brings notable performance benefits.
Designers striving to better serve hospitality and retail guests with accessible bathroom design now have many options to do just that. By taking advantage of in-wall toilet design, touch-free technology, and adjustable fixtures, designers can deliver beautiful, functional, and accessible bathrooms to those clients.
Originally published in Architectural Record
Originally published in June 2022
Notice