Appealing and Long-Lasting Hospitality and Retail Design
Design doesn't need to suffer in order to achieve performance
Sponsored by ASI Group, Bison Innovative Products, Bradley Corporation, Cascade Architectural, CornellCookson, CRL, Geberit, Inpro, and Louis Poulsen
You are not currently logged in to your CE Center account.
Log in
to view and complete the quiz questions that are embedded in this article.
Roll-Up Security Grilles
While retail and hospitality venues want to welcome in customers when they are open, they also have a need for security outside of scheduled hours. However, integrating a closure into a design to provide that security doesn't mean that aesthetics needs to take a back seat to function. Rather, there are plenty of options available that are quite effective at meeting stringent security needs while still allowing architects the freedom to create excellent designs or even introduce focal points. Some available options include the following:
Security Grilles This style of product can be used for full-height or counter-height openings and is particularly well suited for large openings, such as a mall storefront or even the exterior covering of a display window. They can also be used to secure a service or food counter from the counter height up to the top of the opening. Either way, the grille patterns provide superior strength while allowing airflow and visibility. Security grilles and counter doors are typically custom fabricated to meet project-specific designs and specifications. Materials include stainless steel, aluminum, or powder-coated steel, offering a full range of finished looks and colors. Their installation in new construction or an existing business is straightforward, usually without requiring any structural modifications.
High-Security Doors Retail businesses have become sensitive to the need to protect against riot activity and even crowd pressure, whether on the exterior or interior of a building. As such, new product offerings are available that are a step above a standard 18-gauge heavy-duty rolling door but does not quite reach the level of security and cost of the heaviest-duty industrial doors. Such roll-up doors are extremely versatile, making them ideal for any storefront or back of house application. They are available in standard finishes in addition to numerous powder-coat colors to provide a suitable aesthetic.
As an added aesthetic option, security doors can use visual art such as logos, graphics, and other images, printed directly onto the door to showcase vibrant full-color designs. Further, if transparency is desired, then perforated slat doors are an option, which allows for visibility but also enhances security.

Photo courtesy of CornellCookson
Aesthetic, well-designed roll-up security grilles can be used in a variety of locations to protect interior spaces from each other or from unauthorized exterior entry.
In this case, there are at least three options including:
Aesthetic Conceal This model features durable aluminum guides set into the wall for a hidden look. There will be a visible stainless-steel bar running across the bottom of the grille.
Aesthetic Reveal This model features visible, stainless-steel guides along the sides and a stainless-steel bottom bar for a polished look, adding decorative appeal to an entryway.
Service Mesh This model fits in purely practical application areas (e.g., loading docks, storage rooms, etc.) delivering a cost-effective security solution while keeping all the advantages of the design.
Looking at the different visual options combined with the appropriate security level allows design professionals great freedom to create attractive, secure, spaces.
Printed Wall Protection
In the interest of making retail spaces more engaging and appealing, whole-wall imagery or large-scale graphics are being used to create inspiring designs. But that imagery needs to hold up over time, particularly in high-use retail applications. That is now possible using printed wall protection products that combine high-resolution images with durable wall protection. Along with truly endless design capabilities, this approach also provides high-impact durability to wall surfaces. Since the graphic is back printed on a clear protective sheet, there is no worry about the image being scratched over time. That means high-resolution photographs, artwork, or any other graphic can be printed and incorporated onto as large a wall space as a design may call for.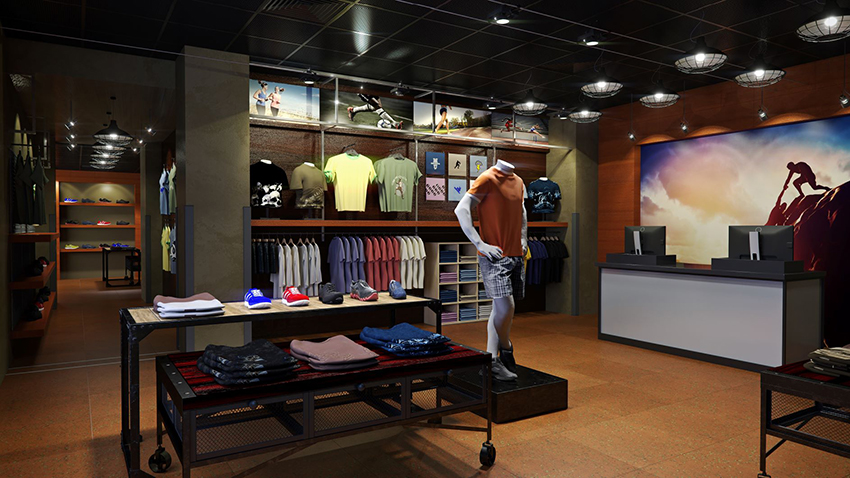 Photo courtesy of Inpro
Printed wall protection can be incorporated into retail spaces buildings using large-scale graphics back printed on clear wall-protection sheets.
Originally published in Architectural Record
Originally published in June 2022
Notice