What's next for air-travel design? Buildings that ease passenger aggravation and respond to the local culture and environment.
Architectural Record
This test is no longer available for credit
On the Horizon
Six up-and-coming aviation projects, in various stages of planning and construction, will soon be ready for takeoff.
By Kara Mavros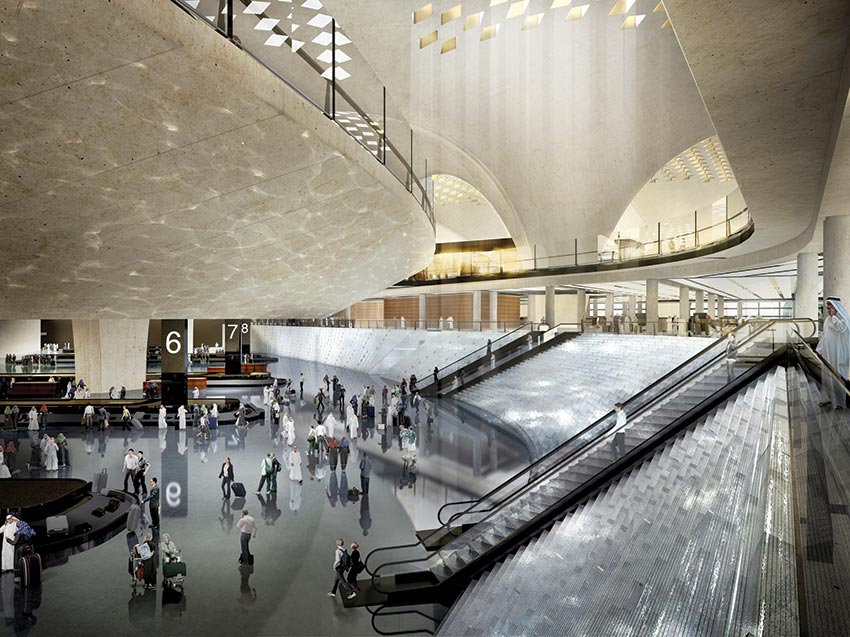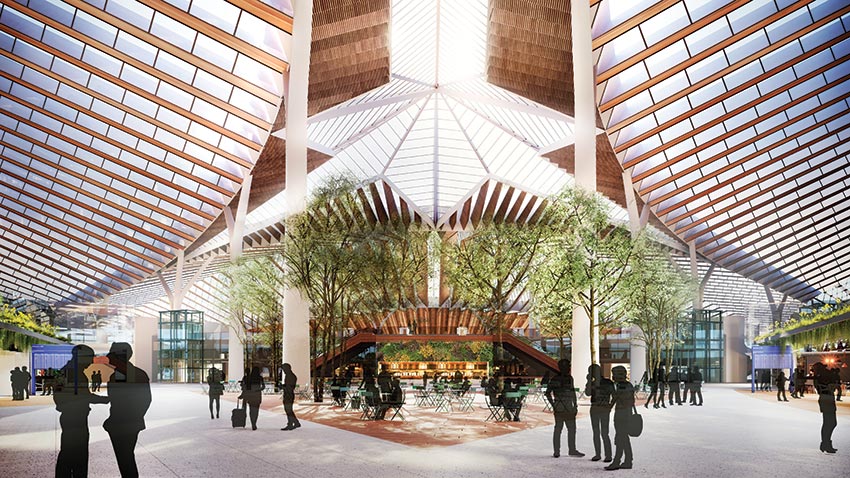 Images: courtesy Foster + Partners (Top); studio ord (bottom)
Kuwait International Airport
The new Kuwait International Airport by Foster + Partners, scheduled to open in 2023, is trefoil-shaped in plan, with all the facilities united under a single concrete-shell roof. The interior receives daylight through large glazed openings in the vaulted structure, as shown in the baggage-claim area (left), which is surrounded by cascading fountains, similar in design to Foster's "water wall" in the Hearst Tower lobby in New York. Tapering concrete columns support the roof structure, which also carries photovoltaic panels and will help the airport earn LEED Gold certification. About 13 million passengers a year are expected to use the 1.5 million-square-foot complex.
Global Terminal and Concourse at O'Hare International Airport
A new Y-shaped terminal and concourse at Chicago's O'Hare is being designed by Studio ORD–a partnership among Studio Gang; Solomon Cordwell Buenz; Corgan; Milhouse Engineering and Construction; and STL Architects. The 2.2 million-square-foot facility will be the largest expansion in the airport's history. The three branches of the terminal meet at a central hub, dramatized by a six-pointed glass skylight (right). Wood ribs and cladding in the ceiling will add a natural warmth to the new building, which is expected to break ground in 2023.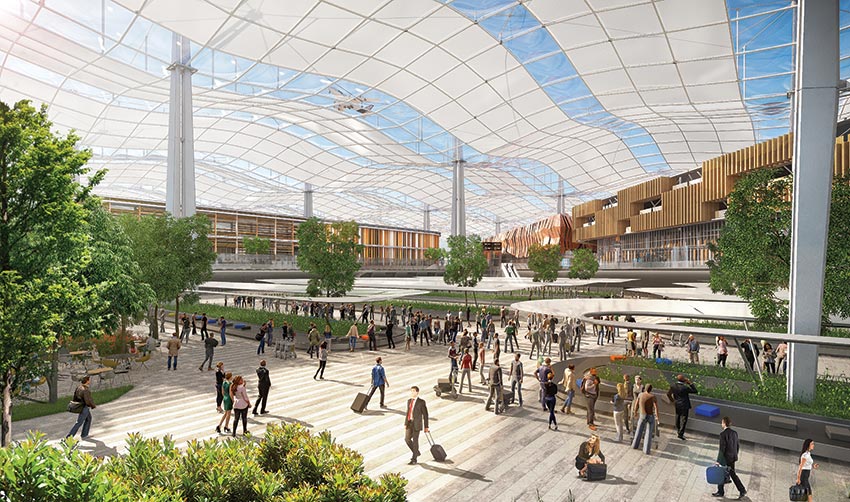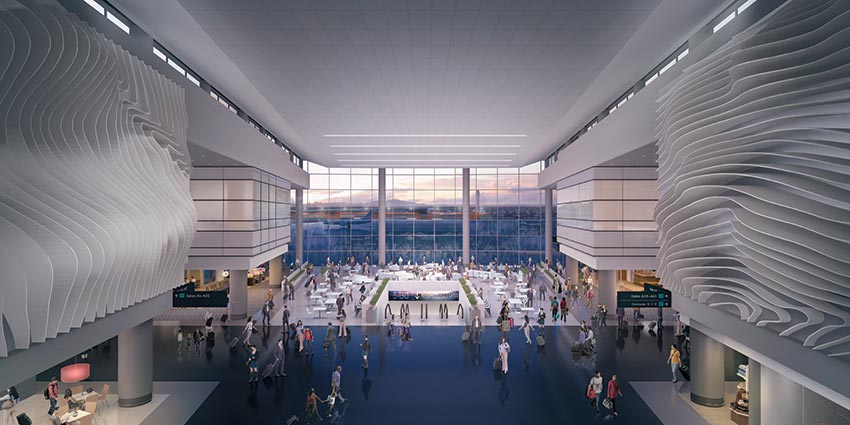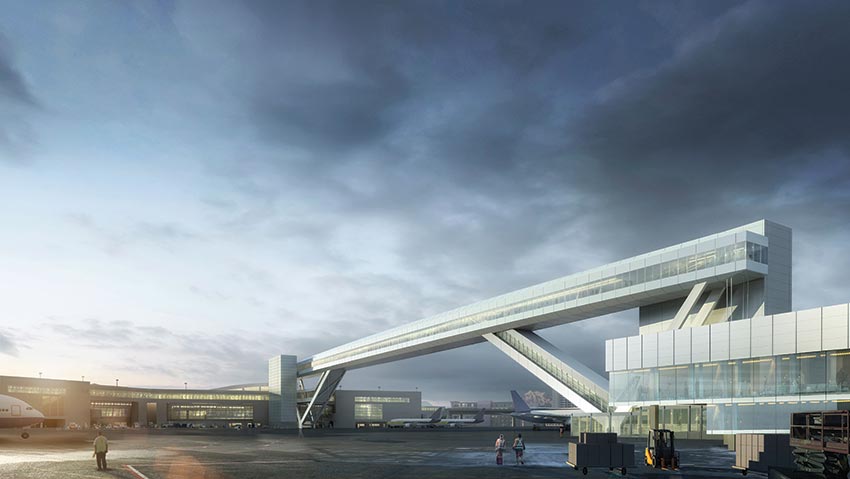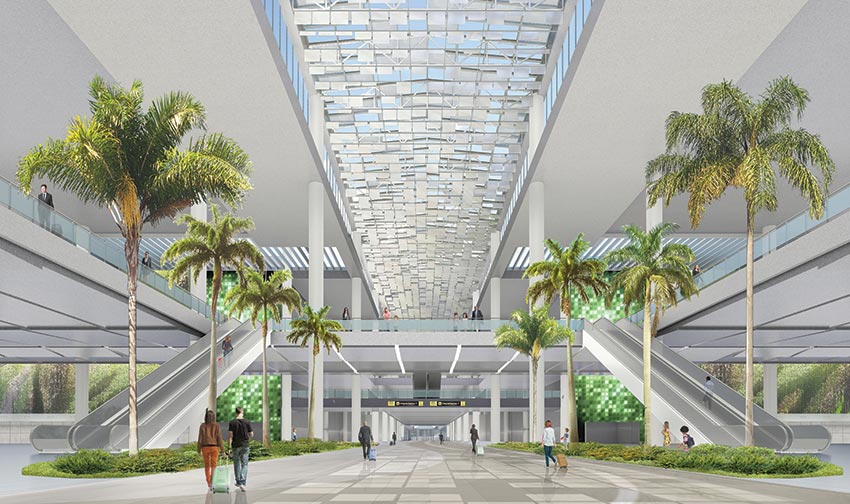 Images: Courtesy KPF (opposite, top and middle); grimshaw (opposite, bottom); HOK (Top); SOM (Middle); fentress (bottom)
Abu Dhabi International Airport Midfield Terminal
After 13 years, Abu Dhabi's new government-funded terminal, by KPF, is slated to open in 2020. Considering that 80 percent of the airport's visitors will be transfer passengers–it's a midway point for many long-haul international flights–the terminal was designed to cater to travelers with lengthy layovers while promoting the city's culture and its growing luxury sector. The 7.9 million-square-foot interior will include numerous amenities—the majority of which will be beyond security checkpoints—including a sculpture garden and a museum. The roofline, defined by rolling metal arches supported on steel beams, is meant to mirror the curves of desert sand dunes.
Heathrow International Airport Expansion
For the addition of a third runway to Heathrow, Grimshaw has designed a sweeping and swerving terminal to help accommodate the airport's expected total of 130 million passengers a year. The undulating glass roof allows ample daylight for interior green spaces with a sustainable design for the London aviation complex. It is slated for completion in 2025.
Salt Lake City International Airport
Utah's largest air hub will undergo an extensive expansion in the next five years. Salt Lake City International Airport's terminal redevelopment program, led by HOK, will replace existing terminals with a three-story structure and 78 new gates, all of which are anticipated to be open by 2024. At the center of the terminal, large-scale interior sculptural walls, composed of rippling fins, enclose the shopping and dining areas. This architectonic element, called The Canyon, created by artist Gordon Huether, evokes Utah's natural rock formations. HOK anticipates that its sustainable design, which includes high-performance glazing and energy-efficient mechanical and lighting systems, will achieve LEED Gold certification for the new SLC terminal.
Seattle-Tacoma International Airport International Arrivals Facility
For the upcoming Seattle-Tacoma facility, scheduled to open in 2020, SOM created eight new gates, increasing the total to 20. A bridge will allow international travelers to move on foot over taxiing aircraft. The new 450,000-square-foot building attempts to convey a strong sense of arrival, with windows on either side of the elevated passageway facing Mount Rainier on one side and the Olympic Mountains on the other. The roof, made of glass and aluminum panels, subtly follows the twists and turns of planes gliding through the air.
Orlando International Airport South Terminal Complex
Orlando's forthcoming South Terminal Complex by Fentress is expected to add 19 gates capable of serving 24 planes by 2021. The firm designed a 2.7 million-square-foot international-terminal building with ticketing, security, customs, passport control, and baggage-claim areas arranged along a central 1,000-foot-long "boulevard" (above) linking the curbside of the terminal to the air side. Central civic spaces will punctuate the complex, with palm trees planted throughout the interior, illuminated by skylights.
Originally published in Architectural Record
Originally published in July 2019
Notice