What's next for air-travel design? Buildings that ease passenger aggravation and respond to the local culture and environment.
Architectural Record
This test is no longer available for credit
Beijing Daxing International Airport | China | Zaha Hadid Architects
Cleared for Landing
Once completed, an otherworldly new terminal will alleviate pressure on the capital city's existing airport.
By Alex Klimoski
A little over a decade after Beijing Capital Airport constructed a new terminal by Foster + Partners to accommodate an additional 50 million passengers a year, the capital city is unveiling a new airport just 30 miles to the south. The 7.5 million-square-foot Beijing Daxing International Airport, designed by Zaha Hadid Architects (ZHA), will include four runways (compared to three at the Capital) and serve 45 million passengers yearly when it opens this fall; by 2025, that capacity is expected to reach an annual 72 million. Built on a greenfield site in a rural area in Hebei province, the starfish-shaped terminal, with its glowing standing-seam aluminum roof and cluster of bulbous skylights, appears as an alien spacecraft—or, for some Chinese, as the auspicious mythological phoenix—when viewed from above.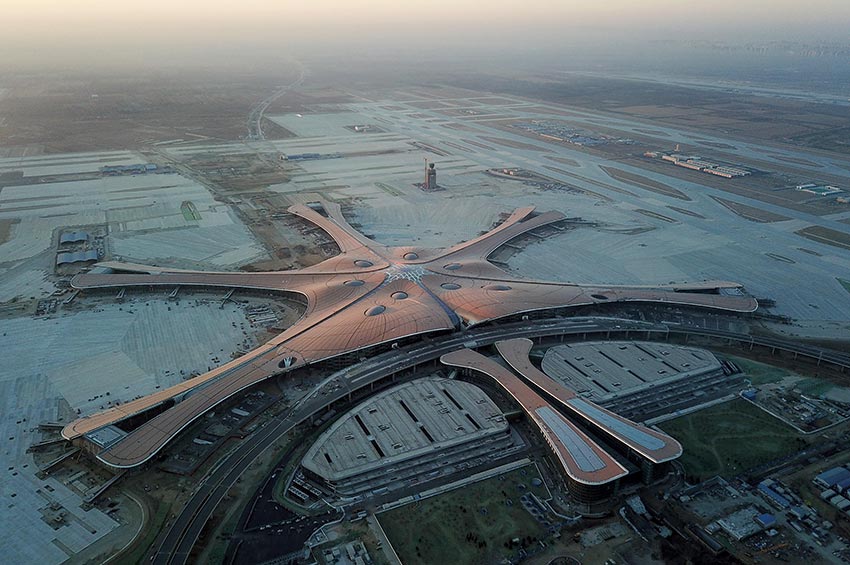 Photography: © Xinhua/Alamy Stock Photo
STARSHIP Located in a rural area 30 miles south of Beijing, the terminal has a compact form that minimizes distances between gates.
The new airport is a driving force of an economic-development plan to integrate Beijing with the surrounding regions of Hebei and Tianjin, creating a megalopolis that will alleviate congestion and pollution in the capital. Daxing is seen as a crucial multimodal transportation hub, eventually connecting a network of high-speed rail and improved intercity railways and hundreds of upgraded expressways throughout the three regions, which already have 130 million people.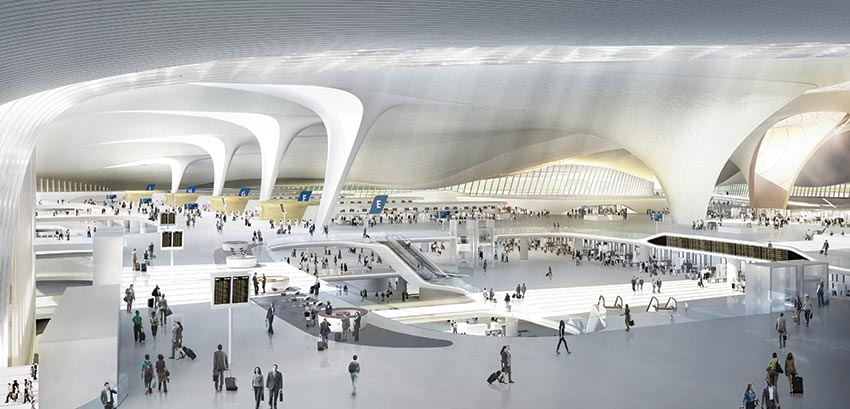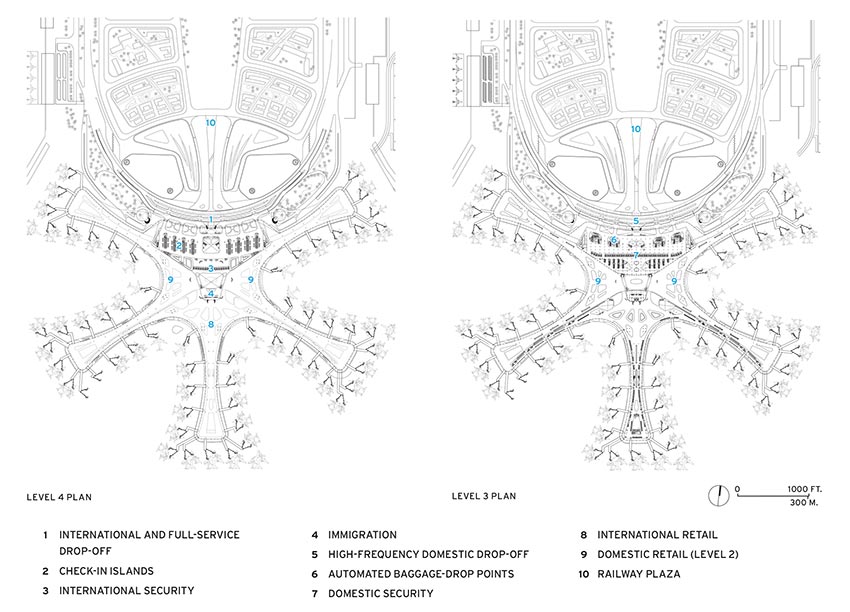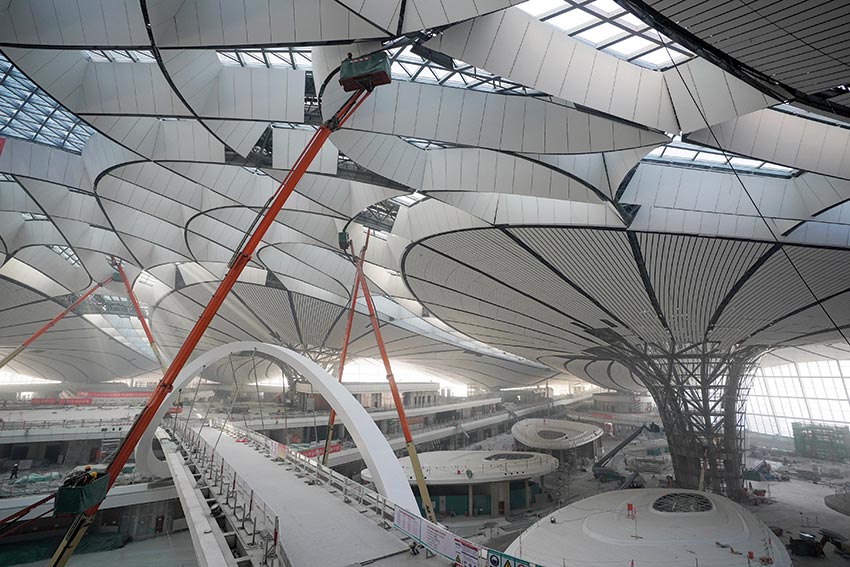 Images: © courtesy Zaha Hadid Architects (top); Xinhua/Alamy Stock Photo (opposite)
THE CENTER HOLDS Steel megacolumns surround a central courtyard, where domestic retail and amenities are located. A mezzanine guides international travelers to passport control. A rendering (opposite) shows how the multilayered core enables visual connections to other levels.
The steel structure has a highly efficient six-pier radial form that minimizes distances between check-ins and gates. By vertically stacking the international and domestic levels around a central multilevel retail atrium, the layout facilitates direct routes for passengers, especially for those with connecting flights (all 150 aircraft bays are no farther than a third of a mile from the central area). "With the star-shaped form, and moving walkways along each spoke, we can achieve minimum connection times," says Cristiano Ceccato, who leads ZHA's aviation projects. "If I only have 30 minutes to get on my connecting flight, I know I can make it, because the airport supports me in that way."
Critical to the terminal's design was to foster smart technology for ubiquitous function. Catering to China's highly tech-savvy population, Daxing will feature a completely automated departures mezzanine dedicated to high-frequency domestic travelers, with self-check-in and self-tagging baggage systems that will move passengers expeditiously to security using only their smartphones. "A lot of airports have separate VIP fast tracks, but those amount to small areas within the departure level. This is different," says Ceccato. "The Chinese have a completely new level of confidence in this technological revolution and have literally poured it into concrete as a separate floor." At the airport's north pier, departing passengers can enter the express mezzanine, or go through the full-service check-in at the level above, where international travelers pass along a bridge across the core that also leads to immigration; domestic travelers are led down to the retail floor to get to the air side. Throughout the interior, fluid, sweeping forms are meant to evoke rolling landscapes or lines of calligraphy.
The terminal's highly flexible design is made possible by eight graceful parabolic megacolumns that curve down from the vaulted-dome ceiling to the ground, supporting the central atrium and the long-spanned roof, and allowing for a vast, open floor plate. These curved structural masts, each topped by a convex 350-foot-diameter skylight, funnel natural light into different areas of the terminal, where retail pods throughout the international and domestic shopping levels can be easily reconfigured. "Over time, shopping requirements and behaviors will change, and, when they do, you will never actually need to rip out the guts," says Ceccato. "The columns will be unaffected by this."
Daxing is an exemplar of how airports are evolving into more complex nodes of interconnectivity—of people, machines, information, transportation, and cities. The project has already catalyzed nearby urban development; as Ceccato suggests, people could take the soon-to-be-completed high-speed rail to Daxing and then the bus to work nearby without ever setting foot in the terminal.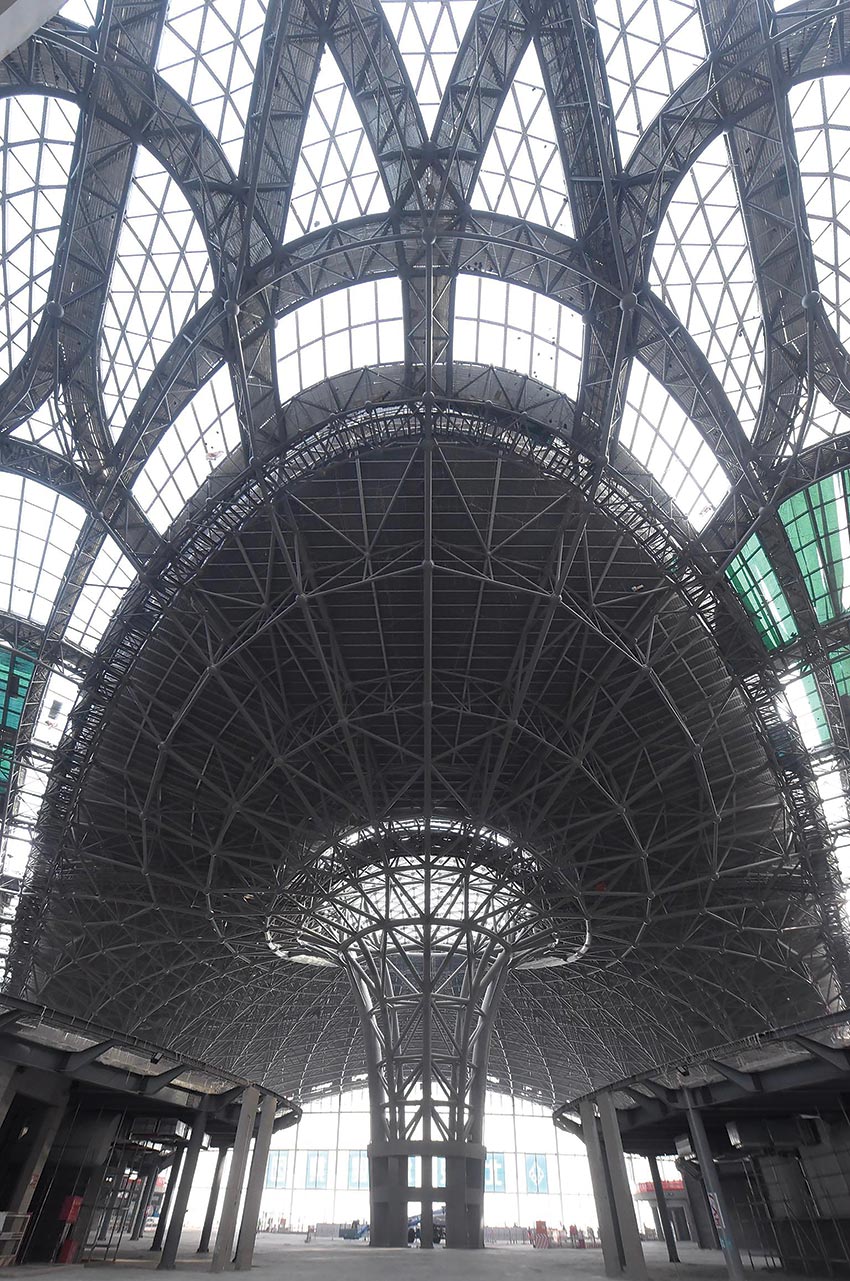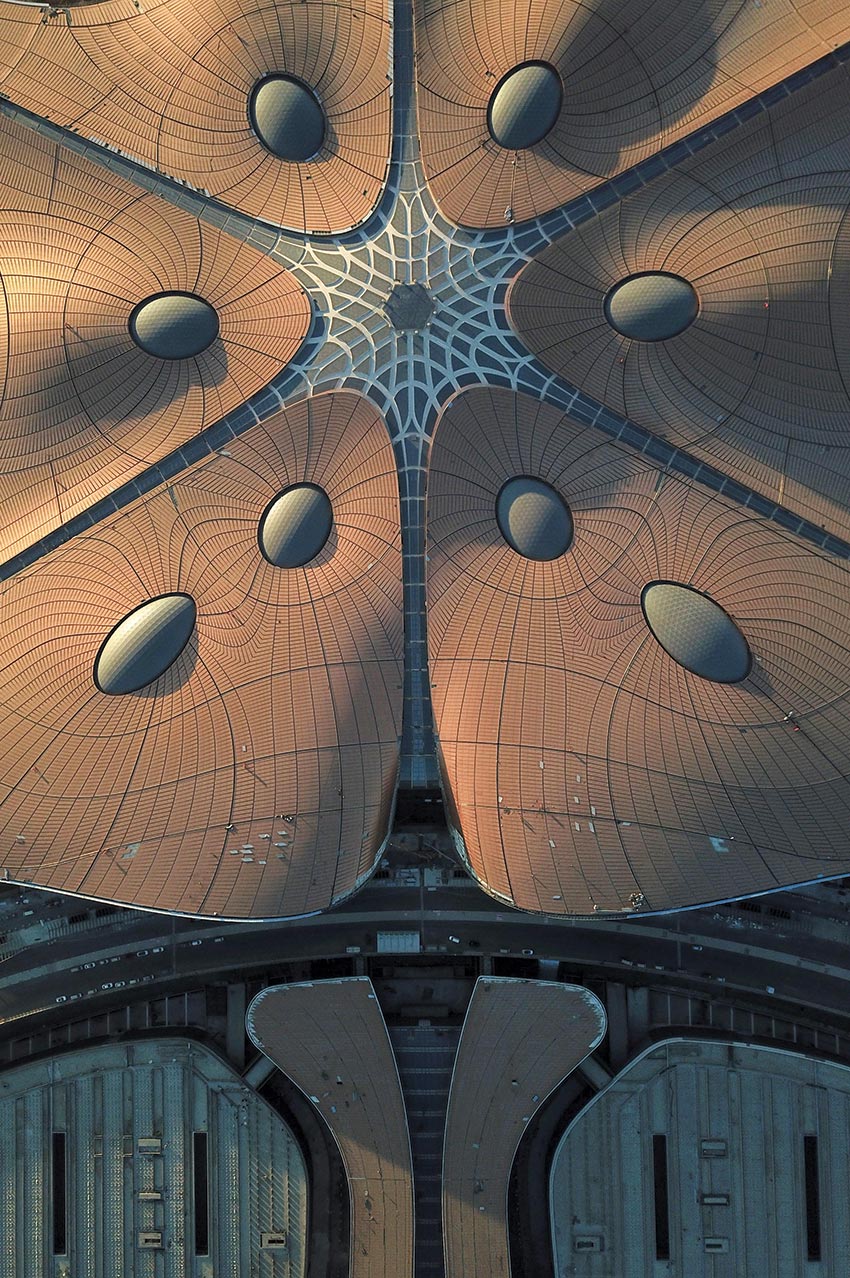 Photography: © Xinhua/Alamy Stock Photo (this page and opposite)
SUPPORT GROUP A cluster of curved steel columns underpins the long-spanned aluminum-clad roof. Skylights atop each pillar flood the interior with natural light.
The airport is expected to open in late September, and work on the next phase—an annex to include an additional runway (not designed by ZHA)—has already begun. By 2040, Daxing is expected to serve more than 100 million passengers a year, approaching the traffic volumes of Hartsfield-Jackson Atlanta International Airport, which was ranked the busiest in the world for the 21st year in a row. With the Beijing Capital airport at number two behind Atlanta, the opening of Daxing will make China the busiest aviation market in the world by 2022. "The sheer number of people that the airport will support is staggering," says Ceccato. "This will not just be a gateway for Beijing—it really will become a gateway to the country."
Credits
Architect
: Zaha Hadid Architects — Zaha Hadid, Patrik Schumacher, lead designers; Cristiano Ceccato, Charles Walker, project directors; Shao-wei Huang, Lydia Kim, project architects; Paulo Flores, project designer
ASSOCIATE ARCHITECTS
: Aéroports de Paris Ingénierie (ADPi)
Engineers
: BuroHappold (superstructure, m/e/p); Mott Macdonald (substructure)
Consultants
: Pascall + Watson (aviation planners); Arcadis (commercial planners); LogPlan (aviation systems)
General Contractor
: Beijing Urban Construction Group
Client
: Beijing New Airport Command Headquarters/Beijing Capital International Airport
Size
: 7.5 million square feet
Completion date
: September 2019
Originally published in Architectural Record
Originally published in July 2019
Notice