What's next for air-travel design? Buildings that ease passenger aggravation and respond to the local culture and environment.
Architectural Record
This test is no longer available for credit
Elmira Corning Regional Airport | Horseheads, New York, Fennick McCredie Architecture
Stress Test
A small terminal's garden helps counter travel anxiety.
By James S. Russell, FAIA
Though lofty, daylight-splashed ticketing halls are common in airport architecture, Deborah Fennick and her partner Jonathan McCredie took a different approach in the redesign of the four-gate Elmira Corning Regional Airport in upstate New York. They focused instead on the most anxiety-provoking aspect of flying: the security-screening checkpoint, often buried in the terminal if not an afterthought altogether.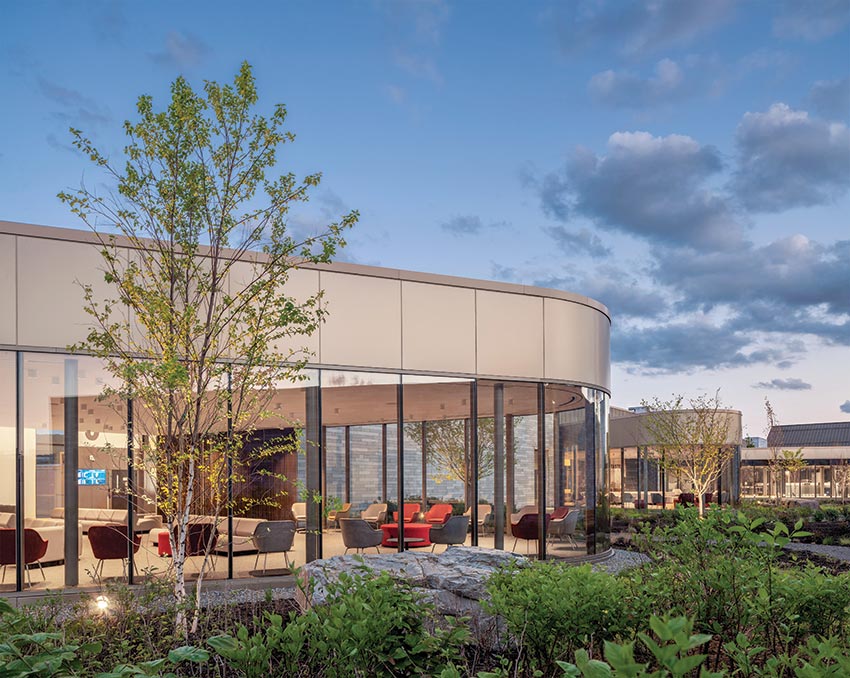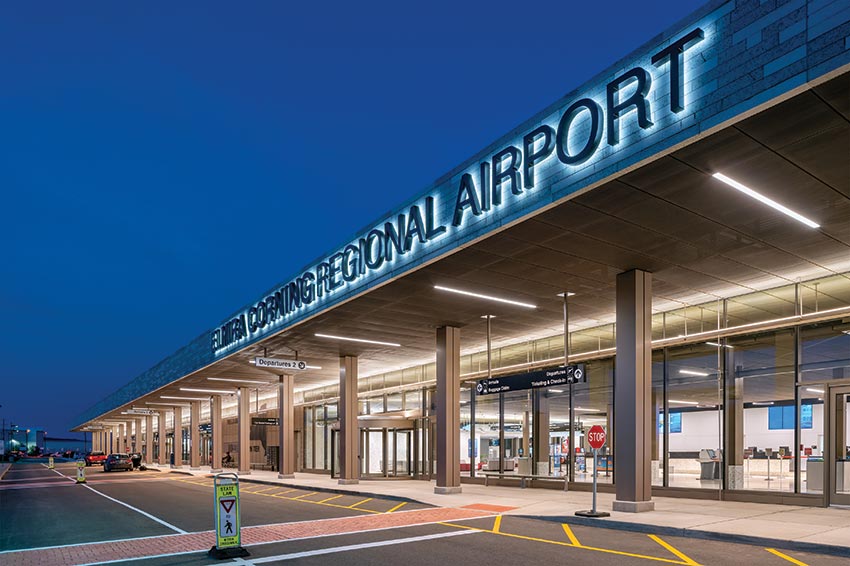 Photography by William Horne
TOP FLIGHT To bring tranquility to the airport experience, the team imagined a lush garden (left) that separates the landside ticketing and baggage pavilion (above) from the new air-side concourse behind it.
The $61.5 million expansion was driven primarily to accommodate larger aircraft—and the traffic they generate—used by ultra-low-fare carriers that are growing in non-metropolitan markets. Central to the stress-relieving approach taken by Boston-based Fennick McCredie Architecture is an outdoor green space that separates the steel-framed landside ticketing and baggage pavilion—which they gut-renovated—from the larger, new replacement air-side concourse. The 18,700-square-foot garden, designed by landscape architects Hargreaves Associates, should quickly grow into a tiny forest.
A wall of glass beyond the ticketing area draws the eye to this outdoor space, and a rounded corner signals the presence of a gently sloped, glass-walled ramp that curves its way through the garden, accommodating queueing for security as well as the checkpoint itself.
This "walk through the woods," as McCredie put it on a recent visit, is a vast improvement over the usual grim march back and forth through a maze of switchbacking tensile barriers—a screening prelude that seems designed to amplify stress over whether the agent will insist on a body search, the baby will start to scream, or the plane will be missed. Travelers can also access the outdoor area—to hang out at café tables or take a stroll. One side of the garden is reserved for people who have not been screened; separated by the glass-walled ramp, the other side is open only to those who have passed through security.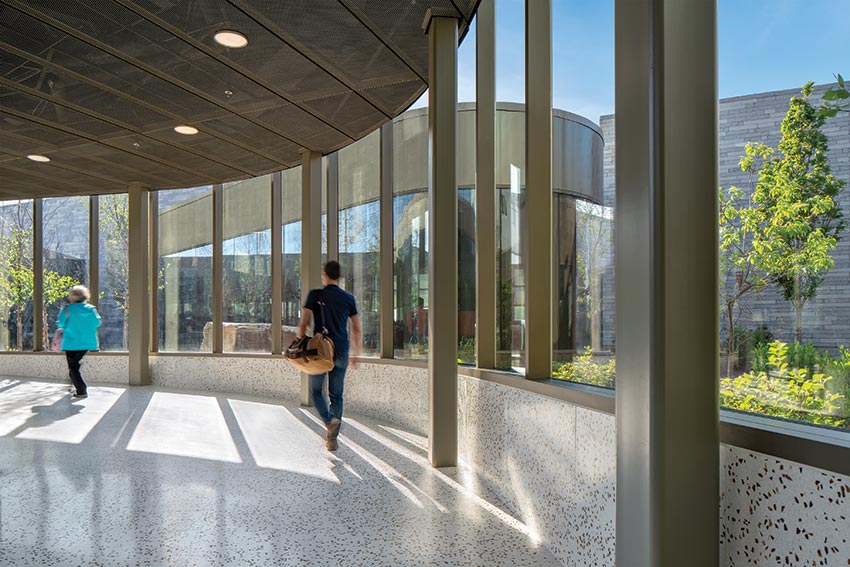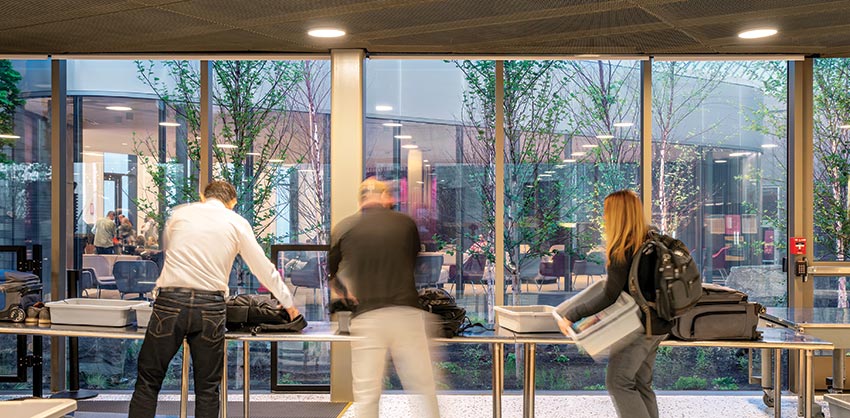 Photography by William Horne
UP AND AWAY Travelers use a glass-walled ramp that curves through the garden (above) and proceeds to the security checkpoint (left).
Along the air-side gate concourse, curved glass walls round the corners of biomorphic lounges that project into the garden. In contrast to the usual rigid rows of departure seating, casually arranged couches and movable chairs invite passengers to relax. Gates are visible from these lounges, further allaying anxiety about missing planes. There are gate-side seats as well, but the view across the airfield is impeded by jetways and other servicing paraphernalia because, as is typical of small airports, the building is a single level and sits low to the ground.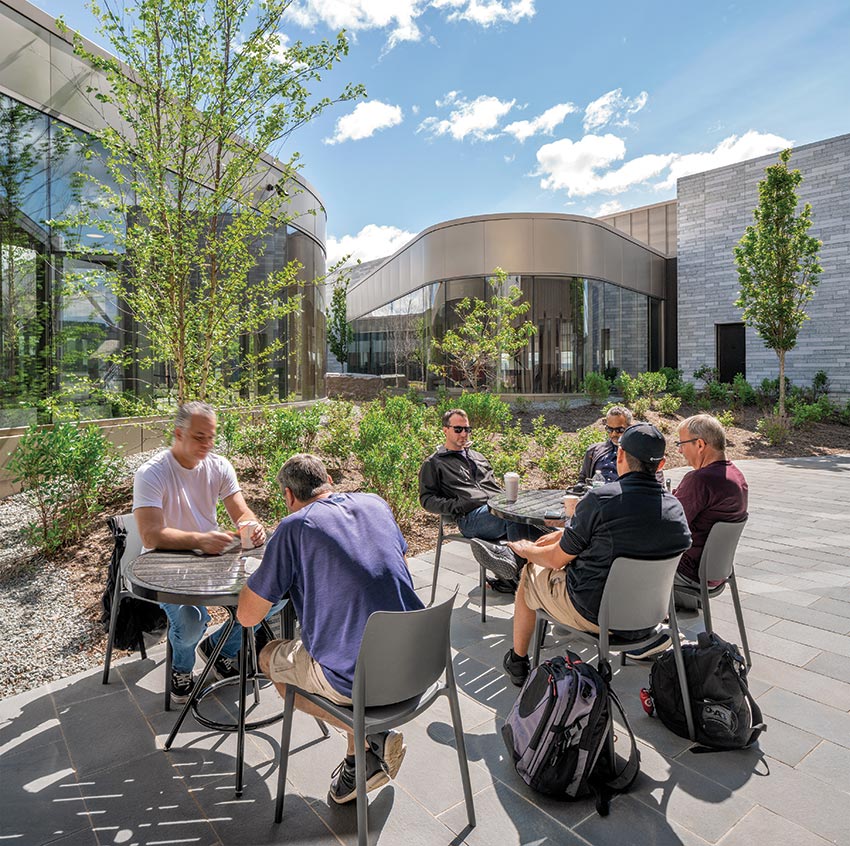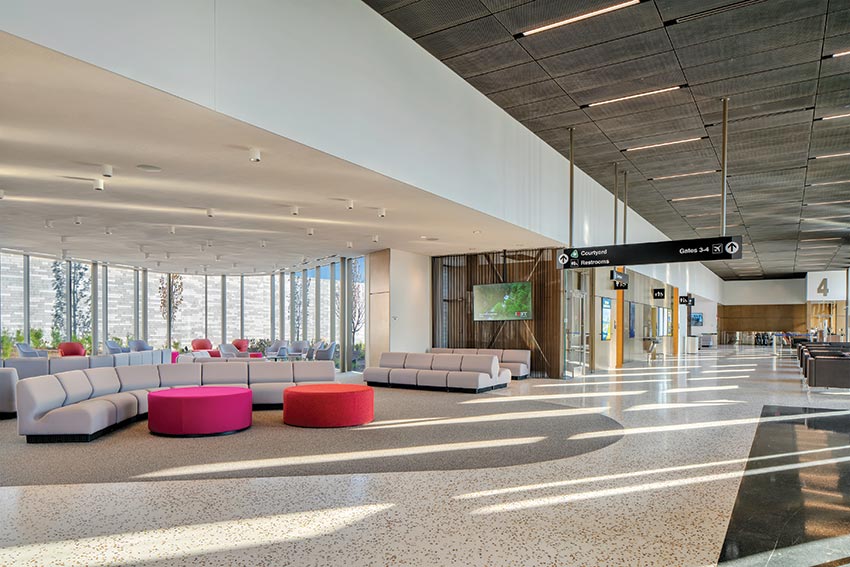 Photography by William Horne
TIGHT CONNECTION The garden provides places to relax before boarding (right). Gates are visible from the lounges, allaying anxiety about missing planes (bottom).
Even with staged construction, to keep the airport open, the project was completed just 26 months from the time Fennick McCredie was awarded the design in September 2016. Both McCredie and the New York State Department of Transportation (DOT) credit Governor Andrew Cuomo, who has made speeding major capital projects to completion a priority (including the multibillion-dollar reconstruction of New York's LaGuardia Airport, which also is moving quickly). "The governor's office strove to expedite every aspect of the project," says Walid Albert, DOT's chief engineer. "We completed reviews quickly. We didn't let anything sit in an in-basket if someone was not around." Adds McCredie, "The governor's office was very hands-on, down to the paint colors. They did not second-guess or go back to first principles, which was really helpful for the execution. No one slept much."
Anyone can appreciate Fennick McCredie's close attention to the experience of moving from curb to plane, given the prevailing view that cargo is often treated better than passengers in today's swarming airports and on cramped planes. McCredie, whose 50-person office specializes in aviation projects, says security enhancements since 9/11 have taken airport architecture from being "a celebration of flight to focusing entirely on the efficient processing of passengers." It is the firm's goal to reverse this trend through a focus on alleviating the stresses endemic to air travel today.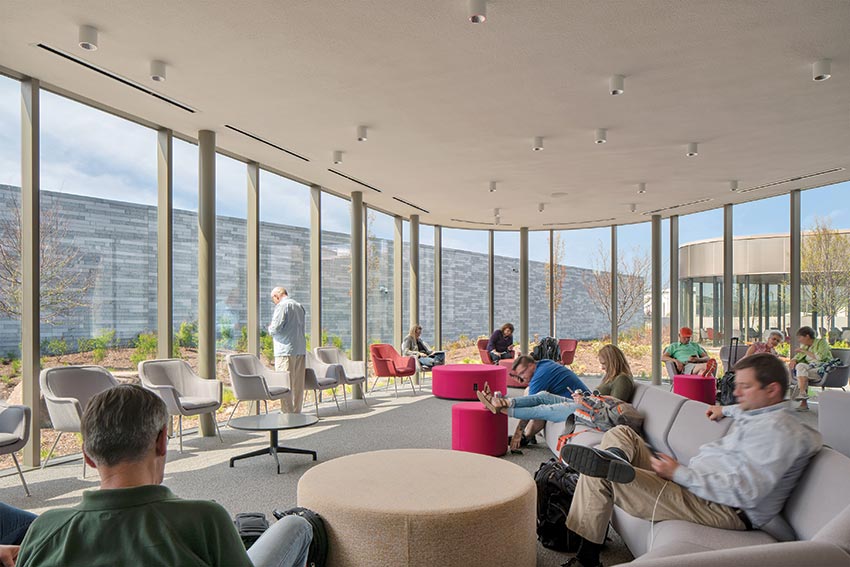 Photography by William Horne
RIGHT AT HOME In place of the usual fixed seating, upholstered furnishings lend lounges a calming, domestic feel.
It's especially important to bring a measure of calm and dignity to smaller markets, he says, because many customers—especially families and seniors—who don't fly much, are intimidated by airports. These travelers also tend to be price sensitive, which has brought ultra-low-fare airlines to places like Elmira Corning. Because these companies can afford to serve these locations only if they use bigger, fuel-efficient planes like the Boeing 737 and Airbus A320, the airport had to grow from 55,000 square feet to 88,000 in part to accommodate them. Traffic boomed to 278,000 passengers in 2018, an 11 percent increase in one year. Modest additional growth is expected, but the greater impact on the facility design was allowing for the big-plane peaks, which drove the addition of jet bridges and the enlargement of the departure lounges and screening area.
Airports the size of Elmira Corning never used to see planes with more than 60 seats. Responding to the new economics of aviation as well as security requirements is key to successful design. "These are among the biggest changes in airline travel," says McCredie. "Small airports have to catch up."
James S. Russell, FAIA, was a longtime editor at architectural record. He wrote The Agile City: Building Well-Being and Wealth in an Era of Climate Change.
Credits
Architect
: Fennick McCredie Architecture — Jonathan McCredie, Deborah Fennick, principals; Aleks Berger, Matt Bermon, Scott Brodsky, Kimberly Cullen, Blake Coren, Meaghan Earner, Nancy Felts, Agnes Jacob, Tim Nolan, Eric Pereira, Sharon Reynolds, Penn Ruderman, team
Consultants
: McFarland Johnson (civil, structural, m/e/p/fp); Hargreaves Jones Landscape Architecture
Client
: Elmira Corning Regional Airport
Owner
: Chemung County, NY
Size
: 89,150 gross square feet
Project Cost
: $61.5 million
Completion date
: October 2018
Sources
Rainscreen
: Knight Wall Systems
Curtain Wall
: Kawneer
Coiling Drapery
: Cascade Architectural Fabricoil
Glass Entrances
: C.R. Laurence
Glazing
: Guardian, Viracon, Wasco
Resilient Flooring
: Armstrong
Furnishings
: Herman Miller, OFS, Geiger, Keilhauer
Originally published in Architectural Record
Originally published in July 2019
Notice