A Look at What's New in Retail and Hospitality Design
Today's products help create better results
Sponsored by Construction Specialties, Inpro, Mitsubishi Electric Cooling & Heating, and NanaWall Systems
This test is no longer available for credit
Resilient Interior Doors
Swinging doors are common, necessary elements of any retail or hospitality space and are appropriately selected to meet specific functional needs. Additionally, as significant visual components, they can contribute to, or even be the center of, an overall interior design. Essentially, doors and frames are both workhorse elements of a space and a feature that can enhance a design concept. Although doors are not the focus of design in many cases, certain retail and hospitality buildings such as hotels are starting to use more creative door designs to enhance their interiors.
The key to successful door selection in high-use areas is to specify a system that not only looks great but also performs well, holding up to daily use and potential abuse. In that regard, there are several qualities to look for:
Doors that are specifically manufactured for high-impact areas and are clad with ultra-durable coverings for demonstrated protection.
Attention to door edges, since that is where most door damage occurs. Some are specifically manufactured to feature rounded, replaceable stiles and edges for extra protection. Better yet, some carry a warranty against damage for the lifetime of the door.
The covering on doors can be specified to be bacterial and fungal resistant.
Some doors are made of PVC-free material, can be Cradle to Cradle Certified, and can help to contribute toward LEED v4 credits.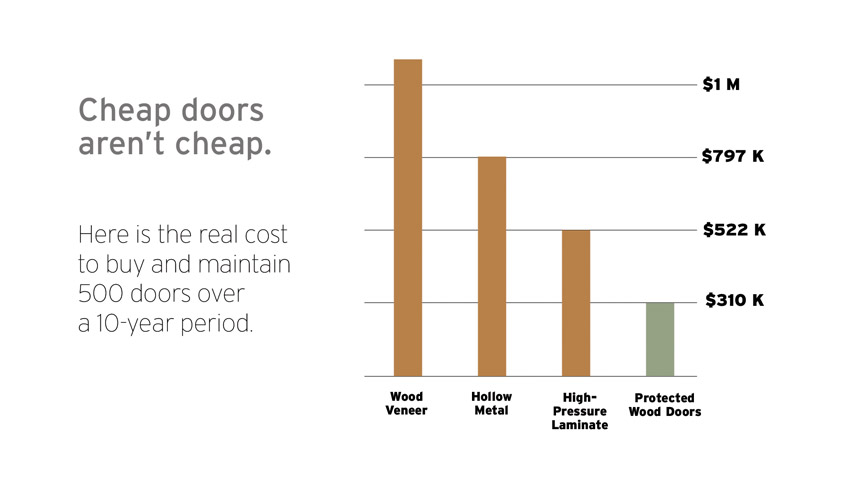 Image courtesy of Construction Specialties
A life-cycle comparison of different types of doors shows that over a 10 year period, 500 wood doors in a facility would cost $800,000 more to buy and maintain than protected doors and frames.
While all of these attributes help with the performance of the door, designers no longer have to sacrifice aesthetics for durability. They are available in a broad range of colors and patterns, and they can fit seamlessly into any design concept. In addition to extensive standard design choices, some products also allow architects to display any image, pattern, photograph, etc. on a door without compromising durability.
Using protectively coated doors helps keep entire openings looking like new over time. A life-cycle cost analysis comparing wood doors to protected doors showed that a facility can benefit from substantially less cost over time by using the protected doors. This tested durability means that the intended aesthetic of any space will hold up, even in high-traffic areas like utility rooms and housekeeping areas.
Mike Delin, senior manager of product marketing with Construction Specialties, says, "We know hospitality architects and designers are looking for long-lasting products with enough style options to meet their complex design needs." That is why the industry is so robust with durable product offerings to fit seamlessly into the vision for any space.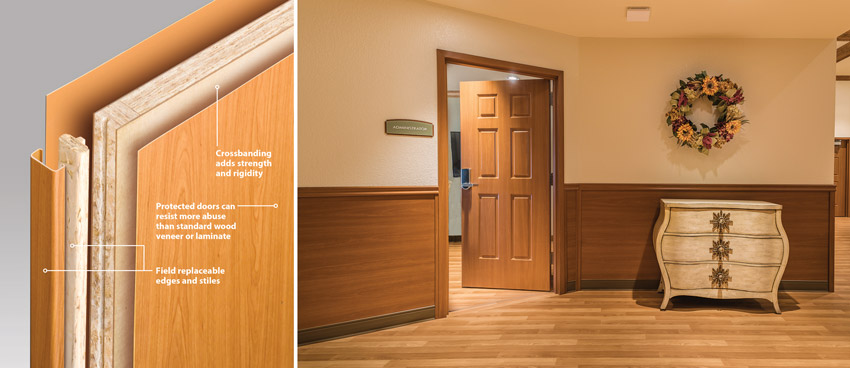 Image courtesy of Construction Specialties
Protected solid-core wood doors can be specified with reinforced surfaces and easy to replace door edges, all of which fit into overall design schemes.
Originally published in Architectural Record
Notice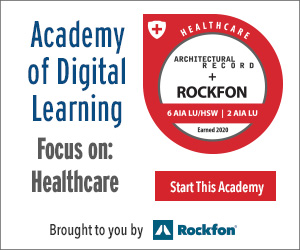 A Look at What's New in Retail and Hospitality Design
Buyer's Guide
CS Acrovyn® Doors

Acrovyn Doors were designed with high-impact areas in mind. Architects and designers choose our doors for their extensive design options and their ability to withstand heavy facility traffic. Clad with ultra-durable Acrovyn
®
and featuring rounded, field-replaceable edges and stiles, Acrovyn Doors will keep your entire opening looking like new.
Aspex® Printed Wall Protection

You have standards to follow—colors to express, logos to flash, even images that associate brains with a brand. Take those elements and bring them to life as wall protection or wall art to connect your guests with your brand.
kumo cloud™ Controller App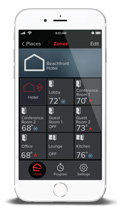 Mitsubishi Electric Cooling & Heating's kumo cloud™ App provides precise zoned comfort and VRF system connectivity through a cell phone, tablet, or desktop interface. Manage multiple locations and indoor units, grouping them into zones. User functions include scheduling, fan speed, vane direction, error monitoring, and filter change alerts, among others.
Opening Glass Walls Designed for Commercial Environments

NanaWall Systems provides a wide range of opening glass walls for commercial environments that stand up to the daily commercial grind as well as the challenges of wind, water, extreme temperatures, forced entry, impact, and structural load.