A Look at What's New in Retail and Hospitality Design
Today's products help create better results
Sponsored by Construction Specialties, Inpro, Mitsubishi Electric Cooling & Heating, and NanaWall Systems
This test is no longer available for credit
Operable Glass Walls
There is a growing trend and interest in designing spaces that seamlessly connect to the outdoors, thus "bringing the outdoors in," or that allow adjacent interior spaces to open up to each other. Of course, there is also a need for the ability to close off and separate those spaces for weather, security, or other reasons. As a result, operable glass walls that fold or slide to achieve these fully open or, conversely, fully closed conditions are readily available. In retail and hospitality settings, it's important to use a product that enables the architect to fulfill a design vision but also to incorporate a product that lasts.
Among the things to consider in selecting an operable glass wall, first is to be sure that the product is tested and proven for commercial use. Opening glass walls need to stand up to the daily commercial grind as well as the challenges of wind, water, extreme temperatures, forced entry, impact, and structural load. Independent testing results should be requested and provided for all of these conditions. Further, the specific details of the system should be reviewed. In some, moving structural posts provide exceptional strength in folding systems that meet Miami-Dade County and American Architectural Manufacturers Association (AAMA) hurricane ratings. Such a system can also serves as a secure and vandal-resistant storefront for retail applications. Multipoint locking entry doors as well as extra-long, tamper-resistant, dual-point locking rods between panels can be specified to ensure that each system meets or exceeds most forced-entry testing for commercial-grade door panels. STC ratings for sound attenuation are available for select systems and can also be requested if that is a design consideration. During its service life, built-in adjustment and compensation points help with continued ease of operation if building settling occurs.
When considering operable glass walls as part of a design, there are some considerations that can impact different types of retail and hospitality buildings as follows:
Hotels: An opening glass wall enables the designer to create large, inviting entrances in the lobby area, ensuring a memorable first impression. When open, it eliminates the barrier between the entrance and the lobby to allow a free flow of customer traffic and a direct connection with the hotel's ambience and entertainment. They can be used in registration, dining, and guestroom areas to allow beautiful views, hotel landscaping, natural daylight, and fresh air inside. Opening glass walls can also be used as interior dividers in hotels and restaurants to allow personnel to quickly and easily incorporate or close retail space, dining areas, bars, and meeting rooms. For example, a breakfast area can be readily separated from the hotel public space after service has concluded. Or private banquet rooms can be created that transmit light and significantly reduce sound transmission. Ultimately, that means the hotel can create more bookable event space by dividing or opening up large areas as needed. Swinging entrance and egress door panels facilitate access and service when the rest of the operable wall is closed.


Retail: For retail stores, a wide-open entrance eliminates barriers by creating a seamless transition between street (or mall) and store and attracts customers inside, which can lead to an increase in sales. They can also allow retailers to expand display areas by utilizing street fronts, sidewalks, and mall walkways to display movable racks and bins that roll easily through the spacious opening. With expanded display areas, shoppers are enticed and are readily drawn deeper into the store. When it is time to close, the operable glass storefront continues to showcase the interior and provides a secure, energy-efficient, transparent facade that seals tight and serves as a dust-control measure after-hours.


Restaurants: Restaurants can benefit directly from operable glass walls by boosting revenue from increased seating capacity in outdoor spaces, such as a sidewalks, patios, or balconies. The open walls can also enhance diners' experiences by connecting a restaurant's interior to the surrounding outdoor spaces. In cases where a roofed patio or similar condition exists, enclosing the area with an operable glass wall can offer outdoor seating in all four seasons. Where appropriate, operable glass walls can be used across the front of a restaurant as an entrance to make the entire street front a welcoming door. Incorporated properly, they can create unique and memorable indoor/outdoor dining atmospheres for customers to enhance and extend their dining experiences.
Overall, operable glass walls facilitate free-flowing connections between spaces by removing the physical barrier between them when the wall is open. When closed, a visual connection remains through the glass, but it creates an appropriate weather and security barrier otherwise.

Photos courtesy of NanaWall Systems
Operable glass walls can be used to fully open up and connect to spaces directly, or close fully or partially to provide needed separations for weather, security, or other needs.
Originally published in Architectural Record
Notice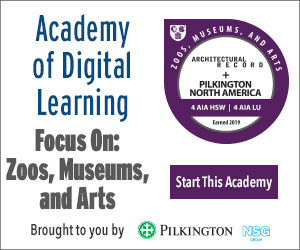 A Look at What's New in Retail and Hospitality Design
Buyer's Guide
CS Acrovyn® Doors

Acrovyn Doors were designed with high-impact areas in mind. Architects and designers choose our doors for their extensive design options and their ability to withstand heavy facility traffic. Clad with ultra-durable Acrovyn
®
and featuring rounded, field-replaceable edges and stiles, Acrovyn Doors will keep your entire opening looking like new.
Aspex® Printed Wall Protection

You have standards to follow—colors to express, logos to flash, even images that associate brains with a brand. Take those elements and bring them to life as wall protection or wall art to connect your guests with your brand.
kumo cloud™ Controller App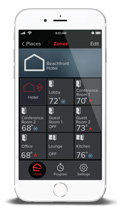 Mitsubishi Electric Cooling & Heating's kumo cloud™ App provides precise zoned comfort and VRF system connectivity through a cell phone, tablet, or desktop interface. Manage multiple locations and indoor units, grouping them into zones. User functions include scheduling, fan speed, vane direction, error monitoring, and filter change alerts, among others.
Opening Glass Walls Designed for Commercial Environments

NanaWall Systems provides a wide range of opening glass walls for commercial environments that stand up to the daily commercial grind as well as the challenges of wind, water, extreme temperatures, forced entry, impact, and structural load.