A Look at What's New in Retail and Hospitality Design
Today's products help create better results
Sponsored by Construction Specialties, Inpro, Mitsubishi Electric Cooling & Heating, and NanaWall Systems
This test is no longer available for credit
Improving Occupant Comfort
The experience of being in a retail or hospitality setting involves all of our human senses, including how warm or cool we feel in a space. If the space is too hot or too cold, people feel uncomfortable and want to leave. Providing a comfortable environment keeps occupants happy and can lead to increased time spent in the facility, which is what business owners want. Of course, they also want that comfort to come with low energy costs and flexibility in the way the system is designed and installed. Fortunately, there is a proven technology to meet all of these needs in the form of variable refrigerant flow (VRF) systems. When applied properly, VRF systems give retail and hospitality facilities highly efficient HVAC performance and provide occupants with exceptional comfort without impacting the bottom line. In fact, such systems can even save owners money through high energy efficiency, better control, and low maintenance.
VRF has been in use globally for more than 35 years and is continuing to gain popularity in the United States because of its efficiency advantages and ability to provide personalized comfort to occupants of many different building types. The flexibility of VRF systems allows building owners and architects to design spaces without having to compromise around the layout of a mechanical system. Somewhat surprisingly, many building owners have no experience with these systems, so it often becomes incumbent on the architects and engineers to help educate them on the reasons to consider VRF systems, particularly in retail and hospitality applications.
One of the common misconceptions about VRF systems is that they are more costly than other HVAC systems, which has proven repeatedly not to be the case when all costs are taken into account. Owners are encouraged to consider the life-cycle costs of VRF, not just initial equipment cost. In so doing, they will likely discover the following:
VRF is easier to design and can be less costly to install since it can be ductless, thus avoiding long runs of ductwork and eliminating the need for large mechanical rooms.
Zoning capabilities give building owners and facility managers the ability to turn off or setback systems in areas that are not occupied, further increasing savings.
VRF systems require minimal maintenance.
Superior energy efficiency significantly reduces utility costs.
VRF systems typically last up to 20 years, providing longevity in operation.
Compact outdoor units are easily transported in freight elevators, potentially eliminating the cost of cranes.
These savings and advantages are achieved through the basic engineering technology of the system. Rather than inefficiently moving air to the spaces that require conditioning, VRF delivers refrigerant directly to those spaces and conditions the air within the space, providing better temperature control and the ability to treat zones independently. VRF can also provide simultaneous cooling and heating from a single two-pipe system. Performance is further improved with inverter-compressor technology that uses the absolute minimum energy necessary to maintain comfort levels while adjusting to partial-load conditions, which are often the predominant state. Rather than cycling on and off, VRF systems vary their speed to meet each zone's conditioning requirements. Additional features like occupancy sensors and the ability to turn off areas that are not in use help further improve energy efficiency.
In addition to efficiently maintaining comfort, VRF systems provide some other notable design and performance benefits, including:
Quiet operation: VRF technology uses compressors that quietly ramp up or down depending on the conditioning needs of each zone, thus eliminating the noisy on-and-off cycle of traditional HVAC systems. Indoor units minimize noise disruption by operating at low sound levels. Check manufacturer's information, however, since noise levels can vary. Some of the best operate as low as 22 dBA indoors with outdoor units operating as quietly as 56 dBA.
Visually discreet: VRF systems are space efficient and come in a variety of styles to blend into indoor and outdoor environments.
Space saving: Compact system footprints provide more usable space for amenities, such as rooftop pools or social areas. No bulky runs of ductwork are needed, providing the option to increase ceiling height, add larger windows, or even fit additional floors within the same building envelope. Further, no large mechanical rooms are required, providing more usable square footage for potential income generation.
Design and system flexibility: Eliminating the need for bulky runs of ductwork makes VRF systems easier to design and modify as needed. Refrigerant piping runs are much more easily incorporated into designs for new or existing buildings. And if changes in the building are needed over time, it is similarly easy to modify or reconfigure systems.
Overall, VRF systems are energy efficient and flexible, helping retail and hospitality facilities meet their varied cooling and heating needs. Kevin Miskewicz, director of commercial marketing at Mitsubishi Electric Cooling & Heating, has experienced this first hand and points out, "VRF systems provide unbeatable personalized comfort for building occupants, design flexibility for architects, and superior energy efficiency that saves building owners significantly over the life of the system."

Photos courtesy of Mitsubishi Electric Cooling & Heating
Variable Refrigerant Flow (VRF) systems are more efficient in their use of energy and their ability to blend in with retail and hospitality spaces.
Originally published in Architectural Record
Notice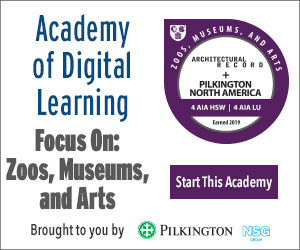 A Look at What's New in Retail and Hospitality Design
Buyer's Guide
CS Acrovyn® Doors

Acrovyn Doors were designed with high-impact areas in mind. Architects and designers choose our doors for their extensive design options and their ability to withstand heavy facility traffic. Clad with ultra-durable Acrovyn
®
and featuring rounded, field-replaceable edges and stiles, Acrovyn Doors will keep your entire opening looking like new.
Aspex® Printed Wall Protection

You have standards to follow—colors to express, logos to flash, even images that associate brains with a brand. Take those elements and bring them to life as wall protection or wall art to connect your guests with your brand.
kumo cloud™ Controller App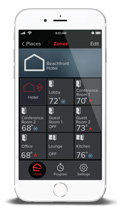 Mitsubishi Electric Cooling & Heating's kumo cloud™ App provides precise zoned comfort and VRF system connectivity through a cell phone, tablet, or desktop interface. Manage multiple locations and indoor units, grouping them into zones. User functions include scheduling, fan speed, vane direction, error monitoring, and filter change alerts, among others.
Opening Glass Walls Designed for Commercial Environments

NanaWall Systems provides a wide range of opening glass walls for commercial environments that stand up to the daily commercial grind as well as the challenges of wind, water, extreme temperatures, forced entry, impact, and structural load.