A Look at What's New in Retail and Hospitality Design
Today's products help create better results
Sponsored by Construction Specialties, Inpro, Mitsubishi Electric Cooling & Heating, and NanaWall Systems
This test is no longer available for credit
Elevator Renovation
Many retail and virtually all hospitality buildings include elevators either for convenience or to meet accessibility requirements. From a design standpoint, the cabs of these elevators should not be overlooked since it is a very real part of the user experience of many guests or customers. If addressed properly, they can be an integral part of the interior design of a facility with the integrity and durability to hold up to heavy use from people, carts, etc.
As an elevator is used over time, the cab interiors can get damaged, especially if they are used for both passengers and freight. Even with the best padded intentions, dollies, bell carts, suitcases, freight, and furniture can gouge and scuff walls inside the elevator. The better way to address this potential damage is with protective wall panels and handrails that can resist these forces and keep the inside of the cab looking good.
In addition to needing protection, it is possible for the cab to look outdated over time just like other interior schemes. Further, the lighting in an elevator cab needs to be adequate and maintained so that it doesn't provide a dim, unattractive experience. Given these concerns, many designers are turning to preconfigured elevator cab renovation packages to breathe new life back into existing elevators or even starting out with them in new elevator cabs. Such packages can include new wall panels, new ceiling grids and panels, new handrails, and new lighting. As a package, they can be coordinated to meet the demands for durability and the interior design scheme that is sought.
One critical aspect to bear in mind is that interior cab renovations often cannot be allowed to take the cab out of service for any extended period of time. Taking a cab down for renovation increases the potential for longer wait times, as the same number of passengers have fewer cabs to ride in. Ideally, then, cab renovation materials and processes should be designed to cut downtime to a bare minimum. Toward that end, renovation packages can be designed for simple and easy modular installation.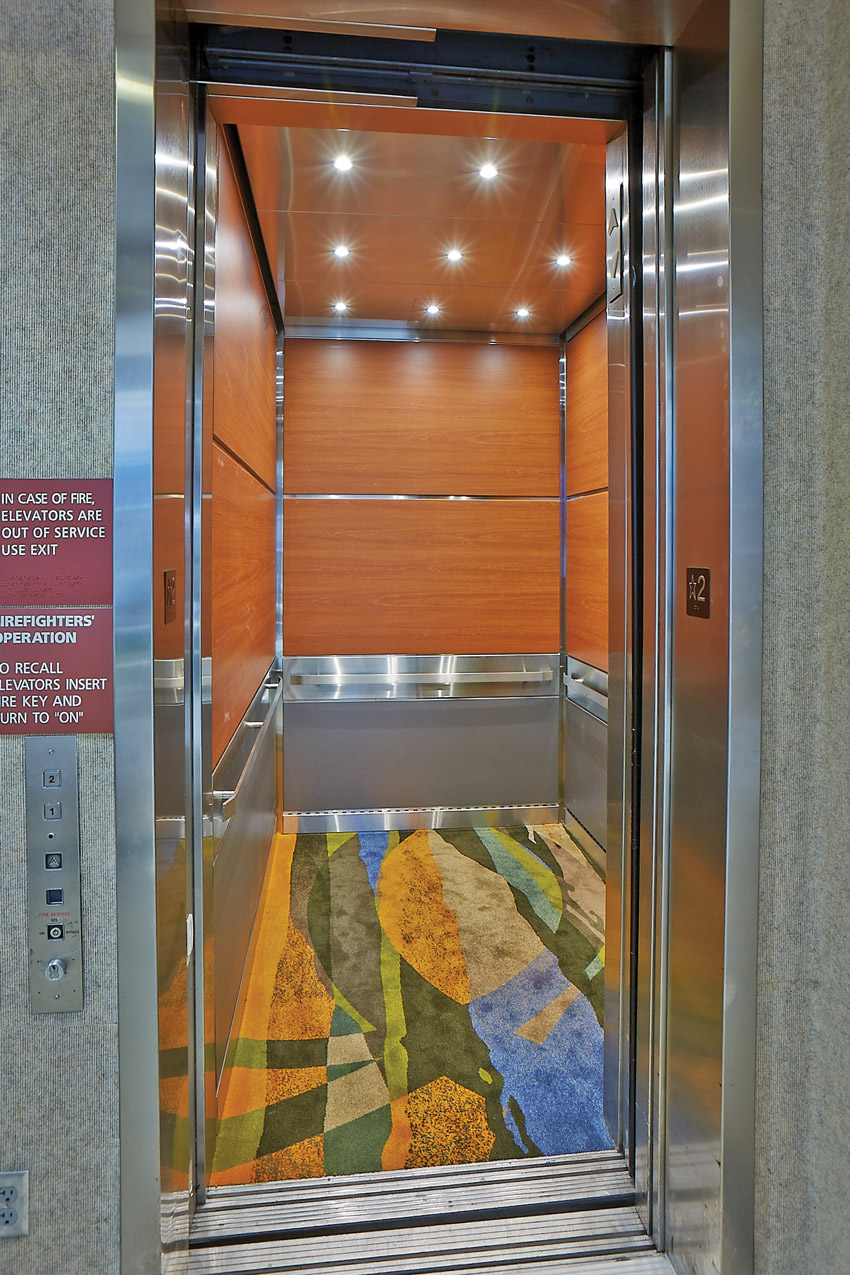 Photo courtesy of Inpro
Elevator cabs can be renovated with complete coordinated packages to address durability and interior design, including wall panels, handrails, ceiling panels, and lighting.
Common Area Restrooms
One of the places that can make a significant impression on people, either positively or negatively, is the restrooms in a facility. There are jokes made about gas station bathrooms, and the reason the jokes work is because of the stereotype of grunge and damage. In hospitality and restaurant settings, the restrooms often see a good amount of traffic, and it wouldn't be favorable to have them look like the ones in the jokes. Public restrooms that are unclean and littered from overflowing waste receptacles are bad enough. But, partitions and privacy panels that are dirty, rusty, chipped, or otherwise unsightly don't bode well with patrons either.
One design option to overcome the potential shortcoming of restrooms is to outfit them with solid surface partitions and privacy panels that are inherently more durable while offering a higher-end décor. Solid surface material is available that is antimicrobial and nonporous and prevents the growth of mold and mildew, which can result in reduced maintenance and cleaning. Another great advantage to solid surface partitions is that they are vandal resistant and clean without ghosting. If solid surface partitions with reinforced wood cores are used, they can also simplify installation and handling. Overall, they can be a preferred choice to create a sense of cleanliness and integrity in an otherwise humble space.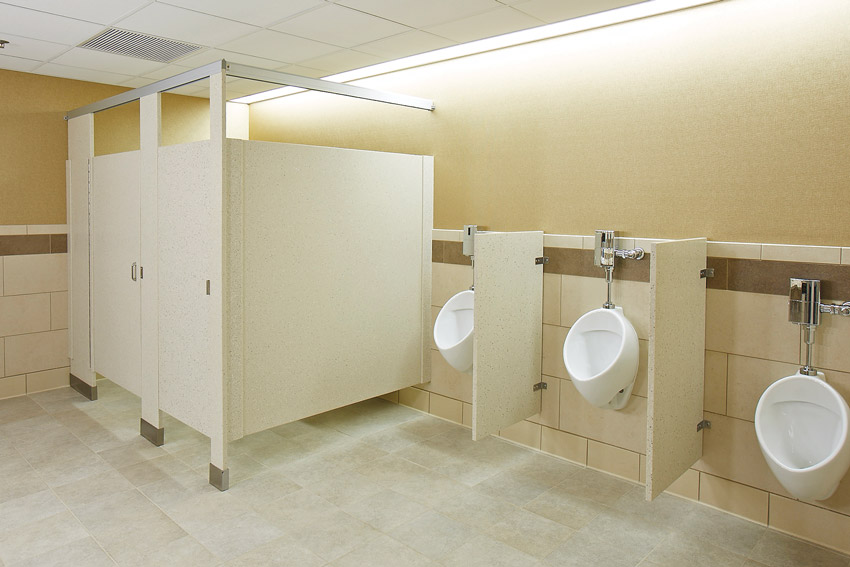 Photo courtesy of Inpro
Solid surface partitions and privacy screens in rest rooms can provide the needed look of cleanliness and hold up against heavy use or abuse.
Conclusion
Retail and hospitality facilities need to be well designed in order to function well, look appealing to customers, provide comfort, and hold up against heavy use and even abuse. Achieving all of these objectives requires attention to the use of products, materials, and systems that can come together in a design to be successful. Using some or all of the strategies described in this course can help architects and designers achieve that success while owners and operators reap the long-term benefits.
Peter J. Arsenault, FAIA, NCARB, LEED AP, is a practicing architect, green building consultant, continuing education presenter, and prolific author engaged nationwide in advancing building performance through better design. www.linkedin.com/in/pjaarch
Originally published in Architectural Record
Notice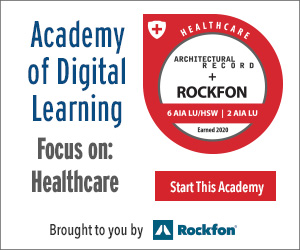 A Look at What's New in Retail and Hospitality Design
Buyer's Guide
CS Acrovyn® Doors

Acrovyn Doors were designed with high-impact areas in mind. Architects and designers choose our doors for their extensive design options and their ability to withstand heavy facility traffic. Clad with ultra-durable Acrovyn
®
and featuring rounded, field-replaceable edges and stiles, Acrovyn Doors will keep your entire opening looking like new.
Aspex® Printed Wall Protection

You have standards to follow—colors to express, logos to flash, even images that associate brains with a brand. Take those elements and bring them to life as wall protection or wall art to connect your guests with your brand.
kumo cloud™ Controller App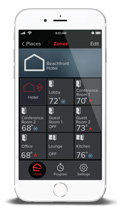 Mitsubishi Electric Cooling & Heating's kumo cloud™ App provides precise zoned comfort and VRF system connectivity through a cell phone, tablet, or desktop interface. Manage multiple locations and indoor units, grouping them into zones. User functions include scheduling, fan speed, vane direction, error monitoring, and filter change alerts, among others.
Opening Glass Walls Designed for Commercial Environments

NanaWall Systems provides a wide range of opening glass walls for commercial environments that stand up to the daily commercial grind as well as the challenges of wind, water, extreme temperatures, forced entry, impact, and structural load.