Folding Glass Doors Are an Asset for Commercial Spaces
Aesthetic, high-performance options maximize space and light
Sponsored by LaCantina Doors
This test is no longer available for credit
Performance Considerations
Though glass is a strong building material with the capability to stand up to extreme climatic conditions, architects should become familiar with the types of labels, certification, and third partying testing that verify quality and performance.
Testing and Certification
To judge the plethora of competing products, certifications have taken on added significance, particularly those from two key organizations. The National Accreditation and Management Institute, Inc. (NAMI) has established product testing and quality assurance validation programs, with the organization's certification and inspection process providing the buyer with quality assurance that the product that they are purchasing is the same product that was tested by an independent laboratory and will perform to the level which the test report reflects. NAMI specializes in fenestration and building envelope products which includes are but not limited to windows, doors and glazing wall systems. Preferred products should also be validated by the National Fenestration Rating Council (NFRC), which administers the only uniform, independent rating and labeling system for the energy performance of windows, doors, skylights, and attachment products.
Approved Impact System
Another consideration is whether the intended door system has been tested for hurricane impacts. This is critical particularly in areas subjected to high winds and major storms as impact rated systems provide superior extreme weather performance, protection, and safety. Stringent guidelines are placed upon products seeking approval under Florida codes, which have the strictest regulations in the United States. For use in these storm-prone areas, architects will want to assure that doors have been certified to meet the 2007 Florida Building Code requirements for all areas outside of the HVHZ, otherwise known as Miami-Dade and Broward Counties. A "DP" or "design pressure" rating is a numerical value that represents a building component's ability to withstand a given amount of wind load, with the higher the DP, the greater the resistance. DP ratings of 50 are necessary for use outside the HVHZ, and DP ratings of 70 must be achieved for glass folding systems to be used within that area.
It is also advisable to consider whether doors have met and exceeded the requirements of Miami Dade County approval using the designated test methods for the critical testing protocols to comply with requirements of the Florida Building Code including HVHZ and other wind-borne debris areas. These include:
-- Large Missile Impact

-- Uniform Static Air Pressure Loading

-- Cyclic Wind Pressure Loading

-- Water Infiltration and Resistance

-- Forced Entry
Other pertinent tests include the ASTM E 547 for water penetration; ASTM E-283 for air infiltration, and ASTM E-330 for structural performance.
Specification Considerations
In specifying a door system that is appropriate for a given project, several points must be considered, including size, threshold, frame material, and type of glass. For best results, architects should consider installation-ready systems, complete with frame, threshold, weather-stripping, doors, glass, hinges, rollers and multi-point lock and lever handle for the daily passage door. A wide range of products, materials, finishes, size and configuration exists to meet the needs of commercial spaces.
Door panels can be up to 39 inches wide; standard heights are seven to eight feet tall or can be "made to measure" up to 10 feet tall, without the need for horizontal mullions that detract from views. Narrow stile and rail profiles—as thin as 2-¾ inches—maximize the amount of glass in the door. Panels can be configured in a myriad of ways, with eight doors opening in each direction, and creating openings of up to 65 feet; wider applications can be customized to specific project requirements.
In general, folding glass doors can either be floor-mounted or top hung, the latter being the predominant method, with the top track carrying the weight and the floor track serving as guide. The frame must be secured to an adequate header that does not deflect down when the doors are installed or if there is any settling in the structure. The structural support required and header size depends on both the weight of the doors and also surrounding structural conditions. The maximum deflection of the header with the live load should not exceed the lesser of L/720 of the span and ¼ inch. Structural support for lateral loads (both wind load and when the panels are stacked open) must be provided. For example, with door panels 36 inches wide and 96 inches tall typically weighing approximately 110lbs each, engineered or steel beams are used as headers.
Standard threshold options incorporate a bottom guide, and weather-stop and weep systems designed to weather seal the assembly against air and water. The threshold height for this option is 115/16. Threshold options specifically designed to weather seal against extreme weather conditions may incorporate a bottom guide, weep system, and weather-stop that is 35/16 inches on the inside. To minimize the height of the weather-stop, the threshold and/or build up on the finished interior flooring can be recessed. As with the standard threshold option, it is important that the exterior surface level is lower than the weep-holes to enable proper drainage. Flush floor threshold options with a bottom guide only are common for commercial applications, and are recommended for interior applications or openings without weather exposure.
Frame styles are available to suit diverse space and climate requirements.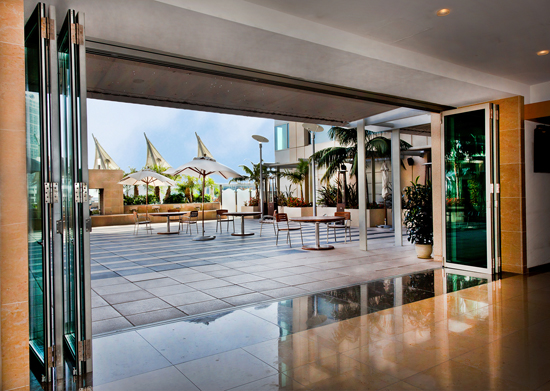 Photo courtesy of LaCantina Doors
At the Omni Hotel, sleek aluminum framed folding glass doors bring the outside in, and create a feeling of luxurious spaciousness.
Aluminum Systems
Aluminum systems have a clean design with some featuring a narrow 2¾ inch stile and rail profile, allowing for maximum glass and light. Suitable also for interior space dividers, the aluminum folding system can also offer strength and security through a concealed multi-point locking system. The basic configuration is an extruded aluminum panel wall thickness of up to ¼ inch, and single panels up to 10 feet tall. A 10-inch-tall bottom rail and low rise sill are suitable for commercial ADA requirements. Anodized white, clear and dark bronze aluminum rails and stiles match most aluminum windows, eliminate the need for finishing, and offer low maintenance.
Aluminum Thermally Controlled Systems
This system offers improved thermal performance suitable for climates where it is desirable to keep either the cold or heat out and the ideal temperature in, and where higher resistance to water and air infiltration is required. Featuring non-conducting thermal breaks throughout and narrow stile and rail profiles, aluminum thermally controlled systems are designed for optimal energy efficiency and structural performance that minimizes condensation build up and heat-cold transfer. European thermal struts create a non-conductive bridge between the outside and the inside of the door. Thicker panels (2-¼ inches) are suitable for high wind environments, and can include impact-rated features. A proprietary panel design by a leading manufacturer allows for split finish color options for the interior and exterior providing maximum design flexibility.
Impact Rated Systems
These systems are structurally sound for minimal panel deflection under high winds in HVHZ and other wind-borne debris areas. Typically offered with aluminum thermally controlled systems, the enhanced weather and safety features for air, wind, water and impact comply with stringent Florida building codes and for use in other wind-borne debris areas including Miami-Dade, the Carolinas, the Northeast and east coast, Texas, the Gulf of Mexico, and the Caribbean and Hawaiian islands. Impact rated systems generally incorporate additional hardware for maximum structural performance, laminated impact resistant glass, and optimal weather seals for water resistance.
Aluminum Wood Systems
Better suited to exterior environments than a solid wood door, an aluminum wood system features a low maintenance aluminum exterior with a natural wood interior. The hybrid panel construction typically consists of a 1¾-inch-thick extruded aluminum and ½-inch solid wood interior. Wood options are many and include vertical grain Douglas fir and mahogany, and others. Exterior surfaces can be powder coated to a range of colors, or finished for an all-wood look. An engineered aluminum panel construction creates strength and rigidity for panels over 8 feet tall.
Contemporary Clad Systems
A heavy-gauge extruded aluminum clad exterior combined with a solid laminated wood core construction and a natural wood interior facing, contemporary clad systems offer greater durability, energy efficiency, and the ability to withstand the elements, making this material an ideal solution for colder climates. These systems feature consistent-width narrower stile and rails, square or sculpted profile designs, and standard anodized and painted finishes combined with the warmth of a wood interior. Contemporary Clad systems complement a wider diversity of architectural styles and window packages compared to traditional clad systems and have better overall U-factors.
Wood Systems
Best for interior space dividers, wood systems lend a distinctive architectural style to a commercial space. Available in a range of wood species that are ready to seal, stain or paint, standard wood systems incorporate a 3⅝-inch stile and rail profile, with 7½-inch and 10-inch bottom rail options, and can accommodate custom panels from 1¾ inches to 2¼ inches thick. A solid laminated veneer lumber (LVL) wood core construction with simple flush bolt locking creates a traditional look.
Vinyl Systems
Designed to appeal to the needs of a broader market, vinyl systems perform well in all environments, match popular vinyl window packages, and are an ideal solution for home renovations and new construction. Door panels are extruded vinyl with an aluminum interior for structural integrity. Vinyl systems require no finishing, are low maintenance, and are energy efficient. Featuring high-quality contemporary styling and a narrow 215/16 stile and rail profile, a leading manufacturer's vinyl system is setting a new standard in the vinyl door market.
Postless Corner System
A combination of two systems for a post-less or "zero post" corner application make for a distinctive addition to an office or commercial interior. Larger sizes and custom options including a window/door combination create a unique interior architectural feature.
Servery Window System
This is an ideal solution to maximize commercial spaces that require indoor/outdoor serving areas such as bars, restaurants and hotels. This innovative application requires no bottom track or sill to allow for a continuous countertop, providing the largest pass through opening. This unique servery window system eliminates the need for impractical window solutions such as casements and other window combinations that limit use and close off space.
Glass Types
A wide range of glazing options for improved thermal performance , safety protection, and privacy are available. Generally, low emissivity (low-e), insulated, tempered glass is used. Tempered glass is a strong glass that is heat treated and rapidly cooled to create a high compressive stresses which give the glass its added strength. The heat treatment process does not change the light transmission and solar radiant heat properties of the glass. Up to five times stronger than normal glass of equivalent thickness, tempered glass also provides greater thermal strength, and is more resistant to sudden temperature changes. It is difficult to break, though should breakage occur, tempered glass will break into small fragments without jagged edges, which reduces the likelihood of injury.
Originally published in March 2013
Notice