Folding Glass Doors Are an Asset for Commercial Spaces
Aesthetic, high-performance options maximize space and light
Sponsored by LaCantina Doors
This test is no longer available for credit
Most manufacturers provide a range of glass options, including tinted, obscure, frosted or colored opaque glass. Also available are laminated and triple glazed options with U values of 0 .30 or lower for hybrid aluminum/wood and aluminum thermally controlled, and wood systems that achieve high energy performance that meets the necessary and demanding energy codes found in the industry today in all geographic areas.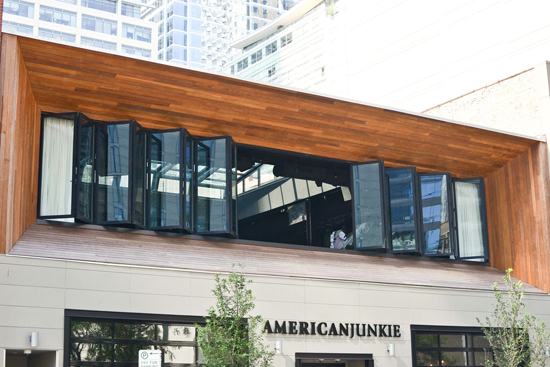 Photo courtesy of LaCantina Doors
An expanse of folding glass windows admits natural light that adds to the appeal and energy efficiency at American Junkie restaurant.
Glass and Green Building
Glass has long been a material of choice in the architectural community for its sustainability quotient, and can help achieve green building goals in the following areas.
Natural Daylighting and Views
Exterior glass doors admit natural light, which looks and feels better than artificial light, while lowering costs as well as representing a greener alternative. But even in cases of interior doors, glass will enable light to flow from one room to the other, minimizing shadows and darker areas. That natural light has a positive effect on building occupants has been borne out in extensive studies. The National Renewable Energy Lab's A Literature Review of the Effects of Natural Light on Building Occupants is a compendium of research that that indicates the salutary effects of natural light. The report states that daylight is preferable to cool white or energy-efficient fluorescent electrical light sources because "daylight…most closely matches the visual response that, through evolution, humans have come to compare with all other light" (Franta and Anstead 1994). The majority of humans prefer a daylit environment because sunlight consists of a balanced spectrum of color, with its energy peaking slightly in the blue-green area of the visible spectrum (Liberman 1991). According to Hathaway, et al. (1992), natural light also has the highest levels of light needed for biological functions." The report goes on to site numerous studies confirming that natural light helps building occupants maintain good health, decrease stress, and increase productivity. Students achieve better test scores, better health, and better growth rates. In retail situations, day lighting allows better color rendering, which in turn, keeps customers in stores longer. In health care facilities, natural light has been associated with improved patient recovery rates and enhanced staff morale.
In addition to admitting natural light, glass permits views to nature, again creating a salutary effect borne out in research. Consistent with the concept of biophilia, which implies that humans have an instinctive bond between human beings and other living systems, experts assert that humans are "hard wired" to respond to nature, and architectural spaces that honor that connection evoke a visceral response. In its white paper, The Economics of Biophilia, Terrapin Bright Green posits an economic argument for biophilic design in the built environment. Among many studies that confirm the human response to nature, the white paper describes a research effort that documents peoples' reactions to natural scenes versus sterile office environments. Some 90 people were tested for heart rate recovery from low-level stress: 1/3 were shown a glass window with a view to nature, 1/3 a plasma screen with a view of the same setting, and 1/3 a curtained wall. Not surprisingly, the group with the view of nature had significantly higher restorative experience than the other two groups.
Perhaps more than many building components, fenestration products can lead the way in creating a space with maximum day lighting and the instinctive connection to nature and the world outside. Architects, in fact, have long known the positive impacts of a room with a view—whether it's a seascape or a cityscape. Figure: Caption: At the Villa Aquamare luxury beachfront 5 Star resort in Virgin Gorda BVI, each living room of the 8,000-square-foot villas feature a wood bifolding door system that opens up, creating unobstructed and breathtaking ocean views. At the appropriately named Linger Restaurant, located in Denver's Lower Highlands neighborhood, Boss Architecture specified an aluminum bifold system that provides striking views into downtown Denver, that diners can't help but savor. "This system is one of a select handful of products that we've found has the ability to completely transform space, and significantly impact projects for the better, ... all within a very reasonable price point," says Kevin Stephenson, BOSS Architecture.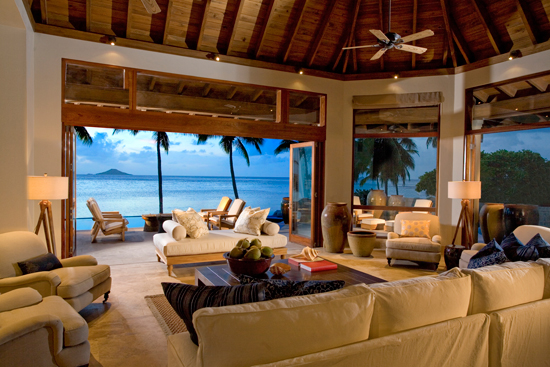 Photo courtesy of LaCantina Doors
At the Villa Aquamare luxury beachfront villas, the five-panel mahogany wood system nearly over 16 feet wide and featuring a 3L/2R configuration, enabled breathtaking views.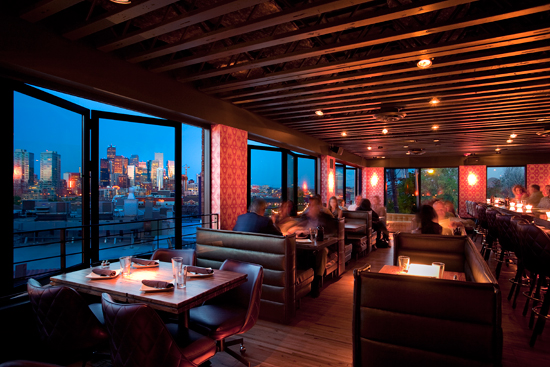 Photo courtesy of LaCantina Doors
At Denver's Linger Restaurant, a folding fenestration system enables diners to enjoy compelling views along with farm to table cuisine.
Maximum Use
Building size is a key determinant of energy use and resource efficiency. With today's focus on efficient buildings with smaller footprints, flexibility to improve functionality is a significant design criteria. Properly placed fenestration can work to "do more with less," in terms of both enhanced space considerations and achieving design and marketing objectives, as evidenced at the Redwood Restaurant, located in the heart of downtown Bethesda, Maryland's shopping district. In recognition of its traditional American cuisine and European-style views, the restaurant's owner and architect incorporated a bifold clad-wood fenestration system into the complete wall that faces the retail node, opening up the restaurant to the European cobble stone street and attracting prospective customers all while maintaining the traditional American modern ambiance for diners to enjoy. "Redwood's enormous front windows, cracked open in good weather, capture a lounge that looks like a cocktail party you want in on and a dining room that has California written all over it," says Architect Griz Dwight of GrizForm. The restaurant won the 2008 AIA Merit Award for Interior Architect, Washington, DC chapter.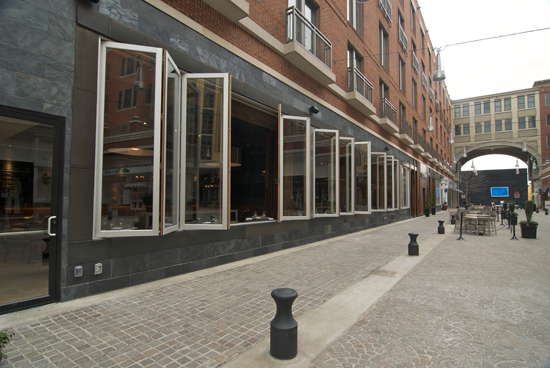 Photo courtesy of LaCantina Doors
A bifold fenestration system opens up Bethesda's Redwood Restaurant to prospective customers while enhancing the dining ambience.
Notice