Folding Glass Doors Are an Asset for Commercial Spaces
Aesthetic, high-performance options maximize space and light
Sponsored by LaCantina Doors
This test is no longer available for credit
Local Manufacturing
With numerous glass manufacturers located across the United States, architects are able to source products in close proximity to project sites. Regional sourcing is well known as a key contributor to green design, as it minimizes fuel and transportation costs normally associated with importing products from distant locations or areas outside of the United States
Recycled Packaging and Materials
Some glass folding doors are available with a certain percentage of recycled material and, at the end of their service life, easily dismantled and re-used elsewhere. All-aluminum systems in particular feature a highly renewable material that can eliminate the use of all-wood components when appropriate. Packing and shipping with recycled materials reduces scrap and construction site waste.
Fresh-Air Ventilation
A critical aspect of green design involves indoor air quality that creates healthy living environments. According to the Whole Building Design Guide, a program of the National Institute of Building Sciences, "natural ventilation has become an increasingly attractive method for reducing energy use and cost and for providing acceptable indoor environmental quality and maintaining a healthy, comfortable, and productive indoor climate rather than the more prevailing approach of using mechanical ventilation." The guide maintains that as an alternative to air-conditioning plants, natural ventilation can save up to 30 percent of total energy consumption in favorable climates and buildings types. Folding glass doors promote natural ventilation, opening up areas typically blocked for walls. In the full, or even the partial open position, they provide natural ventilation that can aid in whole building air circulation, bringing clean and fresh air into any structure, with associated decreased demand for mechanical methods.
Minimal Maintenance
Another benefit of glass doors and partitions is durability and minimal maintenance. Glass does not rust, corrode, or rot, nor does it collect dust. A minimal maintenance program keeps costs down for owners of commercial properties, and eliminates the use of harsh chemicals often used in routine cleaning programs.
Contribution to LEED Projects
Folding glass doors contribute to achieving points in the U.S. Green Building Council's Leadership in Energy and the Environment (LEED) program, the pre-eminent green building rating system in the United States today. Points can be earned in the following categories: Energy and Atmosphere, Materials and Resources, and Indoor Environmental Quality, and Innovation in Design with possible points varying by frame material and by LEED designation. For example, folding glass doors containing wood in LEED 3.0 for Retail, can potentially contribute 25 points, and as many as 27 points in LEED 3.0 for Schools, and up to 18 in LEED 3.0 Existing Building: Operations and Maintenance.
FSC Wood
For architects looking to specify wood or wood/aluminum systems, the option exists for Forest Stewardship Council (FSC) certified wood, as a further measure of green design. The FSC sets forth principles, criteria, and standards for guiding forest management practices toward sustainable forestry worldwide. It also verifies that companies claiming to sell FSC certified products have tracked their supply back to FSC certified sources, a chain of custody certification that assures that consumers can trust the FSC label. FSC-certified wood is the most specified green-building product today, surpassing even ENERGY STAR-rated items.
Complying with ADA Requirements
Doors in commercial settings must conform to ADA standards in several areas. For examples under ADA guidelines, a door may swing out of a room as long as there is a 48-inch clear area in front of the door to allow those in a wheelchair to safely maneuver. For the door to swing in, there must be a full 60 inches of maneuvering space in front of the door, as well as 18 inches of clearance along the side of the door. Doorway thresholds may not be more than ½ inch, or ¾ inch for exterior sliding doors. A sloped threshold may not be more than 1:2--one unit of rise to two units of run. The aforementioned newly introduced ramp that complies with the ADA Code #1124B that requires gaps in walking surfaces to be no greater than ½ inch is an important solution in commercial projects.
Schematic of Outswing Sheet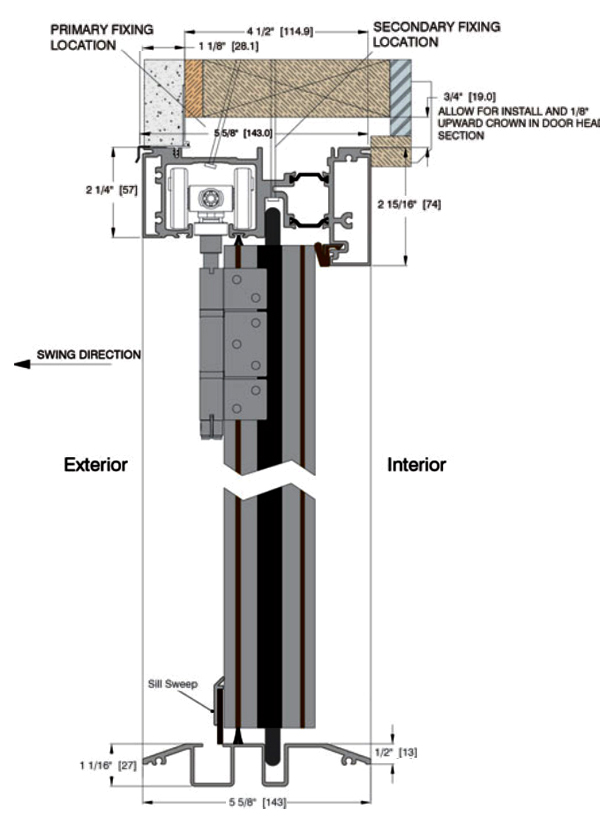 Image courtesy of LaCantina Doors
An outswing system with the commercial ramp sill is an option for when interior and exterior floor levels are the same and a maximum sill height from finish floor of ½" is required. Surface mounted sweeps applied to the face of the bottom of the panel are provided. Adequate overhangs are recommended to reduce the risk of water infiltration.
Architects should also make sure that door options for commercial projects include ADA-compliant bottom rails, panic hardware, self-closing devices and more. In terms of door hardware, rather than knobs that must be grasped and twisted to activate, ADA compliant options include pull handles or push bars designed to allow fast and unencumbered exit from a doorway"a rod or bar or lever is pushed, retracting the latch mechanism and the door is opened. Pull handles or levers are available in a number of themes, but it is important to note the features of a common type of hardware, the clutch lever, a freewheeling, vandal-resistant lever standard. Although mandated to meet ADA requirements, lever handles are especially subject to vandalism and damage. The clutch option for lever trim includes an internal slip clutch mechanism which allows the lever handle to break away without damage or violating security when excessive force is applied. The lever can be lifted back to horizontal to reset it. An internal dead stop limits the break away to 55° of lever handle rotation.
Many building codes require doors to be latched to help control fires, but not locked on the stair side unless they can be remotely unlocked without unlatching. Electrified trim allows doors to be locked tight for increased security, but enables the doors to be remotely unlocked in the event of a fire or other emergency.
In addition interior hinged doors, sliding doors and folding doors must be designed so that no more than five pounds of force is required to open or close the door. Automatic doors must take at least three seconds to open and not more than 15 pounds of force to stop.
Folding Glass Doors: A Plus for Commercial Applications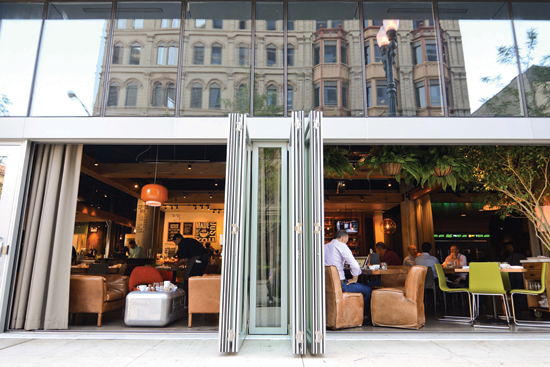 Photo courtesy of LaCantina Doors
Folding glass doors opening to the outside add to the ambience at the trendy Beatrix Restaurant at Chicago's aLoft Hotel.
There are many reasons folding glass doors can be an ideal solution for commercial applications from restaurant and retail to offices and showrooms to educational and institutional spaces. Connecting indoors and outdoors and reconfiguring interior spaces, folding glass systems increase spatial flexibility while enhancing lifestyle options. They also contribute to green building goals in a number of areas, while enhancing the salutary effect on building occupants. Today's systems are engineered for greater strength and the level of performance necessary to withstand the most extreme weather events. For sustainability, flexibility, and durability with dramatic appeal, glass doors systems represent a clear asset in commercial construction.

LaCantina Doors is the leader in designing and manufacturing products that create large open spaces. Offering the most innovative and comprehensive range of folding, sliding and swing systems available, LaCantina Doors utilizes the same signature narrow stile and rail profile across its product line for a complete and perfectly matching door package.
Designed and made in California, LaCantina Doors have contributed to award winning projects ranging from residential, retail, commercial, educational facilities, resorts and is the preferred choice when it comes to products that open spaces. Backed by an industry leading warranty, LaCantina Doors are available across the U.S. and Internationally. www.lacantinadoors.com
Notice