Taking Control: Planning for Optimum Gym Systems
Selecting the right gym equipment control systems for optimized operations
Sponsored by Draper, Inc.
By Barbara Horwitz-Bennett
This test is no longer available for credit
Preplanning Key to High Control Functionality with Budget-Friendly Control System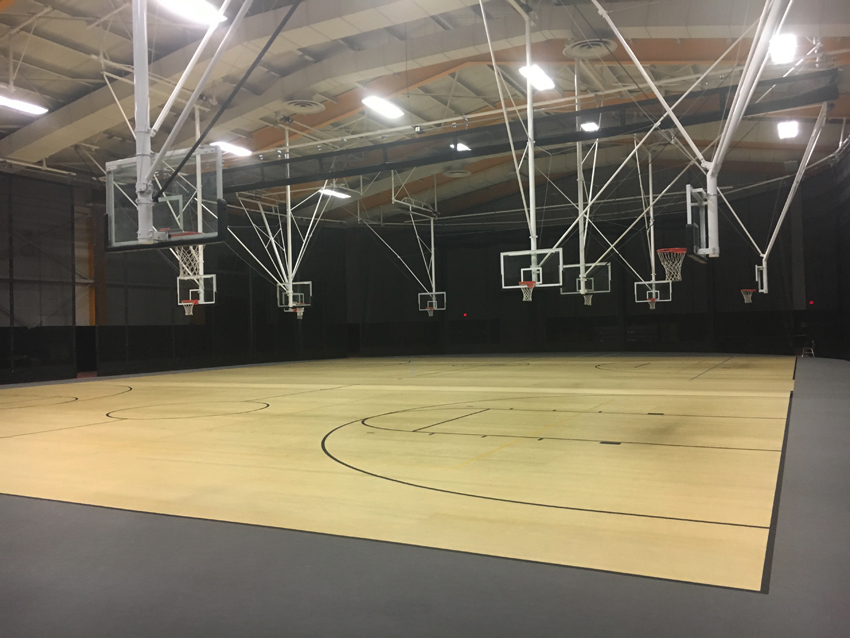 Photo courtesy of Draper Inc.
At Thornwood High School, there are 12 basketball backstops, seven gymnasium divider curtains, and two multi-sport practice cages all inside a running track. The owner wanted to be able to split the ends of the facility for different types of activity, so operating devices in groups was very important.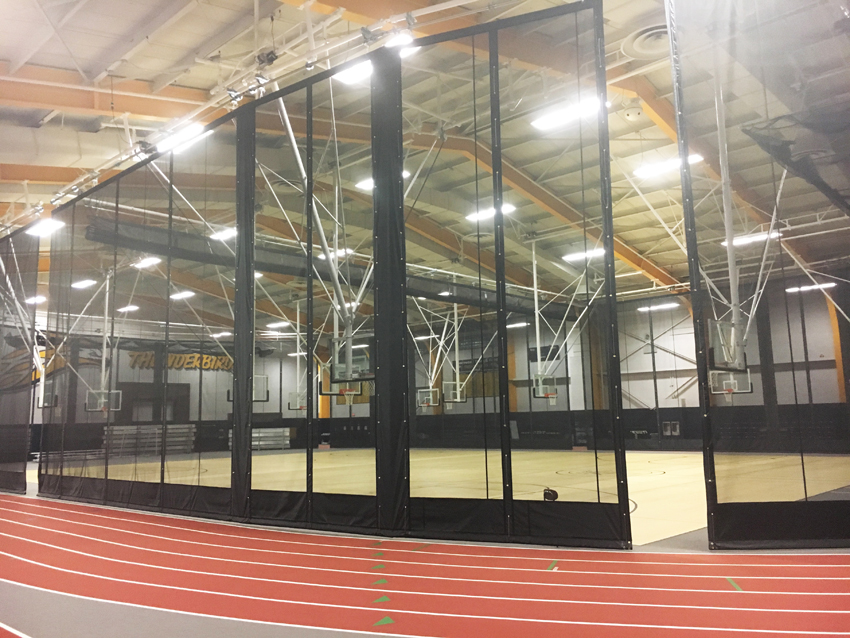 Photo courtesy of Draper Inc.
Combining the right number of relay boxes and multiple keypads in a canned system allowed for numerous and large groups with high functionality at Thornwood High School at an affordable price.
When Thornton Township High School District 205 on the south end of Cook County, Illinois, decided to renovate athletic field houses at two of its high schools, Thornton Township High School and Thornwood High School, budget was a concern, as is the case with many school construction/renovation projects. Both schools had large fieldhouses that were constructed in the early 1970s and in need of updates and new equipment to better match current needs.
For both schools, there were several backstops, indoor multi-sport practice cages, and divider curtains, including perimeter curtains running on the inside of a running track. Because the space was used for physical education classes covering different activities all day long and also by many teams for practice after school hours, it was necessary to have an efficient way to control equipment while staying in budget. A canned, field-programmable control system was chosen as the right solution.
The system serves as a power-distribution system that shares one circuit among a maximum of four devices, while still allowing group operation. To accomplish this feat, the system has relay boxes that are connected to dedicated 30-amp circuits. Typical motors for operating basketball backstops, divider curtains, and practice cages are either ¾ HP rated at 9.8 full load amps (FLA) or 1 HP rated 11.2 FLA. According to the National Electrical Code, any circuit can only be loaded to a maximum of 80 percent of the overload protective device (circuit breaker or fuse) so that the initial inrush current does not exceed the overload protection rating. Inrush current is the maximum instantaneous draw that occurs when starting a motor, especially if there is a load or weight on the motor at start up. A single 30-amp circuit can accept two 1 HP 11.2 FLA motors and still be under the maximum circuit load of 24 amps (30 amps x 0.80), so it is possible to simultaneously operate up to two motors per circuit. Groups are typically capped at eight devices to make sure that no group is too large to be carefully viewed during operation.
Using Thornwood High School as the example on this project, there were 12 basketball backstops, seven gymnasium divider curtains, and two multi-sport practice cages all inside the running track. The owner wanted to be able to split the ends of the facility for different types of activity, so operating devices in groups was very important. Due to the number of equipment pieces being operated, three relay boxes, each capable of operating eight devices, were required. Each relay box was connected to two 30-amp circuits. Since the number of groups needed was more than the 10 that can be stored in each keypad, two keypads were utilized.
The dealer, installer, architect, and electrician worked together to strategically plan where each device should be attached and in which relay boxes. For example, with 12 backstops, they carefully planned that only two backstops were attached to each circuit, allowing them to combine almost any combination of eight backstops to run simultaneously. Groups were created to simultaneously run all four main court backstops, all six backstops on the north court, all six backstops on the south court, and all eight of the crosscourt backstops. Groups were also created to simultaneously operate all the divider curtains, just the north curtains, and just the south curtains. In addition, the control system always allows for any single device to be operated individually.
The same type of careful planning was used at Thornton Township High School to allow its field house—with 18 backstops, 10 gym divider curtains, and two multi-sport practice cages—to operate as desired and allow rapid changes for different classes and activities.
By carefully plotting where devices are connected and preplanning how groups were to be constructed, Thornton High School District 205 was able to complete its projects with control systems capable of operating its fieldhouses in the manner desired. It did this using canned control systems that are field programmed and friendlier to project budgets than more feature-rich factory-programmed systems. Combining the right number of relay boxes and multiple keypads allowed numerous and large groups to be set up, providing high functionality without a higher price tag.
Why Controls Have Become More Important
As reflected in every facet of society benefitting from the plethora of technological innovations constantly coming out, changes in lifestyles and advances in technology are impacting gymnasiums as well. For gymnasiums, the impact comes in the demand for floor space and the need to fold gymnasium equipment more often and more quickly. Gymnasium equipment manufacturers are addressing these needs with new ways to control their equipment.
Years ago, gymnasiums were typically found only in local schools. Most schools had just one gym, and that gym had at the most six basketball backstops: two on the main court and four cross courts. The gym was used for home basketball games, occasional convocations, or maybe school pep sessions, but was normally set up for PE class and basketball practice with all six backstops in the down position. During basketball season, once a week or so before the home game, the school janitor would go to the gym, fold the crosscourt backstops, and pull out the bleachers. After the game, the process was reversed. If the school was a little older, the backstops were folded with a manual winch and maybe a drill adaptor to make the process a little easier. New schools might have had electric winches that were operated using key switches. Since backstops were folded very rarely, changing gym configurations in this manner was acceptable.
Flash forward to today. Gymnasiums in schools are used for a wider variety of activities and a large array of different competitive teams. There are also commercial or pay-to-play facilities popping up in almost every community to host AAU, club, and travel team competitions. Gyms at schools and private facilities are used for basketball, volleyball, dance teams, cheerleading, and social events like craft fairs, trade shows, and school dances. To accommodate all of these different types of events, gymnasiums now include many more basketball backstops, divider curtains, overhead volleyball systems, wrestling mat lifters, scoreboard lifts, and other types of ceiling suspended electrically operated devices.
Every gym has a huge number of teams and organizations that are vying for time on gymnasium floors and always need the space set up for their specific needs at the time they arrive. It has become increasingly more important to be able to change gymnasium setups often and with more speed. Schools need to keep students and athletes active and avoid downtime in class or practice to get equipment set. And at commercial pay-to-play facilities that rent space, time required to change setups equates to less opportunity to earn revenue. Therefore, gymnasium controls have become more important, more flexible, and more sophisticated. As indicted in this article, control systems have moved past individual key switches to keypads and touchscreens that, while maintaining safety requirements, allow faster and more efficient setup changes as well as group operation that meets facility needs.
Barbara Horwitz-Bennett is a veteran architectural journalist who has written hundreds of CEUs and articles for various AEC publications. www.bhbennett.com
| | |
| --- | --- |
| | Based in Spiceland, IN, Draper manufactures projection screens, AV mounts and structures, window shades, and gymnasium equipment. The family-owned and -operated business was founded in 1902 by Luther O. Draper and is owned and managed by his descendants. With locations in the United States and Sweden, Draper ships products to dealers throughout the United States and more than 100 countries. To learn more about Draper, visit www.draperinc.com. |
Originally published in Architectural Record
Originally published in April 2021
Notice