Taking Control: Planning for Optimum Gym Systems
Selecting the right gym equipment control systems for optimized operations
Sponsored by Draper, Inc.
This test is no longer available for credit
Group Control Systems
Group control systems allow for more flexibility in controlling gym equipment. Many systems can share circuits and may even require it. The password-protected system is controlled by turning the relays on and off. Because multiple devices can operate simultaneously, this significantly decreases setup time between games or events.
Group control systems typically fall into one of two categories: canned field programmed systems with limited programming options, and custom programed systems that are more flexible and can be tailored to a facility's specific requirements.
Canned systems are more economical, as the cost can be offset by savings on electrical costs if the system is large enough.
The systems are usually operated with a numerical keypad. Some have LED lights to communicate back to the user, and some incorporate LCD screens for communication. The system should include a visual guide or legend to help the user identify each component within the system.
Preconfigured relay boxes, typically with eight sets of two relays, can be networked to increase system capacity.
The system requires shared circuits because it functions as a distribution system for the electrical circuit. Multiple relays are fed with a single circuit, and the operator tells the system which devices/relays to operate by interfacing with the keypad.
Most relay boxes are connected to more than one circuit to allow the creation of groups. At the same time, the system should include a way to prevent overloaded circuits.
For most canned systems, each relay box is fed with two 30-amp circuits to enable two devices per circuit to operate simultaneously. This allows up to four devices per relay box, two on each circuit, to run together. The group sizes are typically capped at eight devices, which requires two or more relay boxes with two 30-amp circuits each. The data is conveyed via two low-voltage and communication cables from the keypad to the relay box. Keypads typically mount in commercially available recessed switch/electrical boxes.
The electrical code permits loading a circuit to a maximum of 80 percent, which means that each 30-amp circuit feeding the control system can carry up to a 24-amp load. This would be the equivalent of running two motors simultaneously (i.e., two backstops or two divider curtains). Because a typical gym is configured with six back stops, this means that operators can put the two main back courts on the same group, which subsequently cuts the setup time in half. However, the group of devices must all run up or down. It is not possible to concurrently send one up and bring another down.
Historically, a basic control system in the early 2000s would run one device at a time. Some 10 years ago, the basic system became a little more sophisticated, allowing users to create groups, so circuit sizes were changed from 20 amps to 30 amps.
Today, users can include two devices on one 30-amp circuit and an additional two on a second 30-amp circuit. If more than one relay box is utilized, another four devices (two per 30-amp circuit) can be added, and it now becomes possible to simultaneously operate eight devices at a time. However, the canned systems typically cap group sizes here.
With a typical price tag of under $5,000, for projects where budget is an issue but the owner wants the control system to have the capability of sharing circuits and operating equipment in groups, a canned system could be a good solution. However, there is limited programmability and less sophistication. For example, the user interface usually looks like a telephone touchpad with numerical controls.

Photo courtesy of Draper Inc.
Group control allows multiple pieces of equipment to be moved simultaneously, as shown here at Center Grove High School.
Custom Programmed Systems
With a larger front-end investment, custom programmed systems are a more feature-rich option. Consequently, the system can be programmed to match the facility's exact requirements.
This is particularly beneficial for pay-to-play or other large multiuse facilities that frequently change their setup for the next group coming in. The ability to operate multiple pieces of equipment at one time significantly reduces down time between facility bookings and labor costs to operate equipment for switchovers. Whereas with key switches, the switch must be held down to move one piece of equipment at a time, these advanced systems can move the equipment in a fraction of the time.
For example, a row of courts with six basketball backstops and six overhead volleyball systems can all be activated at the push of a button. With this example, all 12 pieces of equipment running together would take about 3 minutes to fully fold, whereas with individual key switches, it could take up to 36 minutes to fold all 12.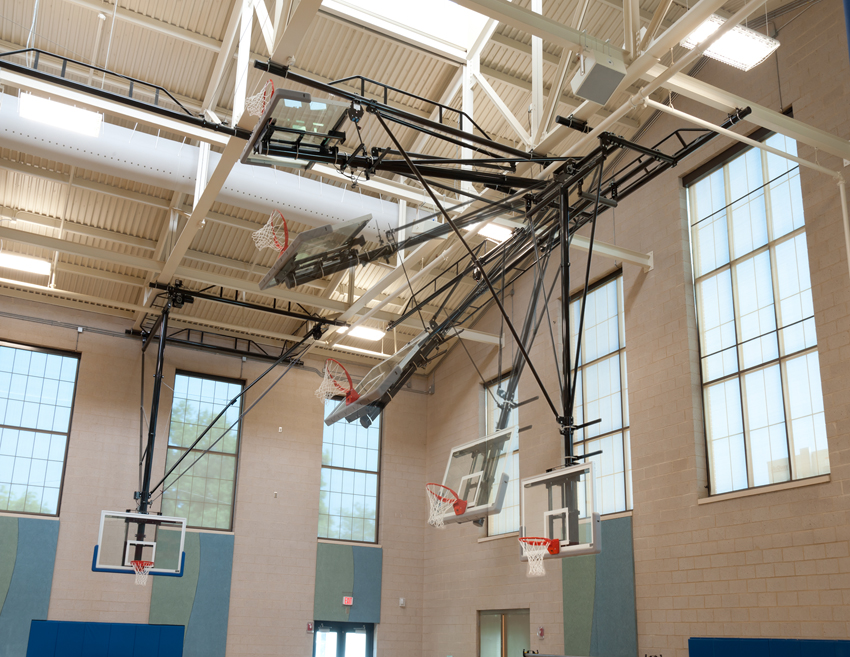 Photo courtesy of Draper Inc.
The ability to fold equipment up to the ceiling is key to supporting a multipurpose facility used for assorted sports and events.
With the ability to share circuits, building owners can often recoup their investment through electrical savings on larger jobs.
That said, there are some limitations on how many devices can be grouped together, circuit sizes, number of circuits, and what an operator can reasonably observe operating simultaneously, as he or she must still be able to watch the equipment during operation.
Custom programmed systems are typically comprised of relay boxes, an interface, and a processor assembly, similar to a small computer. Some systems use ethernet and some use low voltage for communication between components.
Many systems incorporate a touchscreen interface between 5 inches and 10 inches in size. It can be a small text screen with a visual guide or legend, or a larger screen that supports graphics to match the exact building layout, essentially presenting a map on the screen. The wall-mounted interface is advisable for protection from theft or damage.
Operators can also utilize a Wi-Fi connection and run the system using a tablet, allowing them freedom of movement to better supervise the equipment in motion. With Wi-Fi, it should be a closed, secure, and password-protected system. Further, it should not be connected to the internet. This prevents users from operating the systems from home when no one is on hand to watch the equipment. In the event that the tablet is lost or dropped, it is a good idea to have a hardwired touchscreen as a backup.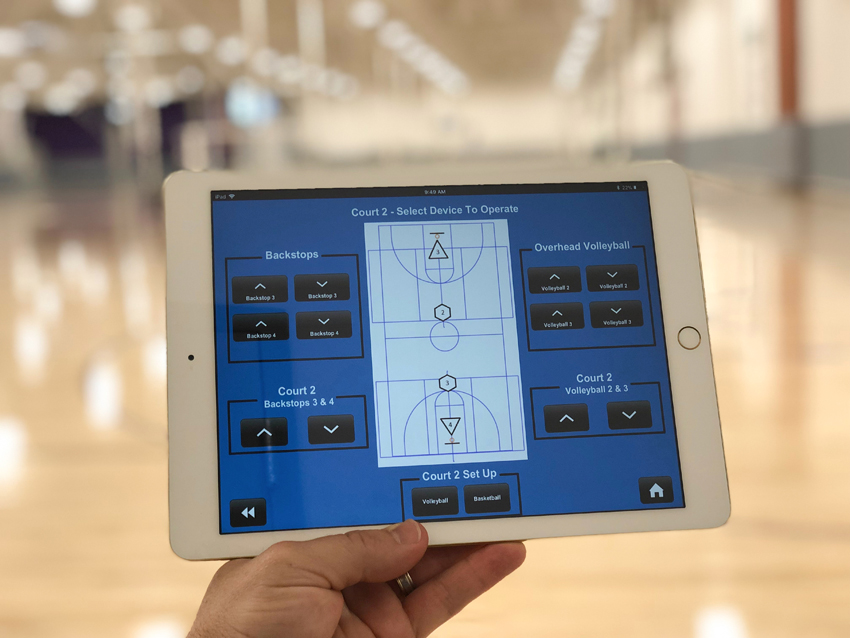 Photo courtesy of Draper Inc.
The graphic interface for custom programmed control systems allow for easy, one-tap control for different tasks.
Conclusion
Gym owners now have access to a variety of advanced control systems. Offering considerable convenience, they can set up their equipment in a fraction of the time than it has traditionally taken. This translates to significant labor savings and, particularly with pay-to-play facilities, enhanced revenue.
At the same time, selecting the right control system is very important and best done with early input from the manufacturer. Architects will be best equipped to provide their clients with the best technological solutions by tapping into the control manufacturer's expertise and coordinating with the owner, contractor, and manufacturer early on in the design process.
Originally published in Architectural Record
Originally published in April 2021
Notice